Jet Airways Ltd. is an airline service provider based in Mumbai, India. It has a relatively high market share (over 20 per cent) in the domestic market in India. Jet Airways operates in 76 destinations daily and has operations in India, US, UK, Canada, Malaysia, UAE, Singapore and Malaysia.
Strengths in the SWOT Analysis of Jet Airways :
Vertically integrated operations: Jet airways offer passenger and cargo services and also leases aircraft.The company operates in various parts of the world and has vertically integrated all operations which allow it to cater to a wide range of customers, which gives it a competitive advantage.
Focus on innovation through IT and E-Commerce: Jet Airways combined its services with travel packages to provide customers with an end to end experience. Also, it has launched its smartphone airline application to help users. Such initiatives help the company to enhance operational performance.
Strong network portfolio: Jet airways has a strong base of a fleet and a strong network to go with that. The company has 116 aircraft under its banner with 20 international 48 local destinations in India. This helps the company to improve operational margins.
Alliance with Etihad Airways: Jet Airways strategically alliance with Etihad Airways to expand into new markets. The partnership increased the airline's international reach.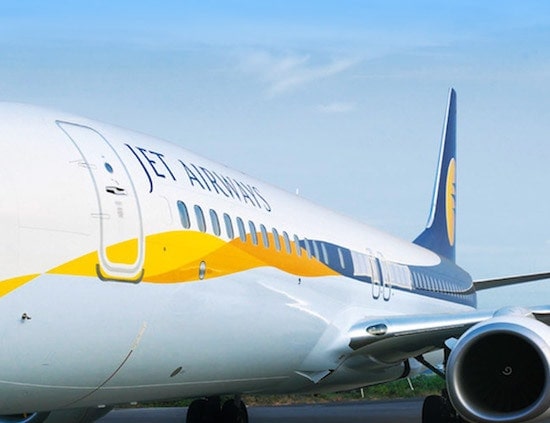 Weaknesses in the SWOT Analysis of Jet Airways : 
Negative margins are worrying: Jet airways recorded negative growth in FY 2015, despite the increase in revenues. The operating margin was (-6.2%) down and net margin was (-9.6%) down year on year. Such negative margins affect the company's future plans.
Limited market share: Jet Airways competes with various private and public airlines domestically and internationally and hence the market share gets limited and growing market share becomes difficult.
Opportunities in the SWOT Analysis of Jet Airways :
Growing global tourism industry: The international tourist arrivals increased by about 4.4%as per the World Tourist organisation (UNWTO) in the year 2015. The company operates in over 20 international destinations and is going to be benefitted by the growth.
Strategic Alliances wide reach: Jet Airways should look to the further alliance with other international airlines, like partnering with Etihad Airways, in order to further expand across the globe.
Positive growth in Indian airline industry: The Indian airline's industry has shown rapid and exponential growth in the recent years. With a CAGR of 11% in the period 2011-2015, the industry has expanded its operations and increased number of flights in almost all the routes. The industry is further expected to grow at a similar pace and hence it is beneficial for jet Airways.
Threats in the SWOT Analysis of Jet Airways :
Intense competition in the aviation industry: There is intense competition in the domestic as well as international aviation industry and hence this gives rise to price competitiveness. As pricing pressures rise, operating margins get affected and hence it is harmful to the industry.
Regulations increase compliance costs: In the aviation industry, in particular, a company has to abide by many statutory, transport and environment etc. regulations which increase its compliance costs and hence affects operating margins.
Liked this post? Check out the complete series on SWOT