Buffalo Wild Wings is a casual dining chain based out of the USA that specializes in buffalo wings which are the most authentic in taste and flavoring.The casual dining chain positions itself in the sports bar category and has operations in USA, Canada, UAE, Mexico, Philippines, Saudi Arabia, Oman, and India. The dining chain which specializes in the authentic New York Buffalo wings also serves other signature dishes like the Alaska Cod Classic, Bacon Boss Burger, and Sweet Chili Shrimp.
They also sell soft drinks and beer on their menu. The restaurant chain registered an annual turnover of 2 billion dollars in the year 2016 and employs around 44000 people. The chain which was founded in the year 1982 by Jim Disbrow and Scott Lowery and currently has around 1300 outlets some of which are directly owned by the company while some others are franchised.
About Buffalo Wild Wings
Type: Casual dining restaurant and sports bar franchise
Industry: Foodservice
Founded: 1982, Columbus, Ohio, United States
Founders: James Disbrow and Scott Lowery
Headquarters: Sandy Springs, Georgia, United States
Area served: Worldwide
Current CEO: David Howard
Number of employees: 37,000
Major products: Buffalo-style chicken wings, Sauces, Other menu items (tenders, burgers, tacos, salads, etc.), Beer, wine, and other beverages
Strengths in the SWOT Analysis of Buffalo Wild Wings
The following are the strengths of Buffalo Wild Wings:
Customer Experience: More than the menu or signature dishes, Buffalo Wild Wings has focused on the customer experience. In order to make it a fun place to hang out the restaurants have live tv coverage of current sporting events and they are allowed to play trivia games on tablets in their tables while being served.
Target Segment: There is a clear target segment that Buffalo Wild Wings look at which are youngsters who enjoy sports or support specific sports teams. In order to enhance their experience and to ensure that they get to dine and enjoy sporting events of their choice which they cannot afford to have on a regular basis at home, the restaurant has flat screen TVs and the subscription to premium cable channels.
Complete sports bar experience: Buffalo Wild Wings tries to create the feel of being in a stadium and watching a sporting event live at a fraction of what a customer would need to pay for the real thing while also having food and drink. In order to do this, the restaurant lets customers watch the game of their choice on huge flat screen TV's and tablets on the table in a seating that replicates a stadium.
Beer: In addition to being a sports bar, Buffalo Wild Wings is also the country's biggest pourer of draft beer. The company takes a lot of care in how the service elements of beer like the measurement, pouring and serving of the drink happens.With around 30 brands to choose from the restaurant adopts a three-tier system for serving beer, a global tier for global brands, a regional tier for regional brands and a local tier for local brands.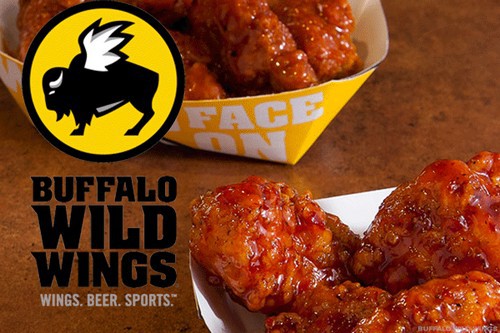 Weaknesses in the SWOT analysis of Buffalo Wild Wings
Some of the key weaknesses of Buffalo Wild Wings are :
Changing customer trends: In comparison to earlier days, today customer has multiple options to eat from home through online delivery services which can be even ordered through smartphones. There is also a growing fear of the ill effects of eating out often and this, in turn, affects casual dining restaurants.
Low penetration: In comparison to competitors like Chilis and TGIF, Buffalo Wild Wings ha lower penetration in countries other than the USA and in most of the other countries the outlets are only in top cities. The poor presence outside the USA makes the chain rely more on regional businesses for profitability.
High costs: Buffalo Wild Wings relies a lot on the customer experience where the sports bar replicates the experience of being in a stadium which mandates expensive televisions, screens, cable channel subscriptions and plush seating all of which are expensive to maintain.
Low focus on the menu: Buffalo Wild Wings is focused more on the experience than their food and there are a lot of poor reviews about the quality and taste of the food they serve. The core product which is food in a casual dining place thus suffers which in turn dilutes the purpose of the visit of the customer.
Opportunities in the SWOT analysis of Buffalo Wild Wings
Some of the opportunities include :
Globalisation of food preferences: With the growing popularity of internet the boundaries of geographies and cultures have faded. Even in eating people have started becoming more aware of global cuisines and prefer to experiment with new tastes which is a huge opportunity for casual dining chains.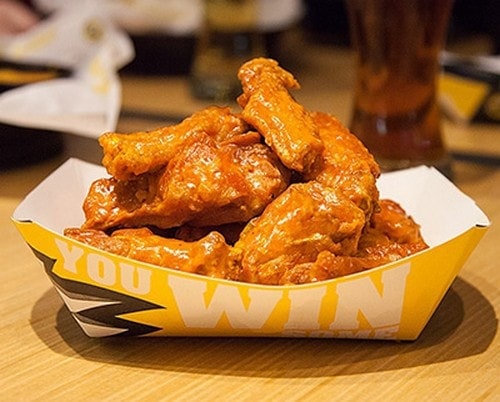 Threats in the SWOT analysis of Buffalo Wild Wings
Some of the threats include:
Competition: Some of the major competitors of Buffalo Wild Wings are TGIF, Chilis, Red Lobster, Olive Garden and Apple Bee.
Liked this post? Check out the complete series on SWOT