Nescafe is known as the the most popular and widely sold coffee brand in the world. It comes from the house of Nestle and is a cash cow in the BCG matrix for Nestle brand. Besides Maggi, Nescafe is the second biggest product Nestle has. Nestle is known most for its instant coffee which was one of the first global instant coffee brand to be released in the market. Initially, instant coffee was produced in Brazil and later on in Europe.
However, the consumers of Europe did not like the instant coffee and hence Nescafe had to export it to many countries. USA had the most positive response for the instant coffee and from there on, Nescafe has expanded to more then a 100 countries. Nescafe also has one of the most favourite advertising jingles. 
Strengths in the SWOT Analysis of Nescafe :
Brand Equity: Nescafe's brand value is $17.4 billion and is the largest brand in the Swiss giant portfolio. Also, it is the brand of Nestle so it also possesses a strong financial backing and availibility of resources.
Quality: Nescafe is a good quality product and has managed to stay away from controversies. They have stringent quality control techniques and have managed to develop a strong bond with its customers.
Diversity: It possesses a large diversity in terms of tastes, the strength of coffee content and types of coffee beans used in the production. This gives them a large variety of products to suit different tastes of customers.
Excellent Promotional Campaign: Their promotional campaigns have always remained popular. They gain visibility very quickly. They touch the strings of heart perfectly. Their advertisements are meant for common people and resonate with their daily problems.
Economies of scale: They are quite simply the largest coffee brand in the world. Furthermore, they are from the house of nescafe due to which they enjoy the enormous resources at their disposal. They use the same distribution channel which exists for Nescafe and hence their expenses on distribution is very less also. Due to this economies of scale, Nestle has a good ROI and margin.
The Nescafe jingle: Nescafe has one of the most loved advertising jingle.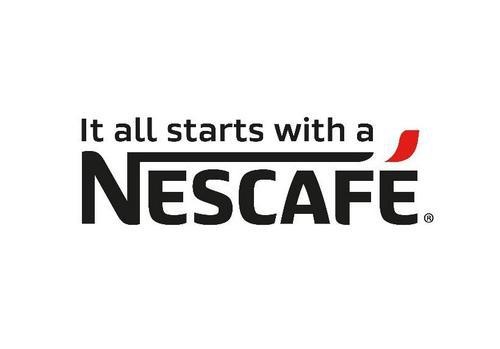 Weaknesses in the SWOT analysis of Nescafe :
Health Consciousness: People who are more considerate about health they tend to move away from caffeine content drinks.
Indirect competition: Indirect competition like Tea, carbonated drinks and other beverages takes a lot of market share from Nescafe. It is widely accepted in USA because USA is a coffee drinking country. But there are many other countries where Tea is preferred over coffee.
Opportunities in the SWOT analysis of Nescafé :
Tie-ups: It can tie-up with different corporates, educational institutes and other public enterprises to gain market share and drive profits.
Growth in Public income: The income of people is constantly on a rise and they tend to move towards premium taste which is coffee in the beverage category. So they have a potential customer base who might want to move towards this drink.
Biscuits: Nescafe can plan on biscuits or cookies which can be sold with the coffee or which goes very well with the coffee flavor. They can also make these biscuits as premium biscuits in the market.
Threats in the SWOT analysis of Nescafe :
Direct Competition: In India Bru is the market leader in the beverage category and is giving a hard time to Nescafe. This competition is getting more and more intense with other brands growing as well like Tata Coffee etc.
Cocoa Problems: The cocoa farmers are facing serious problems in cultivation and selling their produce. These problems might hamper companies like Nescafe which is driven by cocoa cultivation.
Liked this post? Check out the complete series on SWOT