Ariel is one of the strongest selling detergent brands in the world and hails from the house of Procter & Gamble. P&G itself is known to have a slew of detergent brands but Ariel is the strongest one in its arsenal. Ariel is known for its excellent cleaning abilities when combined with washing machines. Hence, many customers prefer Ariel over other brands when using washing machines. Ariel is also known as a quick wash brand which focuses on quick washing of clothes.
Strengths in the SWOT Analysis of Ariel :
Brand Quality: Ariel is known to remove the toughest of the stains and consumers believe that. This shows high consumer trust on the product. This is its biggest strength. Quality conscious consumers believe in the product and buy it. Ariel is one of the billion-dollar revenue brands of Procter and Gamble.
Market Share: Ariel is the the second largest market share holder of the detergent category in India whereas globally it is the highest market share holder. In India, Surf ranks higher then Ariel.
Machine Wash: The leading washing machine makers recommend Ariel than any other brand globally. This shows the power of its product.
Strong Customer Base: Customers that have used Ariel do not go back to any other detergent as they trust this product. This leads to an increase in the brand equity of Ariel.
Provides Options: It is known for providing first fragrant detergent in the market thereby pioneering in giving the customers what they want. This shows strong innovation at Ariel's part.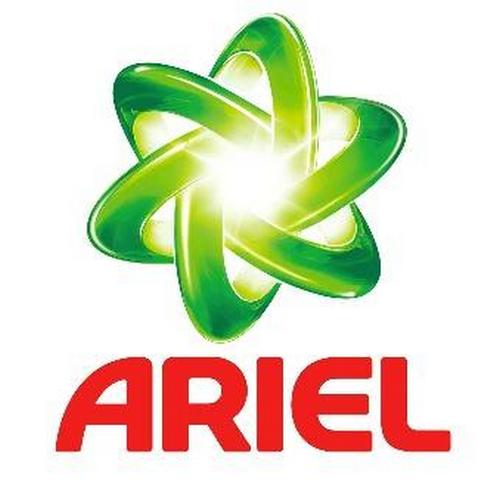 Weaknesses in the SWOT analysis of Ariel :
Cost-Sensitive Market: People tend to keep to two detergents: one for regular clothes and another costly one for the party wear clothes. This means they go for some regular cheap detergent for their everyday use and premium detergent like Ariel for the party wears. As the everyday load of clothes do not have party wear this shows a decline in the demand for the product.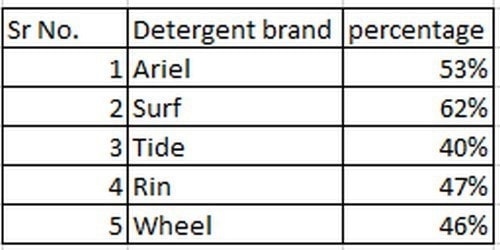 These results clearly show that 99% of the respondents use or have used two or more brands and would probably try the new variant. In fact, 72% users would welcome the new variant as they use three or more brands.
Competition: Ariel has very strong competition from its rival Unilever product, i.e. Surf Excel. Surf Excel has managed to capture more market share in India with its brand positioning and good promotion strategy. Even the prices are very competitive. Surf Excel has the max market share and Ariel trails at second in the premium segment of the customers.
Opportunities in the SWOT analysis of Ariel :
Detergent Market: Detergent market in India is expected to grow at 7% to 9%. The per capita detergent consumption in India is around 2.7 kg per year. The penetration level should be enhanced to enable the market to grow at the rate of 8 to 10 % per year.
New Markets: Ariel can think of capturing new markets across the globe. Emerging markets as well as rural areas in developed and developing markets can help Ariel surpass the market share of other brands.
Penetrative variants: Without hampering its brand value if Ariel can come up with low-cost detergents for the rural households with the same kind of cleaning process then it can capture great market share.
Threats in the SWOT analysis of Ariel :
Counterfeit: There is a problem of counterfeit products in rural markets. This decreases the prospective sales of the detergent and thereby decreasing its revenue and profits and hampering the brand name.
Price Sensitive Markets: India is a price driven market. Similarly, there are other markets like China which are price sensitive too. Ariel needs to be aware of the competitive pricing and adjust itself so as to not lose any market share.
Special detergents: Mr Muscle, Vanish and similar such detergents focus on their extreme abilities to clean clothes better. They are only a bit more costlier then Ariel. So in that price range, people prefer these special detergents rather then buying Ariel regularly.
Liked this post? Check out the complete series on SWOT