Operating in more than 540 cities worldwide Uber have a come a long way in operating as a cab aggregator from 2009. The company was formerly known as Uber Cab and is founded by Travis Kalanick and Garrett Camp headquartered in San Francisco, United states. It facilitates a platform for customers for booking cabs at their locations while the app automatically prompts the nearest Cab driver registered with Uber.
Segmentation, targeting, positioning in the Marketing strategy of Uber –
Segmentation is the process of dividing the market into the groups of homogeneous characteristics. Uber uses a mix of demographic and geographic segmentation variables which helped the company pricing its services accordingly.
Both geographic and demographic segmentation is important because Uber needs to know which areas to target for customers who are ready to use an "on order transportation service" over public transport services. You will not find Uber in Rural areas but mainly in urban areas only where it replaces taxis.  1
Differentiating targeting strategy is used by Uber in order to the share of wallet customer brings in and how to increase wallet size by upselling. If we want to define the type of differentiation used by Uber, then we can use the terminology "Cost based differentiation". Because of the very structure of Uber as a company, there is a huge pricing advantage to the end customer when they compare Uber taxis vs Publicly available modes of transport.
User benefit based and pricing positioning strategy is used by Uber to attract customers from different strata of the society. Because day to day travel is a huge cost to customers, positioning on the basis of Economy makes a huge difference in the mindset of the customers.
Marketing mix – Here is the Marketing mix of Uber.
SWOT analysis – Here is the SWOT analysis of Uber.
Mission- "To connect people who need a reliable ride with people looking to earn money driving their car"
Vision- "Not Available"
Tagline-"Where to?"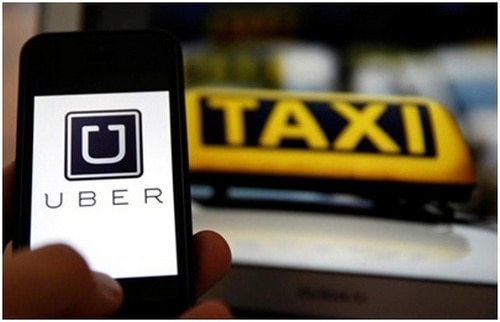 Competitive advantage in the Marketing strategy of Uber-
Global Presence: Having expertise and experience of operating in more than 70 countries globally is what making it competitively ahead of its competitors. Its presence in the remotest areas and easy & timely availability of the services are some of the major factors for its success.
Broad services portfolio: Its comprehensive range of services namely Uber Go, Uber X, Uber XL and the most famous and economical one Uber Pool with GPS enabled app-based tracking system has helped the company in making it convenient to book a cab.
Strategic partnership: It has been tying up with many car manufacturing companies to jointly produce customised vehicles exclusively for Uber which is giving a competitive advantage to the company over others. Recently it partnered with Daimler to build autonomous vehicles which will operate on Uber's transportation network.
BCG Matrix in the Marketing strategy of Uber –
It operates in 4 segments Uber pool, Uber GO, Uber X, and Uber XL. Its Uber Pool and Uber GO services are categorized as stars in the BCG matrix because they have a high market share but at the same time, there is a high growth rate and high competition.
The other two i.e Uber X and Uber XL are question marks in the BCG matrix due to having low demand and high competition from local and regional players in the segments. If this segment does not bring in profitability, it will be bookmarked as DOG in the BCG matrix and might cause more losses then profits to the firm.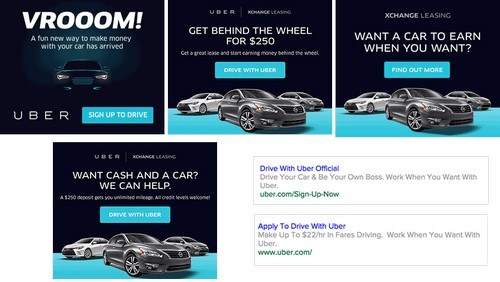 Distribution strategy in the Marketing strategy of Uber –
Uber have a fleet of company owned cars, SUV's and independent vehicles who get themselves registered  with Uber for being in the business. Uber exclusively tie-up with the car and vehicles manufacturing companies customising its fleet of cars.
Since the company operate in more than 70 countries and 450+ cities across the globe, they have developed driving schools to inculcate good driving skills in the drivers who work under the company's operational architecture. Because the business right now is booming, there are many car drivers who are ready to join the business, thereby resulting in an increased overall distribution presence.
A problem facing Uber is that being in the services sector, several companies have replicated the same business model as UBER (OLA in India) therefore it is facing striff competition where distribution of its services is concerned.
Brand value –
Initially, the brand Uber logo was red magnet while it got replaced with the black "U" badge in a square in the year 2012. Uber has been known for its efficient and reliable transportation facilities. Uber has a valuation at a whopping $60 billion and
Competitive analysis in the Marketing strategy of Uber-
The industry in which Uber operates is overcrowded with a large number of players, the primary ones being public transport and the second competition being from small companies and MNC's which are eating up each other's market share in the developing as well as developed nations.
The unorganised sector of Cab / Taxi services as well as the threat of ever changing government laws poses a  serious threat to the business of Uber. Some of its competitors in emerging as well as developed nations are Lyft, Ola cabs etc.
Market analysis in the Marketing strategy of Uber-
Changing lifestyle, global warming, volatility in oil prices, exchange rate, government regulations, political instability, illiteracy are some of the factors affecting the industry in which Uber operate in some or other way. 
A majority of the customers of Uber are the working professional and young tech-savvy Gen-Y who look for the convenience of booking, believe in standard procedures and pre-defined rates for commuting.
Liked this post? Check out the complete series on Strategies