Serving more than 71 millions household since its inceptions, 1959 when it was founded by Jay Van Andel and Rich DeVos as a family business the company is world's number 1 direct selling firm.
Amway continuously works to reduce the use of nonrenewable resources and decreases greenhouse gas emissions by using sustainable building and agricultural practices, and, renewable sources of energy as approximately 6500 Acres of certified organic land is owned and operated by the company.
Segmentation, targeting, positioning in the Marketing strategy of Amway –
To understand the customer demographic and geographic factors which can help in identifying the potential customers, Amway uses a mix of demographic and geographic segmentation variables such age, Gender, profession, region, income class etc.
Amway uses undifferentiated targeting strategy since most of its products are sold through cross-selling and Upselling to the existing customers.
Amway has always been known for its unique business model and quality products. It uses customer benefit and value-based positioning strategy to position itself as a quality brand in the mind of the consumer.
Marketing mix – Here is the Marketing mix of Amway.
SWOT analysis – Here is the SWOT analysis of Amway.
Mission- "To help people live better lives by helping them realize their potential"
Vision- "To help people live better lives"
Tagline-"Pioneers of future".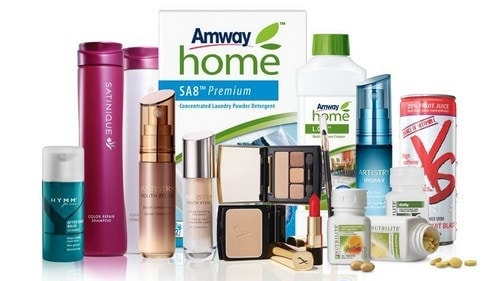 Competitive advantage in the Marketing strategy of Amway –
Business Model: Amway operates with the business model of Multilevel and direct selling marketing strategy wherein it enables its consumers to become band ambassador of the company and earn while referring products to new customers.  Amway has paid more than $ 56 billion since inception as bonus and incentives to these customers for referring. 
Manufacturing and R & D facilities: Amway operates through 18 manufacturing & processing plants and 70+ R&D quality assurance labs globally across the major economies of the world which covers America, European market, Asia Pacific and Africa.
BCG Matrix in the Marketing strategy of Amway –
It is in business segments such as Nutrition, Beauty care, and homecare products.
The nutrition business lead by the brand Nutrilite, number one vitamins & dietary supplement brand worldwide and is sold more than 11.8 billion annually. This segment contributes approximately 46 % of the total sales of the Amway group.
Beauty and personal care business contribute 28% of the Amway sales which is a result of its top-selling beauty brand Artistry.
Both of these business segments are Stars in the BCG matrix while home care which generates 23 % of Amway Group sales is question Mark in the BCG matrix.
Distribution strategy in the Marketing strategy of Amway –
Supported by 20000+ employees empowering the millions of customers popularly called Amway Business owners (ABO) through seminars, entrepreneurship programs have helped the company in making its products available globally.
It addresses the needs of the region, distributor or customer through 720+ Amway experience centers, distribution centers, and shops. Apart from this it also distributes its offerings through e-commerce sites, resellers and wholesalers.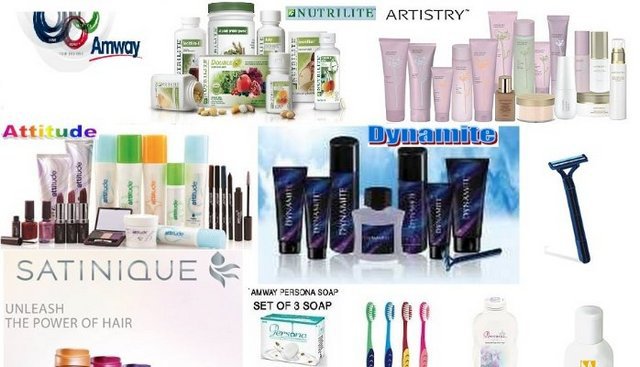 Brand equity in the Marketing strategy of Amway-
Amway has been ranked 35 in Forbes magazine list of America's Largest Private Companies. The brand has been valued at $ 8.8 billion as of Dec 2016 (market capitalization value method) generating revenue of $ 8.8 billion.
Competitive analysis in the Marketing strategy of Amway –
The number one Direct selling company in the world has a presence in more than 110 countries & territories globally, its operation and commitment to continue to become a customer-centric organization is incomparable.
The core competency of Amway is its commitment to manufacturing quality & innovative products (holds 1150+ patients) and empower each of its business owners to propagate the benefits through face to face interaction with other customers.
It competes with direct selling companies such as Oriflame, Modicare, Avon, VLCC etc. and other consumer goods companies such as HUL, Proctle & Gamble, Pamolive etc.
Market analysis in the Marketing strategy of Amway –
In a traditional market wherein 3-tier or 4-tier supply chain entities are involved in the consumer market, Amway works on a 2-tier business model of B2C (Business to a customer) and C2C (customer to customer).
Amway faces bottlenecks in the industry such as the risk of brand image deterioration due to a customer, government regulations imposing the restriction on a business model, bargaining power of customers, rise of e-commerce sites and changing a lifestyle of people.
Customer analysis in the Marketing strategy of Amway –
Customers of Amway in a retail segment are in the age group of 20-60 years. Most of the customers are acquired by the company through the positive word of mouth of the customers. Customers play the critical role in the overall delivery system as each customer of Amway Business owners brings in customer gets incentives in return.
Resellers, Distributors, Pops & mums store and e-commerce websites are the B2B (business to business) customers of Amway.
Liked this post? Check out the complete series on Strategies