Tesla, Inc. which was formerly known as Tesla Motors was founded in the year 2003 and it only started being profitable in 2013. It is based on Palo Alto, California and specializes in solar panel manufacturing, lithium-ion battery energy, and electric vehicles. Elon Musk who is the CEO of the company envisions Tesla as a technology company and an independent automaker which aims to provide affordable electric vehicles to average consumers.
Segmentation, targeting, positioning in the Marketing strategy of Tesla :
While segmenting the market Tesla didn't ask which segment is the most fuel-conscious but which segment enabled the company to build long-term and innovative model vehicles. It didn't choose the small car segment. The segment of choice was the lower volume, the price-insensitive performance-car segment which enabled them to create a brand identity, establish premium pricing and earn significant unit gross margins by targeting the rich and affluent who are willing to spend more compared to their vehicles.
Since 2015, Tesla has been selling an all-electric luxury SUV, which has done relatively well in the market and has delivered the record of 100,000 vehicles for 2017. Tesla's unique positioning in the car market is one of its biggest strengths. Tesla not only sells cars but also sells technology. It positioning statement was "the only stylish car that can go from 0 to 100 in 3 seconds without a drop of oil".
Marketing mix – Here is the Marketing Mix of Tesla
SWOT analysis – Here is the SWOT Analysis of Tesla.
Mission and Vision :
The vision and mission statement of Tesla reflect the company's aim for dominance in the global electric vehicles and battery market.
Tesla's mission statement: "to accelerate the world's transition to sustainable energy".
 It believes that the faster the world stops relying on fossil fuels and moves towards a zero-emission future, the better it will be for the world.
The vision statement: "to create the most compelling car company of the 21st century by driving the world's transition to electric vehicles".
Tesla wants to accelerate the advent of sustainable transport by making products accessible and affordable to more and more people ultimately leading to clean transport and clean energy production. Tesla focuses on bringing compelling mass market electric cars to market as soon as possible.
Competitive advantage in the marketing strategy of Tesla :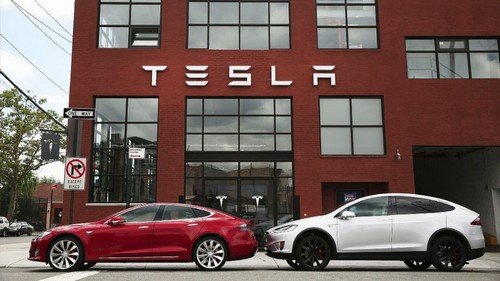 1) Driven by Technology:
More than an automotive company, Tesla is a technology company building technology platforms. Betting on Tesla technology is betting on new technology. The company not only sells cars but has also built the infrastructure necessary to support the operation of those cars.  It has built the network of superchargers, battery swap stations, and service stations.
Tesla is on track to deliver full autonomous driving capability earlier than many cars manufactures by leveraging the billions of miles' worth of driving data that Tesla has been gathering.
2) Tesla's reputation:
This can be considered as one of the intangible strengths of the company.
Tesla's Roadster transformed the image of electronic vehicles from small slow vehicles, into blindingly fast vehicles of desire. It provided an acceleration with a 0 to 60 mph that could beat superior cars. Tesla then produced the cheaper Model S sedan that ended up winning just about every big auto award. With the reputation for excellence, it has created an impressive brand image.
3) Diversifying its business:
Tesla seems to be diversifying its business and entering into the market of Solar roof tiles as it complements with the business of rechargeable lithium-ion battery which provides homes with the storage of solar captured energy.
BCG Matrix in the marketing strategy of Tesla :
Model 3 is the combination of design, style, convenience, and moreover safety. It has been priced as the least expensive model developed. The official launch and delivery of the first 30 cars said to be on July 28, 2018. So the Model 3 belongs to the question mark category of the BCG matrix.
Model S is a beautiful model which is packed with functionality, convenience, and safety along with style and energy. It is said that it has crushed large luxury car competition in the USA. Out of 10 large luxury car models, the Tesla Model S gobbled up a notable 34% of sales. Thus it belongs to the star category of the BCG Matrix.
Model X is a long-range SUV. It has unique designs with falcon wings that give the vehicle a unique and luxurious look and feel. Tesla is said to be pushing back its production schedule for the Model 3. The sales for Model X and Model S sales are soaring but Tesla is still struggling with Model 3 production. This puts the Model 3 in the Dog category of the BCG matrix.
The ZEV credits or Zero Emission Vehicle credits can belong to the cash cow for Tesla. It is required for automakers that a certain proportion of vehicles sold emit no greenhouse. Tesla only makes vehicles that run on battery and emit nothing, it usually has a surplus of sale. So by selling this, Tesla earned 100 million in revenue in 2017. The profit margin on this is 95%. Thus the ZEV credits are the cash cow.
Distribution strategy in the marketing strategy of Tesla :
Tesla mostly uses online sales model coupled with company-owned stores to sell its cars and doesn't use the conventional dealer network. The company owned distribution is fraught with several challenges. The substantial amount of money is set up for a distribution channel.
Other manufacturers including Ford and general motors team up with the third party to sell their vehicles. For Tesla, the brick-and-mortar store serves as a channel to sell the concept of EV as well. Selling the vehicles online has reduced the company's selling cost. The physical stores only serve as a showroom for Tesla. It has around 17 stores worldwide to sell its cars which according to Tesla helps to interact with potential customers.
Brand equity in the marketing strategy of Tesla :
Tesla has a market cap of nearly 60 billion even though it consistently failed to meet production targets and spends billions of dollars a year.
Tesla as a brand is more than just a car manufacturer, it is a vision of the future. The face of the brand for Tesla is the CEO himself, Elon Musk, who is a noted entrepreneur and an influencer. Part of a reason why it is impossible to separate Elon Musk's brand from Tesla is that of how responsive he is to the Tesla users who reach out to him and his presence is largely felt on the social media.
Tesla has consistently proven to care about user experience which has helped shape a public perception about the brand. Word of mouth has been a powerful driver for Tesla's growth with fervent supporters who don't even own a Tesla but support the idea and vision of Tesla.
Market analysis in the marketing strategy of Tesla :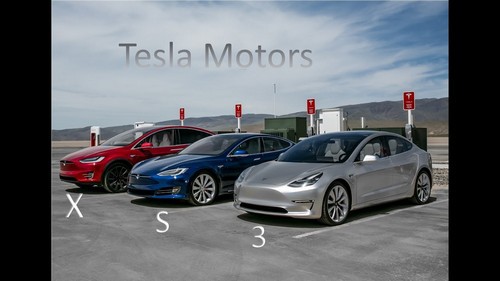 The global EV market is predicted to grow at a compound annual growth rate of 21.4% between 2018 & 2026 according to ReportBuyer.
Tesla still rules the EV market in the USA, Tesla sold three of the country's five best-selling EV's first four months of 2018. Tesla's competitors are Toyota's Prius Prime plug-in hybrid and General Motors' Chevy Volt. Both lack Tesla's brand appeal, however, Tesla is struggling with a production bottleneck.
According to McKinsey Research, China has increased its lead in EV production and the country has the largest fleet of EV on the road and has overtaken US market for the first time.  China now accounts for half of the EV sold worldwide. Even though Tesla is not able to meet its production goals it is predicted to account for over 605 of all EV sales in the US.
Customer analysis in the marketing strategy of Tesla :
The typical customers of the brand are business executives and entrepreneurs who are tech-savvy, green-friendly and wealthy. The customers are mostly males looking for luxury cars. According to Investopedia, the buyer's profile are around 83.9% male and 16.1%    female. 77% of the buyers have income over $100,000. According to the registration data of Model X, it tells that wealthy and younger customers are buying Tesla's crossover SUV. It is predicted that the Model X, will have even wider consumer reach due to its affordability factor.
Promotional strategy in the marketing strategy of Tesla :
Tesla is very much fond of the social media and it's the CEO who is the face of the brand. On social media, compared to other auto giants Tesla is in the top 3, outperforming Volkswagen, Ford, and Toyota. Tesla doesn't need paid advertisements to make sales. Word of mouth and the free media coverage is enough to fuel demand for the brand. Tesla is said to have built a strong brand identity that requires less promotion and advertising. Tesla's website is also an effective channel for sales and marketing, it has also used Twitter to successfully connect with the large base of fans and followers.
Liked this post? Check out these detailed articles on
Topic of Brand Strategies
Alternatively, check out the Marketing91 Academy, which provides you access to 10+ marketing courses and 100s of Case studies.