Headquartered in Minneapolis, Target Corporation was founded by George Dayton under the name Goodfellow Dry Goods in June 1902 before being renamed as Dayton's Dry Goods Company in 1903 and then Dayton Company in 1910. The First company store was opened in Roseville, Minnesota in the year 1962 under the parent company Dayton Corporation.
With its merging with the J.L. Hudson Company in 1969 target established itself as the highest earning division of the Dayton-Hudson Corporation in the 1970s. Target introduced new store formats in the 1990s nationwide and parent company was then later renamed ass Target Corporation in 2000. The brand has tasted massive success with its expansion in urban markets within the United States.
Segmentation targeting and positioning in the Marketing strategy of Target Corporation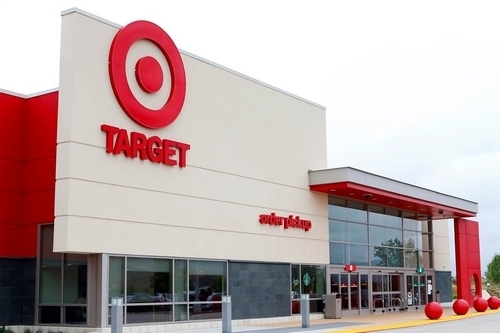 With its wide range of clothes (Male and Female), groceries, pet supplies, electronics, home accessories, pharmacy and shoes, the brand has accomplished a lower median consumer age of 41 than its competitors. The median for household income stands at $58,000 and around 80% of Target consumers are free males of whom 43% are housewives with children.
Target differentiates its products through an image of economical stylish and elegant clothing. Major consumers which the brand targets are upmarket families, as well as young singles who prefer to shop at retail the stores.
As the tagline of the brand goes "Payless, Expect More" which sets it apart from its competitors as it positions itself as a brand with high-quality stylish products at low prices which even their commercials seem to reflect with the customer not having to pay top dollar for lucrative well-designed products.
SWOT analysis – Click here to read the SWOT analysis of Target Corporation
Mission in the Marketing strategy of Target Corporation – "We fulfill the needs and fuel the potential of our guests. That means making Target your preferred shopping destination in all channels by delivering outstanding value, continuous innovation and exceptional experiences—consistently fulfilling our Expect More. Pay Less.® brand promise."
Vision in the Marketing strategy of Target Corporation –  N/A
Tagline- "Expect More, Pay Less"
Competitive advantage –
Buy Online Pick up store
The brick and-and-mortar stores located at various locations across the country have used the ship to the customers when booked online which gives the brand competitive advantage of delivering at a faster pace to customers. The brand has also found success as a cheap-chic player in the industry.
Bricks In The Wall
Target recently expanded its "Drive Up" service across Alabama, Mississippi, Georgia, Texas, Louisiana, Oklahoma and South Carolina which facilitates the pick up service for customers using their app as within two hours of booking the orders will be made available for the customers and they can roll up in their vehicles and a store associate will bring out orders to their car. Currently, 270 stores have already started this service giving them an edge over their competitors.
Some of the major competitors for the brand includes other retail outlets like:
Aon
Kohl
BCG matrix in the Marketing strategy of Target Corporation –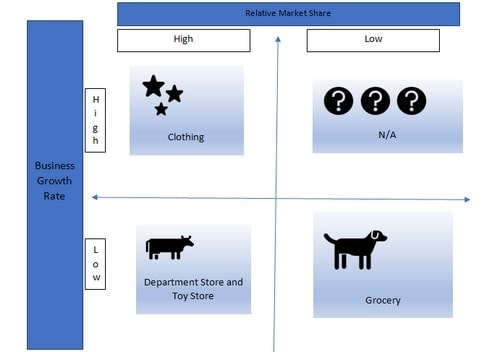 With Grocery retailing becoming matured and saturated market in the US it appears to be in the dog segment for the company.
Clothing, on the other hand, has been the star performer for the brand over the years. While Target is in the top 3 toy retailers in the US market and also holds a relatively high market share in the department store thus both features as the Cash cow for the brand.
Distribution in the Marketing strategy of Target Corporation –
With as many as 1,829 stores as of April 2018 Target has a robust retail network which company now has started to exploit by providing Drive Up services to its customers which is already present in 270 stores.
The recent announcement by the company to further strengthen distribution and fulfillment service sends a clear message that the brand is looking to keep itself abreast with competition.
By December 2017, Target got serious about its delivery operations with the announcement of acquiring Ship, an online delivery company for $550 million. With this addition, Target claims to deliver products to its customers within hours of buying it online and this will eventually help the brand stay ahead of the game in the increasingly competitive grocery delivery market.
Brand equity –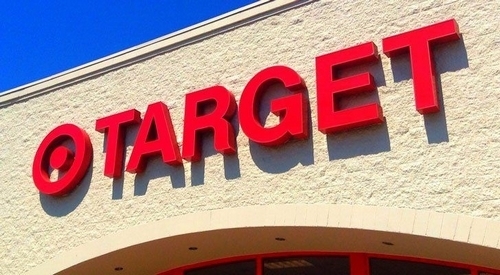 Target Corporationappearsat 39th position on the 2018 Fortune 500 list of the largest United States corporation by total revenue.
Fortune magazine then went on to rank the company at no. 38 on the list of the World's Most Admired Companies.
The brand has also been ranked at 31st position on the list of the 100 Most Sustainable Companies by Barron's.
With a score of 100 by Human Rights Campaign on 2018 Corporate Equality Index, Target Corporate appeared on no. 24 on Diversity Inc magazine's Top 50 Companies for Diversity rankings.
Market analysis in the Marketing strategy of Target Corporation –
Target recently reported a surge in shopper visits and digital sales providing the brand with the biggest comparable sales gain in past 13 years with its integration of stores and e-commerce business thus eventually giving tough competition to brands like Amazon.
Its shares have risen all-time high since the implementation of its integrated service.
Its total revenue with a growth of 6.9% in August reached an all-time high of $17.8 billion.
Target Corporation currently stands in the middle of a $7 billion, multi-year program of remodeling stores including integration of e-commerce and store business to facilitate its Drive Up service which will reach 2/3rd of US households by the start of next year is only going to strengthen the company's position in the market.
Customer analysis of Target Corporation
Customers for Target Corporation falls in the category of "Esteem" based on Maslow's Need Hierarchy. These individuals look for superiority, self-respect, status, and prestige. Consumers of the brand can buy trendier and stylish clothing, furniture or other items of their choice at a discounted rate. The brand offers products which the customers believe of better image or status but at a much reasonable price.
Promotion strategy of Target Corporation
Adopting ATL and BTL promotional strategy to increase its customer base brand has launched ad campaigns in both electronic and print media through flyers, coupons, newspapers, television and magazine commercials. Target also has a strong social media presence via portals like YouTube, Facebook, Instagram, and Twitter. The company also sends direct emails to its customers informing them about deals and schemes as part of its promotional policy.
To increase its Brand Recognition it has also been the sponsor of award shows such as Oscars, Grammys, Emmys and Golden Globe. As a part of their promotional mix for sports, segment brand has also entered into sponsorship of NASCAR and IndyCar teams. Last but not least the company also actively participates in CSR activities in the US and has donated huge amounts to schools across the country.
Liked this post? Check out the complete series on Strategies