Founded in 1910 as Imperial Tobacco Company of India the company initially dealt in tobacco products for decades before diversifying into non-tobacco products in the 1970s.
ITC since then has emerged as a multi-business conglomerate having business in various industries such as Hotels, Lifestyle Retail stores, ready to eat sector, confectionary sector, Paperboards segment, body care products etc.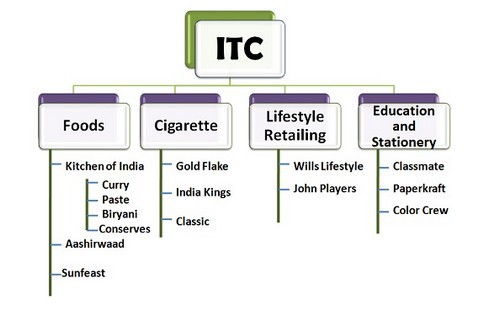 Segmentation, targeting, positioning in the Marketing strategy of ITC-
ITC as a brand caters to the needs of a diverse range of consumer segments which is done by segmenting the population based on similar sorts of characteristics.
ITC uses a mix of geographic demographic and psychographic segmentation variables such as profession, income class, gender, age, region, behavior etc.
ITC uses selective and differentiated targeting strategy is used by the company for offerings of the different group of companies.
Marketing mix – Here is the Marketing Mix of ITC.
SWOT analysis – Here is the SWOT Analysis of ITC.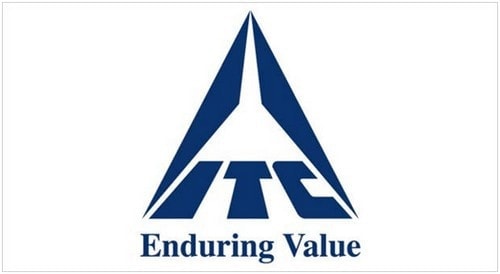 Mission- "To enhance the wealth generating capability of the enterprise in a globalizing environment, delivering superior and sustainable stakeholder value"
Vision- "Sustain ITC's position as one of India's most valuable corporations through world class performance creating growing value for the Indian economy and the Company's Stakeholders"
Tagline- "Enduring Value"
Competitive advantage in the Marketing strategy of ITC–
1) Big Conglomerate:
Over the years ITC has become a large conglomerate offering the diverse range of products and services ranging from Agri-Products to food products in FMCG Segment to IT Solutions.
Experience in such a diverse array of products and services has helped the company to emerge as a prominent player in the market especially in FMCG- Cigarettes, Hotels and Paperboards & Packaging sectors.
2) Vast experience:
With 108 years of experience in Indian, Market ITC has developed a robust distribution framework which is parallel to none of its competitors present. This has helped the company to understand the need and wants of the consumers making it financially strong and competitively ahead of its peers.
3) The X-Factor:
ITC's E-Chaupal initiative aimed at making internet available to Indian farmers has touched the lives of millions of farmers and their families in the rural part of the country thus increasing brand presence through this social initiative and in turn leveraging some Brand essence points to the firm.
BCG Matrix in the Marketing strategy of ITC –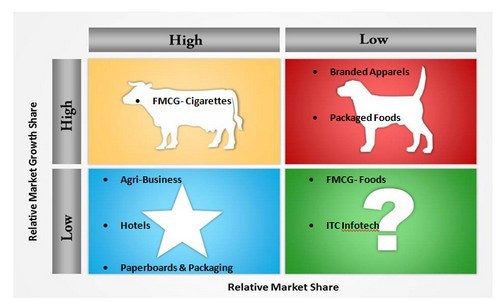 ITC's business segments are FMCG- Cigarettes, FMCG- Foods, ITC Infotech, Agri-Business, Hotels, Paperboards & Packaging, Branded Apparels, Packaged Foods.
Out of this FMCG- Cigarettes is its cash cow while Agri-Business, Hotels, Paperboards & Packaging comes in star segment for ITC.
FMCG- Foods still appears to be a question mark for the firm and Branded apparels and Packaged foods are categorized as dogs for the firm.
Distribution strategy in the Marketing strategy of ITC –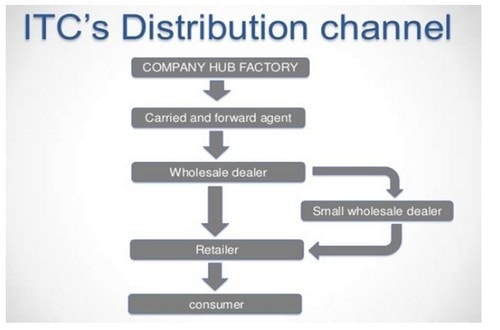 The company operates with its own sales channel, products are made available to the wholesale dealers through Carried & Forward Agents (CFA's) which is then forwarded to the Retailers in towns directly or through Small Wholesale Dealers to reach the consumers in the remotest of locations of the country.
Brand equity in the Marketing strategy of ITC –
ITC has been ranked 772 on Forbes magazine list of top 2000 companies globally. The brand has been valued at $51.5 billion as of June 2018.
ITC also features at 239ranksk in worlds best employers list of Forbes Magazine and Asia's 50 biggest performing companies list compiled by Business Week.
Market analysis in the Marketing strategy of ITC –
Under the GST regime with additional cess being charged over the GST of 28% on cigarettes and tobacco-related products, ITC has estimated an incremental tax burden of over 20% on the company. Analysts have estimated that the company 's sales volumes of cigarettes have taken a hit and has declined by more than 5% in the last quarter.
Talking about the broader picture on economicfront over the 10 years period value added by the company stands at $55 Billion.
Foreign exchange earnings in the last 10 years stood at $7.1 Billion of which agri exports constituted 56% of the share.
In the social sector with direct employment to over 32,000 people and its initiatives like e-chaupal, social and farm forestry initiative and 'Mission SunehraKal' has touched the lives of millions of farmers and their families in rural India.
On the environment front, ITC has been Water Positive Enterprise (16 years in a row), Carbon Positive Enterprise (13 years in a row) and Solid waste recycling Positive (11 years in a row). This is the only enterprise in the world of comparable dimensions to have achieved and sustained the 3 key global indices of environmental sustainability.
Customer analysis in the Marketing strategy of ITC –
With its varied range of products and services, ITC caters customers to all range of customers ranging from the age group of 5-60 years and even morewith its products ranging from Candyman, Mint-o to Aashirvaad etc.
In B2B segment ITC serves to the needs of various companies as well though ITC Infotech in IT sector to ITC Hotels in the Hospitality sector.
Promotional Strategy in the Marketing strategy of ITC –
Over the years ITC has been doing Surrogate Advertising for its Wills brand of Cigarettes.
For various segments like Ashirvaad, Bingo, Sunfeast, Bingo in Food products Fiama, Di wills, Engage in Personal care segment and education stationary segment Classmate ITC has been using both Above the Line (ATL) and Below the Line (BTL) advertising strategies with the frequent advertisement appearing on Televisions and Newspapers respectively
Liked this post? Check out the complete series on Strategies