The vision statement of the company clearly states their segment- women. Company's primary target group is working women, between 25-35 years having career aspiration. Since it is a direct selling enterprise, geographical segmentation of their customers is based on the reach of their representatives. In terms of psychographic segmentation, customers who regularly buy cosmetic products, and shows interest in innovative products which are not easily available in the market.
The brand has specifically positioned as empowering women. Founded way before women in the US earned voting rights, AVON has described their history of being a strong supporter behind every women's achievement. Along with this, AVON also promises to deliver advanced products with superior quality. 
Marketing mix of the brand – Here is the Marketing mix of Avon.
SWOT analysis of the brand – Here is the SWOT analysis of Avon.
Mission – To create a world with more empowered women, because empowered women bring more beauty to the world.
Vision of Avon – The Company for Women To be the company that best understands and satisfies the product, service and self-fulfilling needs of women – globally.
Tagline
The tagline of AVON is "Beauty for a purpose".  AVON's philosophy is beauty empowers women to empower others. They relate this philosophy by considering each AVON representative as beautiful brand ambassador.
The competitive advantage of Marketing Strategy of AVON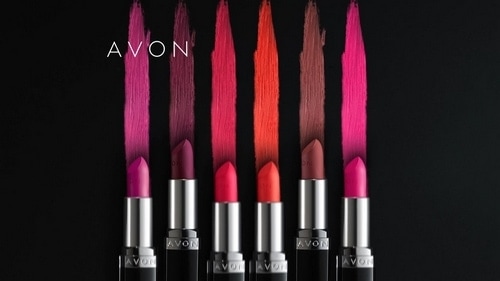 Distribution model of AVON can be considered as the primary competitive advantage in the same product statement. Its major competitors in the cosmetic industry include L'Oréal, Lakme, Sunsilk etc. AVON has an edge of direct selling distribution model unlike the other companies mentioned before.
Amway is a top competitor as it has similar products and also uses the direct-selling distribution model. AVON conducts extensive research and development of their products to serve
innovative products to their customers based on their need.
BCG matrix Marketing Strategy of AVON
BCG Matrix here for AVON is should be considered by Product division and also by Geographic division.
 For the Product Division Beauty segment of the brand features as the star while the fashion segment appears to be the cash cow for the brand. Home Products are still considered to be as a dog by the brand.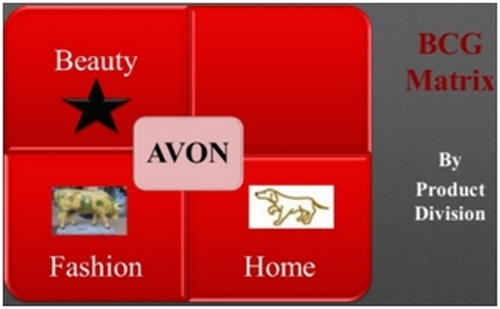 For the Geographic Division, Latin America remains as a Cash cow for the brand while Asia Pacific & China features as the star.
Europe, Africa, and East Asia are the markets which company looking to heavily invest in to change their category from Question marks to star somewhere in future while North America over the years has been a dog segment for the brand.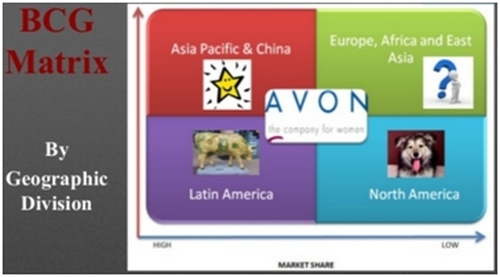 Distribution strategy
1) Advancement Of The Direct Selling Model
Extensively, Avon's appropriation channel could be partitioned into three noteworthy classifications: Direct Selling, Limited Retailers, and Online. Of these, an immediate offering was its essential channel while the other two were auxiliary channels of dissemination. The immediate offering channel was Avon's center channel, one which the organization had depended on since 1886 when its originate tor himself used to embrace door-to-door selling.
2) The Distribution Model 
The representatives of the brand were independent contractors and not workers of Avon. Once a person joined to wind up an Avon Rep, the district manager, who was a representative of Avon, approached him/her to clarify the way toward offering the items. The new reps were required to dispatch aa to join the expense of $ 110.They were given 20 handouts, test items, sales books, order forms, etc.
3) Retail
In the mid-1980s, retail outlets were picking up a solid hold on market. Right around 80% of all beauty products were sold through retail locations and this market had turned out to be hard to disregard. Notwithstanding, for Avon, offering its items through retail locations was troublesome as it knew the move could distance its business agents. So as to go into office and claim to fame stores, Avon went into a joint venture with Liz Claiborne (designer) and made fragrances and beauty care products line and made these items accessible in 2,000 stores.
Brand equity in the Marketing Strategy of AVON
Avon, being a global maker and merchant of excellence, family, and individual care items, had confidence in coordinate offering since its beginning. It offered an extensive variety of beauty products, which also includes skin care products, cosmetics, perfumes, spa treatments, makeup, and everyday cosmetics and toiletries like shampoos, antiperspirants, and body lotions.
Its product offering included numerous well-known names, for example, Anew, Avon Color, Skin-So-Soft, and Advance Techniques. Avon Color was once one of the leading cosmetic brands in the world. The items were chiefly focused at women in the age gathering of 25 to 50 years. The items were of high caliber, positioned at a reasonable price and as products that provided value.
Market analysis in the Marketing Strategy of AVON
In May 2017, the brand had had already had a strong social media following with more than 18 million followers on Facebook, putting it in fourth among the worldwide beauty giants. The firm ought to be viewed as having a noteworthy online nearness overall, given Avon's beauty videos had asserted more than 55 million views on YouTube by February 2017.
In spite of the noticeable quality of the organization's worldwide image, Avon has encountered huge financial issues as of late. Somewhere in the range of 2011 and 2016, Avon's aggregate income dropped from around 9.23 billion U.S. dollars to around 5.72 billion.
Tragically for Avon, the decrease was not contained to one geographic area. The breakdown of income from 2013 to 2015 paints a distressing picture in which a downturn in any one region can't be rebuked for the global demise. Obviously, these drops saw Avon's operating profits sliced considerably.
The sharp decrease in money related returns has incited a re-examine the company's methodologies with the door-to-door approach experiencing harsh criticism in the internet age. As per a 2016 survey, 61 percent of shoppers who led beauty activities online turn up to the internet to make buys.
With the internet now moving from once a consumer information source to now a retail purchase platform, it is more and more difficult for Avon's numerous sales representatives to knock the door and sell products.
As the web moves from being exclusively a purchaser data source to a retail stage, it is difficult to see which entryways Avon's various deals delegates will thump on the straightaway. It is not necessarily the case that buyers are unaware of Avon as a brand. In a 2017 overview of U.S. ladies, 80 percent of respondents revealed that they knew about Avon, making it a standout amongst the most known brands in the United States. Still, just 16 percent of U.S. women featured to be using the brand Avon regularly.
Customer analysis in the Marketing Strategy of AVON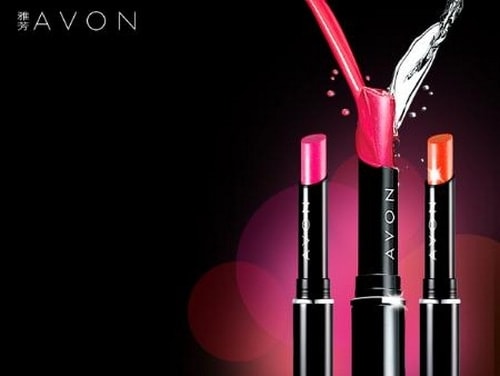 Over the years Avon as a brand has a  clear-cut strategy of targeting the women mostly homemakers with its preference to select women as sales representatives to lure their targets more. But this now seems to be threatening the brand as in 21st century most of the women are working professional and prefer online or retail stores for their purchase.
The brand now needs to aggressively change its marketing strategy to target customers.
Promotional strategy in Marketing Strategy of AVON
To create positive brand awareness the brand has roped in various famous personalities which includes Lauren Conrad, Lucy Hale, and Ashley Greene.
This shows the nature of advertising policy followed by the brand as to position itself stronger in this competitive market as the brand recently also signed Aditi Rao Hydari as its newest brand ambassador in India.
Avon uses catalogs which are released on special events having several famous personalities as its cover page. The brand also promotes its products on various social media platforms which include Instagram, Youtube, Facebook, and Twitter.
Liked this post? Check out the complete series on Strategies