Taco Bell is an American company selling Mexican food all over the world and is based out of California. Taco Bell is a subsidiary of Yum! Brands Inc. They serve the number of Tex-Mex foods that includes varieties like burritos, quesadillas, nachos, and tacos.
Each year Taco Bell serves more than 2 Billion consumers and has 7,072 restaurants spread all over the world among which over 93% is operated by independent licensees and franchisees. The company was founded by Glen Bell who started the restaurant with a small hot dog stands in the year 1948.
Then the company was later acquired by Yum! Brands which owns brands like KFC, A&W, and Pizza Hut, etc.
Mission:
We take pride in making the best Mexican style fast food providing fast, friendly, & accurate service.
We are the employer of choice offering team members' opportunities for growth, advancement, & rewarding careers in a fun, safe working environment. We are accountable for profitability in everything we do, providing our shareholders with value growth."
Vision:
Taco Bell will grow into the largest fast food provider of Mexican style cuisine in emerging markets. The brand will have an established presence in Asia, South America, and Africa with restaurant locations being found within the top 25 major cities on these continents. By saturating the world's most populous metropolitan cities, taco bell will be the most recognizable Mexican food brand in the world.
Tagline:
"Live mas" (mas means 'more' in Spanish), 
Segmentation targeting and positioning in the Marketing strategy TACO BELL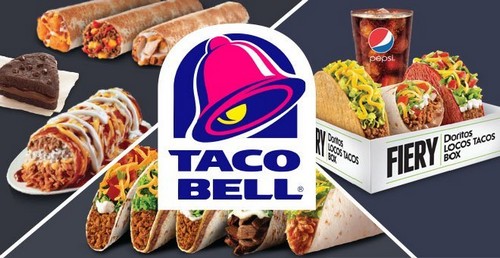 Segmentation:
Taco Bell has segmented the market according to the demographics targeting youth between the ages of 20 and 30. The market has been segmented according to the income, targeting the lower, middle and upper-class income group.
Under behavioral segmentation, it targets the market that views fast food as an easy option for food and is not necessarily lazy but is not in the intention to go for grocery shopping. The market segment that it tries to cater to is those that do not overly price sensitive and see value in time-saving and convenience.
These groups are not very brand loyal as they make the decision completely based on convenience.
Target:
Children and youth from middle and upper class are the main targets of Taco Bell since their inception. They target the younger men, especially who go out to eat minimum 12 times a month. To attract the youth it is necessary to focus on effective marketing strategies that will appeal to these demographics and use the communication channels they are familiar with.
Taco Bells main target market is between the ages of 18-34 year. To go with the trends among the youth, the brand has started selling healthier options in their menu and has even tried some vegan options as well.
Initially, they tried targeting the kids with special kid's meal as and toys but it was not boosting the sales. So Taco Bell started targeting young adults and has identified millennials as their main target.
Positioning:
Taco Bell has its focus on the health-conscious youth and has even started offering healthy fast food and to bring this positioning strategy, the number of changes has been made in the business strategy. Taco Bell has started to experiment with its food options with the nutritious menu with healthy breakfast options which were a big hit.
They even revamped their interior designs, branding strategy and launched the number of high-end restaurants across the world. They have even applied the technological solution in its restaurants and has cited many options to communicate with the youth in an authentic way.
BCG matrix in the Marketing strategy of TACO BELL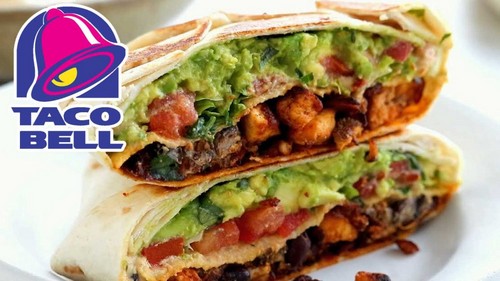 Taco Bell is one of the world's most loved, fast-growing and trusted fast food chain and has the best franchise operators in the business. More than 350 franchise organizations operate in 7000 restaurants and serve more than 40 million consumers each week.
For Yum! Brands which owns fast foods like KFC and Pizza Hut, Taco bell falls under the star category. In India, Yum! Brands aim to open more than 100 outlets in the coming 5 years. The product innovation strategy at Taco Bell has been proven to be world class and has become America's No 1.
Favorite Mexican fast food restaurant. Since it has huge growth opportunities and Yum! Brands are investing in the growth of Taco Bell, it falls under the star category of the BCG matrix.
Distribution in the Marketing strategy of TACO BELL
Taco Bell is a global organization with its foothold in Saudi Arabia, South Korea, Spain, Sri Lanka Saudi Arabia, South Korea, Spain, Sri Lanka, Netherlands, Philippines, and Romania, etc. The distribution takes place through outlets in malls and exclusive stores.
Under the Taco bell express chain, there is also the number of small shops and drive-through locations which are located primarily inside the convenience stores. Consumers can also order from their website. It plans to open 1550 restaurants from the current 280 in markets outside the US by the year 2023.
In India, Yum! Brands have tied up with local franchise partners and aim to open stores in markets like Hyderabad and Chandigarh.
Brand equity in the Marketing strategy TACO BELL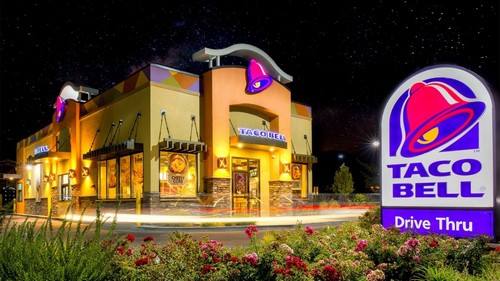 The brand strategy of Taco Bell keeps on changing to meet the changing needs and desires of millennial consumers. Taco Bell has a convenient factor associated with the brand when customers look for a reliable food with consistent taste and quality and have a number of new options in the food menu, consumers go to Taco Bell to enjoy the meal.
Taco bell often launches affordable food options to its consumers. In India, it is used the strategy to give soft drinks free with any purchase. It is because of its effective brand strategy that is so youth-centered, consumers look forward to having good, hearty food at Taco Bell.
Taco Bell has consumers going back to the store more often due to it is quality, convenient and healthy food options and this strategy has worked positively in Taco Bell's favor.
Competitive advantage in the Marketing strategy TACO BELL:
Innovation:
Taco Bell has its main focus on innovation and also on the marketing and branding of the products. Its strategy to innovate has helped Taco Bell to become one of the most famous brands in the fast food industry. Its innovation in the menu and innovating marketing strategies have worked in favor of the brand. The brand looks for food culture, looking at the conventional menu and twisting it based on the needs of the consumer.
This year Taco Bell closed the quarter with an 8 percent increase in the system-wide sales and the credit for it is due to fresh innovation and new ideas Taco Bell implements.
Taco Bell aims to expand to 1000 locations from the current 280 by the year 2020. The company has opened two Taco Bell Cantinas which are a higher-brow extension that serves appetizers from an open kitchen concept. They have also used technology to improve the service of order pickup.
Taco Bell has developed a mobile app that has been downloaded 4.9 million times which allows customers to order the mill and pay without standing in the line.
Effective targeting:
Taco Bell has been successful in being able to capture the attention of Millennials consumers and obtain their loyalty. They have moved away from targeting children and families and now caters to more niche audiences.
Taco Bell understands that technology has heavily influenced this target group and Taco Bell has been able to capitalize on their appetite for easy and quick food and use of technology by implementing edgy and fun marketing initiatives.
Taco Bell has been able to find the right audiences and has been able to target them effectively through social media campaigns.
Good use of Social media:
Taco Bell has a targeted a defined youth based demographic and has been able to appeal to them through the unapologetically sarcastic and witty sense of humor. Taco Bell has been able to successfully build relationships with the customers through social media and speaks directly to them building a personal relationship rather than building a business.
Taco Bell understands that millennials lives and breeds social media and has created digital initiatives to stay at the forefront of the trends.
Competitive analysis in the Marketing strategy of TACO BELL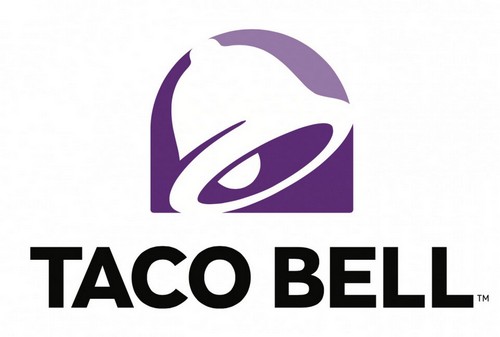 One of the most recent threats to Taco Bell is Chipotle. The food they serve is more expensive but is rapidly growing its market share and serving Mexican healthy food to every growing health-conscious consumer.
The menu is simple without much variety serving authentic Mexican food. There is always a threat of new entrants but potential entrants may reconsider before entering into the business due to the loyalty that exists for the Taco Bell brand.
Other competitors of Taco Bell are KFC, Pizza Hut, and Dominos, etc. Yum! Brands spent 2 decades building the brand for KFC and Pizza Hut in India and is now they want to open the market for Mexican food. With brands like McDonald's, Subway, etc.
The competition is tough, so Taco Bell needs to keep innovating and using creative strategies to stay ahead of the competition.
Customer analysis
The consumers of Taco Bell are typically between the ages 20-35 and the branding strategy done by Taco Bell is to be more relatable to the millennial consumers.
People who would want to have food options that are tasty, healthy and reliable, consumers turn towards Taco Bell according to research on the consumers of Taco Bell, on why they would choose the brand is due to the fact that they are affordable, reliable and has a number of healthier options on the menu compared to KFC, Mac D or Pizza Hut.
The consumers are most loyal to Taco Bell, and they ensure that they visit the store more than once.
Promotion Strategy
Taco Bell was one of the first fast food chains to get into the growing trend of short video ads and the contents were seen actively on Instagram and Vine. With the new campaign called "Feed the Beat," it allowed customers to find new bands and the new bands to find their fans. It was a very popular campaign allowing consumers to connect to their favorite bands through the restaurant.
Taco Bell has always been successful in creating contents that travel. Taco Bell has been targeting specific niche audience and that's why it has been so successful in their campaigns. Their tweets like "Do you sell bells" alongside hashtags like "#10ThingsIGetAlot" was very famous and it garnered a good amount of attention from their desired consumer base.
One good strategy by which Taco bell has targeted the influencers is by providing them with the products before its release in the market to create hype about the new dish.
Liked this post? Check out the complete series on Strategies