In the previous week, we had a look at Johari window and how this concept can help us improve our personal awareness as well as work better as a team. If you have not read the article, we strongly recommend you read the basics of Johari window and than continue reading this article.
Johari window uses a set of adjectives which are defined before running the test. However, if you want, you can use a customized set of adjectives which fits your business. Ensure that you involve adjectives which are positive, which are negative as well as those which are neutral.
And now, we are ready to modify the concept so that we can use it to improve your business with Johari Window. Here is how you can do it.
Form a Johari window with Open area, blind area, hidden area and unknown areas.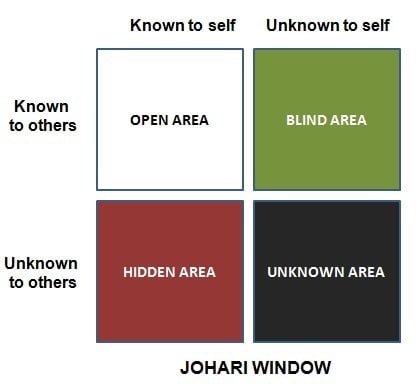 1) In the open area –
Enter all the information which you know about your business. What your business is about, what is the target audience, what is the brand value etc. Enter everything that you think your business is from your point of view.
Now, instead of employees, we will be interviewing customers. Interview as many customers as you can. Use the same adjectives which you have prepared in the start. Use of adjectives is important, and it is one place which you need to work on in the start.
2) Plot the Adjectives given by customers
In the open area – A customer might give 10 adjectives to you. If out of those 10, 4 are matching your own thought process, then plot it in Open area. Those adjectives which are known to you and known to customer should come in open area.
In the Blind area – Adjectives can also be put in blind area which you know nothing about, but which is known to your customer. So competitive information might not be known to you, but might be known by customer. This competitive information may be wrong, but it is something which customer KNOWS, and you have to change it. But nonetheless, this information will go in the blind area.
Hidden area – Information which you know about yourself but the customer does not know will go in the hidden area. Maybe your brand uses raw material which is beneficial, but the customer does not know about it. Such type of information will always go in the Hidden area.
Unknown area – Any information which is not known by you and does not concern you or the customer, should be put in this box. A customer, during interaction, might suggest things which are not in your scope currently but can be in the near future. It may be a new product introduction or some other variant which is not in the pipeline. Any out of the box content can be marked in this area.
How to improve your business with Johari Window?
The larger the open area, the better – If the open area is large, and much of the information known by you is known by the customer, then the firm is going in the right direction and you need to continue your efforts. In such a case, the unknown area might help.
1) Use feedback to lessen the Blind area –
When you are collecting this information, customers might give feedback about various processes which have dissatisfied the customer. Similarly, they might know of competitive offers and products which are better than yours.
In such cases, taking feedback from the customer, and implementing this feedback to give a better response, will help your company to increase its open area and reduce the blind area. This in turn, will give higher business for the company. This is because the company is now in sync with the customers which will result in customer satisfaction.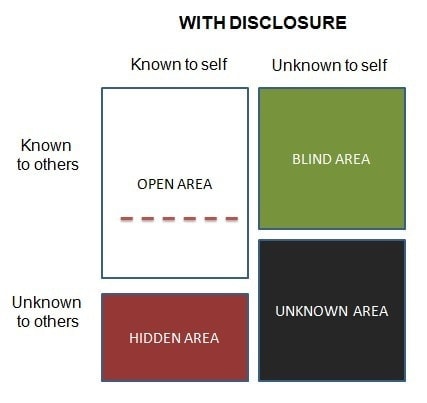 2) Use disclosure to lessen hidden area –
Like the example given above, there might be products in your company, the information of which is not disclosed to the customers for various reasons. If your raw material is good, if your process of manufacturing is better, these things might not be known by customers.
Things known by you and not known by customers gives a divide between the customer and the company. Such information should be disclosed to the customer. Your brochures should contain information of why your product is better, and why you can stand tall against competitive. Overall, as you disclose more information, the customer comes in sync with you, and starts trusting you. This increases the open area, and reduces the hidden area, thereby giving a positive outcome.
Thus, by the use of Johari window, you can get feedback from your customers, as well as know the gaps of information which exist, and via disclosure, you can reduce the hidden areas for customers. This ensures that there is positive communication regularly passing on from your company to the customer, and this two-way communication will help you as a company to improve your business with Johari Window.