Agile leadership is a type of leadership style in which leaders understand that one specific way of leading will not fit well with all situations and therefore they use agile transformation to react in a unique circumstance in the most befitting and productive way. Agile leaders have the ability to balance between different challenges- thanks to their unmatched adaptability.
Hence, agile Leadership is an emerging leadership style wherein the leader can lead others through varied circumstances, especially new and contradictory demands with their wide range of project management skills. An agile leader builds a high-performing team or organization that is capable of applying agile principles in its processes. This helps individuals and organizations to grow and increase their competitiveness. They adeptly play the role of leaders as well as managers.
What is Agile Leadership?
Definition: Agile leadership is defined as a type of leadership that creates the right context for self-managing teams in a way that team members have the ability to respond quickly to new market changes and opportunities.
Agile leaders behave like a change agent whose leadership style involves-
Fostering collaboration
Building high-performing agile teams
Self-organization
Driving consistent results
Delivering value
Productively responding to changing situations
Coordinating action across levels, etc
All in all, agile leadership is involved in balancing different ways of leading and managing to create an environment where agile teams get used to of- collaborating, learning from each other, getting quick feedback from users, and being focused on productivity and continuous learning.
How Agile Leaders Influence Agile Team
The agile leadership style does not micro-manage the teams but it also does not offer full freedom. It understands the importance of having a balance between anarchy and strict structure in contemporary markets. Therefore, agile leaders develop and maintain this right environment by focussing on culture, mindset, ownership, feedback, continuous learning, and long-term goals.
Agile transformation moves away from the traditional style of leadership. It supplements previously known information and understanding of leadership practices. It is an extension of conventional leadership approaches that apply organization psychology and includes transformation leadership, trait-based leadership, and complexity leadership.
Agile leadership affects structural and behavioral levels:
Structural level
On the structural level, an agile leader impacts responsibilities, roles, duties, processes, and key performance indicators or KPIs.
Behavioral level
On the behavioral level, agile leaders take specific action in different situations that are founded on their mindset and abilities.
Agile leadership is a holistic concept that is becoming one of the unnecessary tools to deal with VUCA (volatile, uncertain, complex, and ambiguous) environments.
Traditional Leadership vs Agile Leadership
A traditional organization model was based on stability; however, the current state of the business environment is far from stable. This led to the creation of agile organizations.
These evolved to thrive in a dynamic, unpredictable, and ever-evolving environment. It does not imply that agile organizations lack stability. Such organizations have embraced the inevitability of change and know the transient nature of strength.
| Traditional Management | Agile Management |
| --- | --- |
| Involves predictive, long-term planning. | Involves the provision of vision, strategy, and direction. |
| Manages through control of work, task assignment. | Manages by fostering self-organization. |
| Maximizes utilization and capacity. | Supports and empowers teams by removing what is impeding them. |
| Acts as the go-to problem fixer for subordinates. | Enables those closest to the problem figure out a solution. |
| Motivates others by extrinsic incentives (bonuses, titles, etc.). | Motivates others by enabling autonomy, mastery, and purpose. |
| Information flows up the hierarchy (reports, meetings). | Management moves to where the information is, for example, by participation in Sprint Reviews. |
The 7 Essential Attributes of Agile Leadership
The following are the seven essential attributes of an agile leader trying-
1. Humility
Humility is one of the essential attributes of an agile leader. A leader that can acknowledge that they may not know something and hence are willing to learn it is an excellent agile leader.
Humility coupled with a mindset to grow, learn and evolve helps impart such values to the team.
2. Providing outcomes and not actions
At times, a leader does not need to lay out every single detail such as strategy, method, or tactics but only mention the outcome that is required out of the employees. Employees can themselves figure out how to make such an outcome a reality. The team feels a sense of accomplishment in achieving such results.
While talking about agile leadership style, Bart Schlatmann former CIO at ING says-
We gave up the traditional hierarchy, formal meetings, overengineering, detailed planning, and excessive "input steering" in exchange for empowered teams, informal networks, and "output steering.
3. Flexibility
Agile leaders have to be flexible in their approach as rigidity goes against the principle of change. They need to allow their employees to make mistakes and learn from the same.
Only through experimentation, solutions to such unpredictable problems can be uncovered. An agile leader creates an environment of learning.
4. Coaching instead of commanding others
Controlling and commanding leaders can never be agile leaders. An agile leader hires intelligent and clever people who do not need instructions.
They need guidance, and as a result, an agile leader is more like a coach than a commander.
5. Collaboration as a default
Agile leaders cannot be considered as the final decision maker in such an organization.
If an agile leader addresses authoritatively, then the employees might also contest or try to verify the validity of your decision. Therefore, agile leadership suggests decision-making be a collaborative activity.
6. Understanding their people
An agile leader is a mentor to everyone in their team. They understand the needs and abilities of their team members and take a genuine interest in their concerns. As a result, agile leaders bring out the strength of various individuals in their team and push them to reach their full potential.
In the words of Theodore Roosevelt Jr, an American statesman, conservationist, naturalist, historian, and writer-
People don't care how much you know, till they know how much you care.
7. Being on the system instead of in the system
Agile leaders optimize the output while a manager optimizes the systems from within. An agile leader is focused on creating a favorable environment and is frequently delegating work. The primary roles of agile leaders are-
Creating the right environment for the team to flourish
Identifying blockers to progress and removing them
Finding out essential interfaces and developing a system of transport across them
The 10 Principles of Agile Leadership Style
Ten principles help agile leaders to achieve organizational goals. The following are those ten principles-
1. Prioritize strong teams over dominant individuals
Agile leadership focuses on enhancing teamwork, and effective teams give results. Groups are more beneficial for any organization rather than high-performing individuals. Productive teams improve the strengths of individuals within the team.
2. Conduct Planning sessions and focus on alternative scenarios
Planning is essential before carrying out a task. Even though a team may work efficiently internally, It is necessary to hold regular planning sessions where goals are set, and alternatives are considered.
3. Focus on Metrics, facts, and KPIs over opinion and intuition
Most metrics and KPIs may be more difficult to assess in a dynamic environment as such measures static while the setting is active. As a result, agile leaders focus on KPIs closely.
4. Encourage independent decision making and initiative
Agile leaders, as mentioned previously, are like a coach or a mentor. They encourage, empower, and inspire people to take the initiative and decisions based on their knowledge and strengths.
5. Communication in cycles as per the speed of respective industries
As every industry and firm is different, the communication process also varies. Agile leaders avoid long communication cycles and focus on short0cycled communication. The shortness of longness of the cycle is relative to the industry or the business model.
6. Seize networking opportunities
The agile leaders encourage sharing information and healthy communication. They create opportunities for networking within the short communication cycles.
7. Work on the system rather than in the system
Agile leaders remove themselves from the internal outcomes of the business and focus on external business issues.
8. Develop the organization's vision
An organization's vision is their end goal or the destination they want to reach. Agile leaders help clearly define the vision of the organization and determine the strategies to be applied to achieve the vision.
9. Ensure there is a positive image of the organization
The agile leaders help establish and maintain the reputation of the organization. Leaders who commit to a vision that includes sustainability play a key role in elevating companies from doing sustainable jobs to being sustainable as a whole organization or community.
10. Strike a balance between structure and chaos
Agile organizations prove that structure and confusion are not mutually exclusive. As a result, agile leaders help guide others to navigate the dynamic environment of the business world while balancing both structure and chaos that is part of such a journey.
What should be the focus of an Agile Leader?
Agile leaders should be focused on creating the right environment for self-managing teams. Four key things they need to pay heed to are-
Co-creating the goals –Rather than giving instructions, they should ensure that teams are clear about the goals, so they know what to accomplish, and if they are moving ahead in the right direction or not.
Facilitating ownership – They should create an environment that empowers agile teams to grow and thrive. They should not force teams to take ownership, instead, leaders should create circumstances in which teams take ownership. Teams should be given the right amount of freedom as per their maturity level.
Learning faster – Agile teams need to get fast feedback about their decisions and actions to ensure fast learning. Agile leadership should focus on promoting faster learning culture.
Designing the culture – Agile leadership style should be based upon the vision of leaders in designing agile culture across the organization.
Agile Business Management
For ensuring business agility across the organization, leaders need to encourage and empower cross-functional teams towards the agile culture. Agile leadership should grant enough personal authority along with responsibility and accountability to teams while fulfilling customers' requirements.
Agile leadership that wants to ensure business agility can ensure this by-
Offering an environment where it is safe to fail
Offering all the information and support necessary to make appropriate decisions
Upholding the decisions made by the teams
How to Channelize Agile Transformation
For scaling agility through an organization, first of all, leaders need to understand agile leadership and embrace it. Different steps that should be taken to develop agile culture across the organization and channel teams work are-
Senior leadership should try building a cadre of enterprise agility coaches (experienced business agility experts) who can train leaders via an agile course, so they can go through the needed agile transformation
Train and engage the agile teams in a manner that they can develop their own capabilities and self-manage themselves, as most of the senior leaders take their cues from the team executives
Immersive leadership experience needs to be created in the organization for introducing the agile mind-sets and capabilities across all agile team members
Leaders should apply their agile leadership learning in the agile transformation initiatives already underway as well as in new organizational experiments
Launch the agile leadership capability across the whole organization to build agile culture, plus there should be some quarterly pauses for reviewing the effectiveness of agile leadership over the last ninety days. Then, accordingly, leaders should plan agile management for the next quarter.
Characteristics of Agile Leaders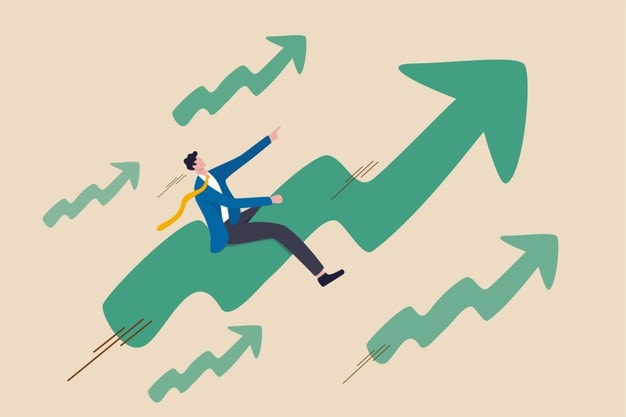 Now, when you know who is an agile leader. The next step is to learn what it takes to become an agile leader. The following are the main qualities that make a leader an agile leader.
1. Be a learner
The first and foremost quality of agile leaders is that they never stop learning. They are always one step ahead of their team members and keep enhancing their knowledge to sail their team through challenging situations. They are aware of the significant challenges that their team can face and be ready to help their team out.
They listen intently to their team members and gain insight into the situation by asking them the right questions. Your employees will feel confident to follow your instructions if they know that their leader has the required skills and knowledge to lead them.
As an agile leader,   having the required expertise beforehand helps you to make decisions quickly and efficiently.
2. Inculcating creativity and innovation in their team members
As an agile leader, you are not only responsible for your growth but are also responsible for the development of your team members. You will be responsible for fostering agility in the organization.
An organization can achieve agility by inspiring its employees to become creative and innovative.
An organization can only achieve its goals and success when all its employees are creative, innovative, and hard-working. Therefore, as an agile leader, your job is to help your team members face any problems and make them capable of thinking of creative and innovative ideas to solve their problems.
3. Making changes in your management style to match the working style of your employees
In the old ways of working, the employees were required to make changes and adapt to the organization's norms set. However, in the present times, if you want your employees to work hard and become loyal to your organization, then it is crucial for you, as an agile leader, to make changes in your working style for your employees.
Being flexible in your working style is one of the essential qualities of an agile leader. By making changes in your management style, you demonstrate to your employees the lesson of agility.
Thus, your employees will not fear to change and be willing to adapt to the change quickly. Your efforts will show them that you value your employees and are eager to make changes for them.
4. Don't fear to face new challenges
Another essential quality of an agile leader is that he doesn't fear to face new challenges. In the business world, every day is different, and you will face new challenges every day. Therefore, you can't rely on what worked for you yesterday. You will need to come up with new ideas and strategies to solve your problems.
As a leader, you should learn from your past experiences and use your knowledge to face new challenges and help your team face those challenges.
5. Having the ability to take quick and sure actions
An agile leader can take quick and sure actions whenever required. You should have the skills to divide your task into smaller tasks and put them in a sequence to be utilized properly.
An agile leader prepares a proper plan for their team members to complete a work task within the time limit and efficiently.
6. Agile leaders are content and creative
An essential quality of an agile leader is to be creative and content in his work approach.  He should be ready to adapt to change for the growth of the organization. An agile leader doesn't let his ideology and values come in his way when it comes to adapting to new methods for the organization's growth.
As a leader, you should not show any sign of discontent when the change occurs in the organization. Instead, it would be best to make your employees feel comfortable with the growth and encourage them to make the most of the opportunity. Doing this will require your creativity so that you can use innovative ways to convince your staff.
7. Feel comfortable to work on new projects and with new people
An agile leader doesn't fear working on new projects and new people. He trusts the skills of their employees and their leadership skills.
They present their team confidently in front of their clients and business partners and encourage them to take on new challenges to achieve new heights.
8. Having a growth mindset
Having a growth mindset and keep making efforts for the growth of the organization. To do this, an agile leader is continuously required to learn new skills and keep updating their knowledge.
An agile leader stays aware of what is happening in the market, what new technologies came into the organization. They learn about new technologies and also motivate their team members to update their skill sets.
9. Let go of what doesn't work for you
One quality of agile leaders is that they don't hang on to something that doesn't work. They quickly let go of something that might have worked before but is not working for the problem at hand. They look for new solutions and try new solutions to solve the problem.
As an agile leader, you should be flexible in finding a solution to a problem. It would help if you were willing to challenge your own beliefs and keep changing your thoughts and assumptions as per the need of the hour. Having the quality of letting go helps an agile leader not waste any time on methods that don't work.
10. Handing over the control
Another quality that differentiates agile leaders from traditional leaders is that they don't control their team members. They understand the way their team members work and help them accordingly. They help them complete their tasks and supervise them.
If you are trying to become an agile leader, you might find this transition a little complicated. You will have to drop your habits of giving work assignments and asking for progress reports. You might have been using these methods for a long time, and might have worked for you too.
But as an agile leader, you should learn the working style of your members and give them the freedom to complete their tasks to make them free of unnecessary tasks.
11. Learn to enjoy the process
Agile leaders don't focus only on the result, but they enjoy the whole process. In this way, they stay positive and keep their team members positive throughout the process. They understand their team members' shortcomings and help them overcome their weaknesses and evolve with the process.
12. Embraces failure
Failure is inevitable and can't be avoided no matter what you do. Therefore, being comfortable with failing at something will help you to learn and grow. Their quality of embracing failure encourages their team members to take risks and not fear taking on new challenges.
Role of Agile Leaders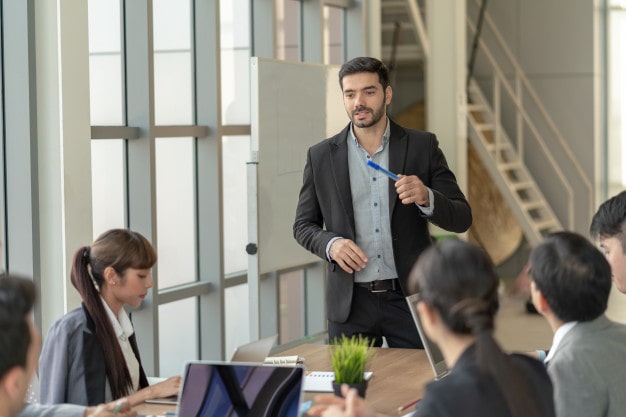 Agle leaders play an essential role in the success of an organization. The following are the roles played by an agile leader.
1. Design the culture
The first and foremost role of an agile leader in the restructuring of the organization's culture. They make strategies to redesign the organization's culture so that everyone working in the organization can be taught to follow agility in their work approach.
2. Co-create goals
Agile leaders don't give instructions and orders to their employees. Instead, they co-create plans with their employees. In this way, the employees have a clear understanding of the goals that they need to achieve.
Agile leaders create goals with the employees and make efforts that help employees achieve their goals faster.
3. Facilitate ownership
An agile leader is responsible for creating an environment where employees don't feel like they are being controlled all the time. As an agile leader, you should make such circumstances feel ownership to make decisions and think of creative ideas.
However, you need to provide the right amount of ownership to your staff members to achieve desired outcomes.
4. Creating a learning environment
agile leaders always think of the future and align their actions with future projects. They keep learning and also encourage their team members to update their knowledge and skills. They provide constructive feedback to their team members and motivates them to improve.
Conclusion!
Agile leadership comes into play in change situations and conflict management quite predominantly by overcoming challenges and delivering results through collaboration and continuous learning.
Agile leaders understand that every situation is different, and accordingly, they optimize their agile leadership by connecting and adapting to the situations to guide and empower their teams to self-organize themselves.
They should also have the ability to understand a macro-level view of an organization for offering transformational insights that can deliver consistent and reliable results for future success. This will help them in defining values as well as goals of their organization that will act as the base of unity and commitment across teams along with the flexibility to adapt to changing situations.
Liked this post? Check out the complete series on Leadership