FMCG is an industry where the competition goes on for years. There are so many tactics to fight competition in FMCG, that the companies do not back off and from time to time they keep introducing new measures to ward off competitors. Furthermore, this industry is pockmarked with unorganised competition wherein small and medium manufacturers also give tough competition to established companies. Here we discuss the top 6 FMCG rivals of all time, companies which have been in competition with each other for years.
6) Colgate vs Pepsodent (Tooth Paste)
One company vs one single product, always at war. Colgate is a complete company with its major focus being dental health. Hence colgate has several times come out with variants like Colgate for sensitive teeth, normal colgate, colgate gel etc. However, whatever innovation it brings, Pepsodent is not far behind. Pepsodent is a strategic business unit of Hindustan unilever ltd and is one of the toughest competitor for Colgate.
These two toothpaste brands have always been at loggerheads and the situation does not look like improving in the near future. Where colgate has the brand value, Pepsodent has the powerful distribution suppot of HUL. Because of all other products of HUL, pepsodent reaches even rural areas easily and hence has a high turnover. Off course, there are other products in the toothpaste market, but these two are the toughest competitors amongst them all.

5) Amul vs Kwality walls (Ice cream)
If we talk of the FMCG competition, then the ice cream market cannot be left far behind. Having many local, national as well as international players, the ice cream market has two major competitors who take away the majority market share within themselves. These two are Kwality walls and Amul ice cream.
Out of these two, Amul has been an established ice cream player since decades in India. However, once Kwality walls entered the market, it has taken away the market by storm by introducing many different types of ice cream which the customers loved. Furthermore, because of the deep pockets of HUL, Kwality walls could market itself much better. This FMCG rivalry is in its prime and the war can be seen easily in the market. However, it will be several years more before any of them exits this rivalry as the clear leader.

4) Parle vs Britannia (Biscuits)
Parle has one of the best selling and the most widely distributed product in the biscuit market –  Parle G. The product has won many distribution awards in the past few years and it is known for its packaging as well as for its variants in price. Hence the biscuit sells in low end as well as middle level markets.
Others like Marie, Hide and seek and Monaco also sell in huge amounts. However, Britannia has some power house products in its portfolio like Bourbon, good day, little hearts, 50 50 and others. The competition amongst these two brands is evident when each has a variant of Marie biscuits. Parle's is known as "Marie" and Britannia's is known as "Marie gold".

3) Nestle vs Kraft foods (Chocolates)
Nestle Kitkat, Nestle munch, Alpino, Classic Nestle, Milky bar, eclairs and polo are some of the top products which come in the chocolate brands for Nestle. All of these products are widely in demand in the market. And they sell in huge volumes. However, Nestle products just challengers to the market leader –  Dairy milk and Cadbury from Kraft foods.
Dairy milk is one of the most marketed and most liked chocolates across India. At the same time, Cadbury celebrations is a popular gifting product and targets occasions and festivals with an emotional touch. In this rivalry, Nestle is quite far behind but has always been the thorn in an otherwise flawless leadership by Cadbury.
Where Nestle has Kitkat, Cadbury has Perk. Similarly, Cadbury has its own version of Eclairs. Thus, these FMCG rivals are set to be rivals for the coming years. Though, it can be forecasted that Nestle will remain the challenger and Cadbury the market leader.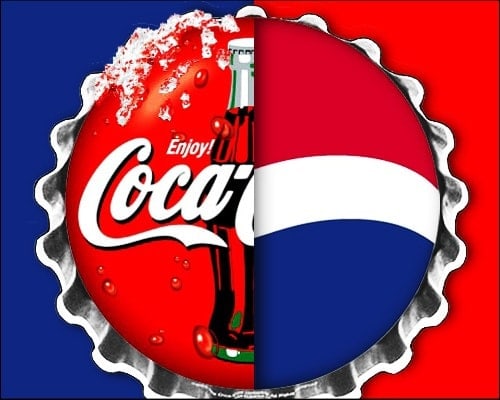 2) Pepsi vs Coke (Soft drinks)
Surprisingly, we have kept the Pepsi and Coke rivalry in the second last spot because there is another rivalry which is much larger then these two brands. However, whenever you talk about FMCG rivals, you have to talk about Pepsi and Coke by default. Coca cola has far stronger brand equity when compared to Pepsi.
However, this is not a war for brand equity, it is a war for market dominance. And both the companies are very aggressive when it concerns their marketing or their distribution. Both the companies are known to break distributors by giving them huge margins and at the same time, they are known to take direct digs at each other.
Due to their intense rivalry, no other soft drink brand has been able to survive in this market. Thus, the 2nd  highest FMCG rivalry award goes to Pepsi vs Coke.

No 1) HUL vs P&G (Detergents, shampoos, soaps) –
The mother of all FMCG rivalries, a rivalry which is observed closely everyday, yet it is observed from the point of view of products and not the umbrella brand. The HUL vs P&G rivalry exists in every retail counter or modern retail showrooms. And it is most prominent in personal care or hygiene products like Detergents, shampoo, soaps, and others.
P&G has head and shoulders, HUL has dove. P&G has Olay, whereas HUL has Sunsilk and Tresemme. P&G has Old spice, HUL has Axe. Thus, powerful products are present in both the companies, both of them die hard rivals to each other. However, each of the companies have their own trademark products as well.
For example HUL has Pure it which P&G does not have. On the other hand, P&G has a product like Duracell which HUL does not have. Thus, 2 mammoth companies, with many SBU's and with multiple products in each SBU, the HUL vs P&G rivalry can best be assumed to be the toughest of them all.
So what do you think? Any other FMCG rivals which we have missed? Please enlighten us and we will update the article as best as we can.
Liked this post? Check out the complete series on Competitors