Strengths in the SWOT analysis of Pantaloons
" Pioneer in the industry, largest market share and capitalization.
" Reputation for value for money(Competitive pricing), convenience and a wide range of products all in one store
" Presence in major cities
" Highly Strategic human resource management and development. It invests time and money in training people, and retaining them.
" Most trusted and respected brand by the consumers
" Being financially strong helps pantaloons retail India deal with any problems, ride any dip in profits and out perform their rivals
" Development and Innovation are high at Pantaloons India with regards to it products and consumer preferences and lifestyle changes which keep its ahead of it competitors.
Weakness in the SWOT analysis of Pantaloons
" Pantaloons does not function internationally, which has an effect on success, as they do not reach consumers in overseas markets.
" PRIL is the World's largest grocery retailer and control of its empire, despite its IT advantages, could leave it weak in some areas due to the huge span of control
" Since Pantaloons Retail India Ltd sell products across many sectors, it may not have the flexibility of some of its more focused competitors.
" Each business line faces competition from specialty companies. Fashion segment, Shoppers Stop, Trent, Lifestyle. In hypermarket-RPG (Spencer's),Trent (Star India Bazaar) In Food business, Reliance Fresh, Spinach, Food World
Opportunities in the SWOT analysis of Pantaloons
" Huge untapped market
" (The Indian middle class is already 30 Crore & is projected to grow to over 60 Crore by 2010 making India one of the largest consumer markets of the world)
" Organized retail is only 3% of the total retailing market in India. It is estimated to grow at the rate of 25-30% p.a. and reach INR 1, 00, 000 Crore by 2010.
" To take over, merge with, or form strategic alliances with other global retailers, focusing on specific markets
" New locations and store types offer PRIL opportunities to exploit market development.(Diversification into insurance , property, and variety of products and stores)
" Opportunities exist for PRIL to continue with its current strategy of large, super centres.
" Rural Retailing
Threats in the SWOT analysis of Pantaloons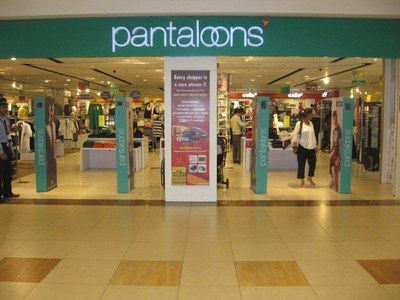 " Being number one means that you are the target of competition.(Extra competition and new competitors entering the market could unsteady pantaloons retail India)
" A slow economy or financial slowdown could have a major impact on pantaloons retail India business and profits.
" Consumer lifestyle changes could lead to less of a demand for pantaloons retail India products/services
" Price wars between competitors, price cuts and so on could damage profits for pantaloons retail India.
" The actions of a competitor could be a major threat against pantaloons retail India, for instance, if they bring in new technology or increase their workforce to meet demand
" Shopping Culture: Shopping culture has not developed in India as yet. Even now malls are just a place to hang around with family and friends and largely confined to window-shopping.
" If  unorganized retailers are put together, they are parallel to a large supermarket with  little overheads, high degree of flexibility in merchandise, display, prices and turnover.
Liked this post? Check out the complete series on SWOT