A fully owned subsidiary of Gap Inc, Banana Republic is a retailer of men, women, and kids clothing and accessories. The company was started in the year 1978 by Mel and Patricia Ziegler both travel enthusiasts who picked up unique pieces of clothing from various places during their journeys. The store got a makeover in 1983 when Gap, purchased the brand and changed its name to the Banana Republic to give it an upmarket feel.
The company which has worldwide presence sells their products in more than 780 retail stores across multiple locations in Europe, United Kingdom, USA, Canada, Africa, Middle East, and the Asia Pacific. Knows for style statements in the casual wear segment, Banana Republic is also popular for the earthy hues and understated look which promises style and comfort.
The company also sells its products through online retailers as well as the website. The popular products from the Banana Republic are Old Navy, Gap, Athleta, Intermix, and Waddington Way.
Strengths in the SWOT analysis of Banana Republic
The following are the strengths of Banana Republic :
Clear positioning: the Banana Republic uses benefit positioning and it calls itself a brand that creates versatile contemporary classic style statements that are high on endurance. The brand also gives a lot of importance to detail in their designs with fine stitching and importance to practical details like pockets and comfort.
Clear product lines: The retailer has clearly differentiated products lines. While Old Navy is their casual wear brand which can be used for regular comfort wear, Athleta is their sports apparel brand which has both clothing and accessories as well as footwear. Intermix is the designer casual wear which has personalization options and tailor-made outfits. Weddington Way is their party wear category which has gowns, formal suits, curated wedding outfits, and bridesmaids clothing.
Segmentation: the Banana Republic originally started off as a brand that caters to travel enthusiasts and thus their styling was rugged and comfortable in earthy tones. This became a signature of the brand and they started making a variety of simple daily wear comfortable clothes that were targeted towards people with an active lifestyle and thus created a clear target segment with well-defined psychographics.
Global network: Though the Banana Republic sells only their popular brand Old Navy in most markets, they have a global network. Customers across the globe can get wedding trousseaus from wedding ton Way through placing an order in their US store after choosing from designs available online. The same option exists for Intermix, their designer range as well. The orders thus places are shipped to destinations across the world through third-party logistics services.
In-store experience: the Banana Republic clearly differentiates the in-store experience in each of their product lines. While Old Navy stores will have a very rugged and earthy feel, Athleta stores are typical sportswear stores. On the other hand, Intermix and Weddington Way stores have an elite ambiance with soft lighting and light music and expert salespeople ready to offer suggestions and counsel on what suits each customer.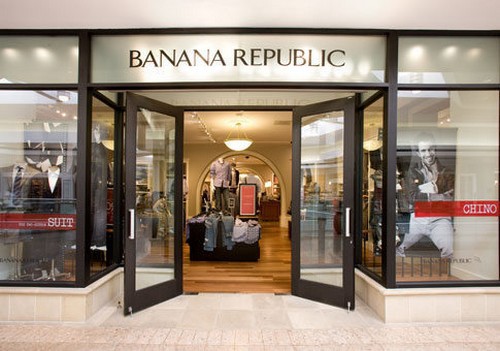 Weaknesses in the SWOT analysis of Banana Republic
Some of the key weaknesses of  Banana Republic  are :
Lack of new styles: Banana Republic clothes and styles have become stale primarily because the brand has not had anything new to offer in the last decade but has just been repeating styles and designs. There is also a serious lack of new colors especially in men wear making the clothes shabby and boring.
Poor presence in fast-growing segments: Though BananaRepublic sells sportswear through their sub-brand Athleta, the company lacks a serious presence in lifestyle activewear which is one of the fastest growing segments in sportswear.
Poor penetration in formal wear: Though the brand has categories like Intermix or Weddington Way, Banan Republic still continues to be strongly associated with casual wear and they are yet to make a mark in other segments.
Opportunities in the SWOT analysis of Banana Republic
Some of the opportunities include:
Growth potential in emerging markets: Emerging markets like China, India, or Brazil show a lot of promise for the retail industry with surging income levels, more people migrating from villages to cities and increase in the number of working women. Travel has also become more common and this is creating the market for travel accessories.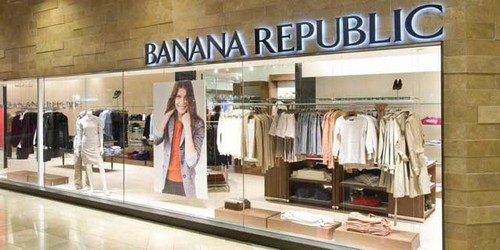 Threats in the SWOT analysis of Banana Republic
Some of the threats include:
Competition: The biggest competitors of Banana Republic are Lee, Wrangler, United Colors of Benetton, and sports brands like Adidas and Nike.
If you liked this article, we bet that you will love the Marketing91 Academy, which provides you free access to 10+ marketing courses and 100s of Case studies.