MDH Spices or Mahashian Di Hatti is a key player in the spice market not just in India but across the world. India which is already popular as the global destination for spices has a number of spice companies. MDH is the second largest spice company in the world and has around 62 different products in 150 packages.
The products range from ground spices to blend spices to other products like tooth powder and pooja materials. MDH has the credit of popularising the concept of ready to use ground spices in India since before that people preferred buying whole spices and grinding them at home.
The founder of MDH Spices Mahashay Chunni Lal founded the company in 1919 with a vision of taking the tastes of India to a global scale and with a market share of 82 % the company has been able to make his dreams a reality.
Strengths in the SWOT analysis of  MDH spices
The following are the strengths of MDH:
First mover advantage : MDH was one of the first companies to realize the scope of ready-made masalas and they pioneered the idea of grinding spices and selling it in packets. This first mover advantage has helped them establish their presence in the spices market globally.
Leadership: The old man in a turban who appears in all packets and ads of MDH even today is Mahashay Dharampal Singh the 84-year-old promoter of the company.It is his vision and attention to detail that has taken the company to success. He makes it a point to visit the company every day even at this age and personally oversee operations.
Strong Market Presence: MDH which is valued at Rs 300 crore is a market leader with around 82 % share in the global market. The company has around 45 varieties of blended and whole spices, and exports to around 50 countries. The company manufactures and grinds spices in five factories across India, employing around 1,500 people. The company has a strong distribution channel of around, 1,000 distributors and over 800,000 retail dealers.
Quality: MDH has always been conscious of retaining the Indian-ness in their spice blends and thus source their whole spices from authentic vendors only. They also follow stringent quality norms in the griding and drying of the spices and ensure that the smell and texture are retained during packaging.
Low pricing: A packet of MDH masala is priced between Rs 35 to Rs 50 making it the cheapest ingredient in a recipe. This makes the masala affordable to everyone.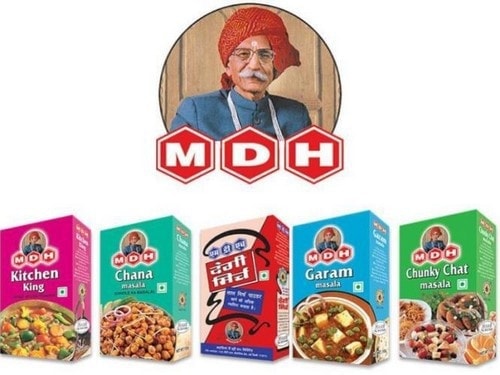 Weaknesses  in the SWOT analysis of MDH spices
Some of the key weaknesses ofMDHare :
Low Penetration In South India: MDH is perceived as a North Indian Masala brand since most of their masala mixes cater to North Indian taste and recipes like Rajma Masala, Pav Bhaji, Shahi Paneer or Chole Masala. Though they have South Indian Spice Mixes like Sambar Masala they are not authentic in taste and thus not popular.
Brand Ambassador: MDH uses their promoter, Mahashay Dharampal Singh as their brand ambassador. Though he may appeal to a niche segment or an older North India audience when the business plans to expand or penetrate into larger markets or target younger audience this approach may not work.
Poor presence in non- vegetarian category: MDH primarily focuses on vegetarian spice mixes and they have the poor presence in the ready to eat category as well. These are two areas where demand is growing in India and this will affect their market share in the long run.
Ingredients and composition: There are allegations of adulteration and mixing of additives n masala powders and though there have been no direct references to MDH like all other players in the market MDH is also under the scanner for such practices.
Opportunities in the SWOT analysis of MDH spices
Some of the opportunities include :
Quick Cooking: With more women entering into the workforce, families are willing to spend lesser and lesser time in the kitchen cooking. The customer is willing to spend on ready to use products and thus there will be a surge in demand for processed and semi-processed food. There is currently the low number of such Indian products in the market and this is an area that spice companies can easily target.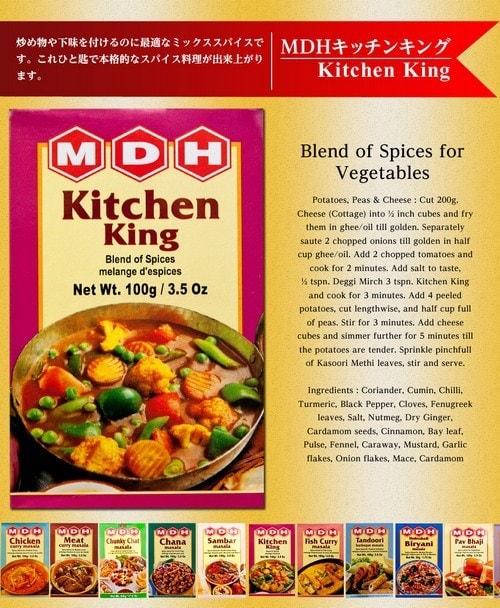 Threats  in the SWOT analysis of MDH spices
Some of the threats include:
Competition: Some of the major competitors of MDH are Everest, MTR, Maiyas, Shaan, Eastern, Shakthi, and Aachi. Many companies are also trying to promote organic masala powders and this is also a trend which the company will need to manage in the future.
Liked this post? Check out the complete series on SWOT