Kurkure is owned by Frito Lay's (a subsidiary of PepsiCo) and is a snack offering in the tea-time snack category in India and Pakistan. It is basically a product made out of corn puffs mixed with various ingredients to add up the spice. Kurkure has been able to create a strong market for it credit to its creatively designed and well-positioned marketing campaign.
Strengths in the SWOT Analysis of Kurkure :
Successful Marketing Campaigns: The marketing campaigns for Kurkure have been really attractive over the years, creatively designed and well positioned targeting the whole family as a tea-time snack, making it a tea time snack for the whole family.
Popular "Tedha hai par mera hai" slogan: The famous "Tedha Hai par mera hai" slogan has gained immense popularity and has helped Kurkure to maintain its identity and maintain awareness and increase demand in the market. Popular actress Juhi Chawla's association with the brand has also helped the brand to gain popularity.
Strong Distribution Network: Kurkure has been supported by a strong laid out distribution network of PepsiCo, which increases the reach for Kurkure to small corners of India. It follows a well-established traditional distribution system throughout the country.
Multiple flavors: Kurkure is present in over 18 different flavors which include the flavors of different regions of the country such as Kurkure-Punjabi Tadka as well as products which attract children such as Puffcorn. With so many different flavors in its kitty, Kurkure makes sure that it has an offering for all kinds of consumers.
PepsiCo's support: Kurkure has an advantage of coming from a multinational giant like PepsiCo which ensures that it has the financial backing as well as already strong distribution network which makes it available throughout the country.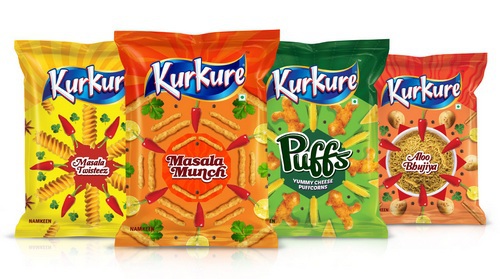 Weaknesses in the SWOT Analysis of Kurkure :
The Plastic controversy: Kurkure has been surrounded by a big controversy from a long time where it was alleged that Kurkure contained plastic in it which was supported by a viral video showing Kurkure burning as plastic. While the real reason of it burning like plastic was that it contains the high amount of carbohydrates and oil which made it burn like plastic. This was low in popularity of Kurkure and affected the sales and more importantly lost trust in the market.
Constantly labelled as unhealthy: Due to a presence of high amount of carbohydrates, oil, added preservatives and flavors in Kurkure, it is labelled as unhealthy for consumption which affects the brand image.
Opportunities in the SWOT Analysis of Kurkure :
Global Expansion: Kurkure has been launched in countries like USA, Pakistan and Canada etc. in the past. The expansion can be further continued to countries in the Gulf as well as in Africa where it can be well received as the taste preferences are similar.
Higher disposable income: In the past few years, lifestyle in India has improved and which also meant higher disposable income for the people. This proves out to be an advantage for impulse buying as products as well as increased consumption.
Healthy Variants: Kurkure is a product which contains a high amount of carbohydrates in it. Kurkure should bring out some healthy variants in order to target health-conscious people.
Tie-ups with Movie complexes: Kurkure can tie-up with movie complexes to be present in cinema halls as a substitute to popcorn. This can also help increase popularity for the brand.
Threats in the SWOT Analysis of Kurkure :
Increasing health awareness: People are increasingly becoming health conscious which affects the industry as a whole as such products contain a high amount of carbohydrates and oil.
Cannibalization from PepsiCo brands: Kurkure is positioned as a tea snack but is put in the same category of products as lays by the consumers. This results in high cannibalization as the sales of at least one of the brands is affected.
Intense competition: There is intense competition in the snack category with various branded as well as unbranded local products as well. Kurkure competes with brands such as Bingo and Haldiram Namkeen etc. It also has to compete with local products available in the market.
Liked this post? Check out the complete series on SWOT