Bajaj Pulsar is one of the flagship brands from Bajaj Auto Ltd which is one of the world's leading producers of motorcycles. The brand which was launched in India almost 15 years ago continues to be one of the top selling sports bikes of the country. The motorcycle is available in six variants in the categories 135 cc, 150 cc, 180 cc, 200 cc, 220 cc and 400 cc. Pulsar which is positioned as a motorcycle for the male is differentiated through its size, power, and performance.
Pulsar was also the first indigenous motorcycle which is developed without the support of its Japanese partner Kawasaki. Bajaj which was also an established presence in the two-wheeler market with its iconic scooters tried its hand at motorcycles and many of its earlier models were failures following which they developed them in partnership with Kawasaki. However Pulsar was one of their maiden attempts in doing everything on their own and through fresh ideas and a new theme backed by good marketing and promotion, Pulsar went on to become a market success.
Strengths in The SWOT analysis of Bajaj Pulsar
Strengths are defined as what each business does best in its gamut of operations which can give it an upper hand over its competitors. The following are the strengths of Pulsar:
Strong Leadership: Pulsar was a product of the vision of the two younger Bajaj Scions Rahul and Sanjay who with their conviction that the company could develop a successful motorcycle went about it with a team that they put together. The success of Pulsar is actually the culmination of their conviction that Bajaj could indigenously develop such a vehicle.
Young team: The initial idea of Pulsar was put together and the motorcycle was developed in a new factory at Pune and the team who were involved in it were a set fo freshers from college who were open to new ideas. This created a lot of lateral thinking which resulted in a product that could stand apart.
Market Leadership: Pulsar has always been one of the top selling bikes in its category right from the days of its inception. The company plans to target a market share of 20 percent for the next financial year for Pulsar.
Branding and Positioning: Quite contrary to its competitors who used endorsers to sell their motorcycles Bajaj from day one differentiated Pulsar through its displacement following the American strategy of branding bikes. Pulsar was launched in the 150cc and 180 cc category and positioned as a manly and powerful bike suitable for all driving conditions and all terrains. This positioning has defined its success from then.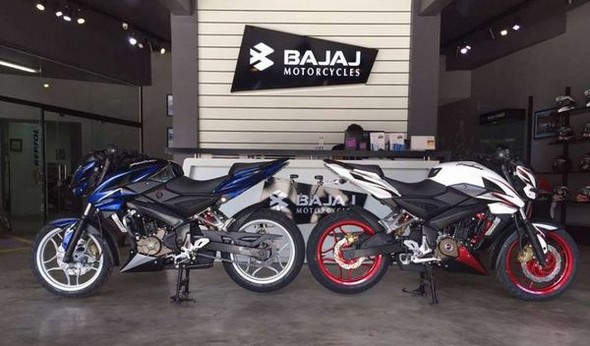 Weaknesses in The SWOT analysis of Bajaj Pulsar
Weaknesses are used to refer to areas where the business or the brand needs improvement. Some of the key weaknesses of Pulsar:
Excessive focus on scooters: Bajaj was always confident about its scooter business and preferred to focus more there since that was its comfort zone. Motorcycles were always given only the second place in its product portfolio.
Lack of support from senior executives and the board: Pulsar was a product of the vision of the two younger Bajaj Scions Rahul and Sanjay and they did not have the support of the senior executives or the board who believed that the focus needed to be scooters. This lack of support created a lot of issues during the initial days for Pulsar.,
Popularity for commuter bikes: Commuters preferred the 125 cc or 120 cc motorcycles which were lighter and fuel efficient. There were lots of popular models in that category like Hero Honda Splendor and TVS Victor. The heavier sports bike were less preferred and thus not very popular.
Opportunities in The SWOT analysis of Bajaj Pulsar
Opportunities refer to those avenues in the environment that surrounds the business on which it can capitalize to increase its returns. Some of the opportunities include:
High market potential for two-wheeler: The two-wheeler industry in India is growing fast with the sales overtaking the growth rate of the industry. Sales of the 150 and 180cc motorcycles have grown from4.6 lakhs in 2011 to 1.4 million in 2017. This indicates that there is still scope for newer variants of Pulsar which is a key player in this segment.
Increase in demand for heavier motorcycles: The connectivity between cities is improving in most countries as more highways and improved roads within towns are focal areas. This means that there will be an increase in road travel and there has been recent increase in the number of sports bikes being used for highway commuting.This will create a surge in demand for luxury and high-performance motorcycles.

Threats in The SWOT analysis of Bajaj Pulsar
Threats are those factors in the environment which can be detrimental to the growth of the business. Some of the threats include:
Competition: Pulsar faces stiff competition from Karizma, CBZ, and YamahaFZ. The other threat is from in-house brands like KTM who may eat into the market share of Pulsar.
Liked this post? Check out the complete series on SWOT