Allen Solly is originally an international brand which was established way back in 1744. It was established as a part of William Hollis and company. However, Allen solly was later acquired by Madura garments. Madura garments is now known as Madura fashion and lifestyle.
Strengths in the SWOT Analysis of ALLEN SOLLY :
Brand Value: Allen Solly was voted as a seventh best brand by the Economic Times' Brand Equity in the year 2014. The Brand has been known to innovate in the area of work casuals and has pioneered in Friday Dressing.
Multiple Sub-brands: Allen Solly has 5 sub brands, which provides a wider reach into the apparel market.
Allen Solly – Work appropriate casuals
Solly Sport – Sports inspired clothing
Solly Jeans – Denim Jeans
Solly – Catering to women professional
Allen Solly Junior – Casuals for children
Experienced Design Teams: Allen Solly has an experienced design team which understands the changing demands of the consumer and innovates new designs and products.
Strong Growth: Allen Solly is growing at over 30 percent CAGR across all its formats and is poised to clock net sales of over Rs. 1000 crores in FY2017.
International feel: Although Allen Solly is an Indian brand, it gives an international feel because of the excellent physical evidence in showrooms as well as the quality of clothing and the advertising. This International feel therefore raises the expectation and satisfaction from the brand.
Weaknesses in the SWOT Analysis of ALLEN SOLLY :
Weak Global Penetration: Comparing to its competitors like Arrow, Allen Solly has a weaker Global penetration and they should work towards increasing Global presence.
Cannibalising effect: Madura Fashion has brands like Peter England, Louis Philippe, Van Heusen and Allen Solly under its kitty due to which there is a cannibalising effect which hurts the sales of the brands from the same company even though all of them are different from each other.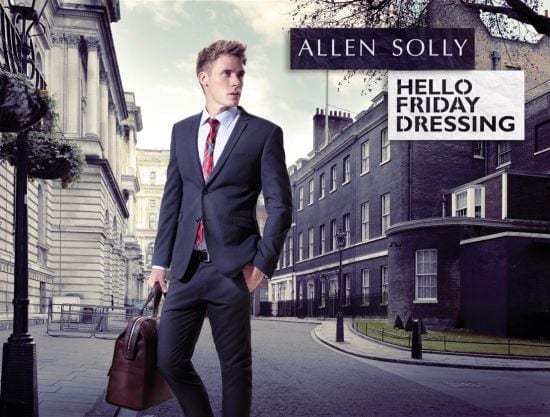 Opportunities in the SWOT Analysis of ALLEN SOLLY :
Increasing Penetration through E-Commerce: With the advent of technology and penetration of internet and smartphones, the reach of apparels is bound to increase to the Tier 3 and Tier 4 towns. This is a great opportunity to expand the business.
Increasing Brand Awareness: The Generation X is more conscious of the brands they wear and this provides Allen Solly with an opportunity to penetrate the market targeting the millennials.
Global Expansion: Allen Solly needs to expand itself globally considering the ever increasing demand of branded apparels in the emerging nations. It especially needs to concentrate on emerging markets. Allen Solly is present in more then 50 countries, but with the strong revenue it generates, it can keep expanding.
Brand Extension: Allen Solly can use a Brand extension to enter new product categories such as Footwear, caps etc. It already has a line of fragrances.
Increase in Disposable Income: According to a McKinsey research the number of households in the "consuming class" i.e. households earning more than $4000 a year have tripled in the last 10 years, which has increased the market size of the apparel industry proportionately.
Threats in the SWOT Analysis of ALLEN SOLLY :
High Competition: The apparel industry has been growing in India and competition is rising. This possesses a threat to the popular brands who have to be at their best and improve constantly.
Local Market: To move to the smaller cities, Allen Solly will have to fight against the local market who provide similar designs at a lower rate and thus it is a threat for brands like Allen Solly.
Always under scrutiny: The advent of technology allows consumers to compare, review and rate which is a threat as any bad review can affect the sales and thus Allen Solly needs to vary of this fact work toward better customer relationship management by providing better customer experience as a whole.
Liked this post? Check out the complete series on SWOT