Bridgestone tyres has been present in India for close two decades now and has been registering consistent growth. A favorite supplier for Tier 1 Original Equipment manufacturing (OEM) companies in India, Bridgestone though more expensive than competitors also has high customer loyalty. The reason for this is the tyre makers commitment to quality and their adherence to global standards.
The company has undergone and secured numerous quality certifications by many of the world's best certification agencies. Bridgestone currently dominates the passenger car market in India and is preferred by car PEM's to most other competing brands. Many of the regions top-selling cars also recommend Bridgestone tyres. The company which is headquartered in Tokyo Japan has registered a gross turnover of around ?¥3.337 trillion in the year 2016.
Strengths in The SWOT analysis of Bridgestone Tyres
Strengths are defined as what each business does best in its gamut of operations which can give it an upper hand over its competitors. The following are the strengths of Bridgestone:
Brand presence: Bridgestone is a tyre brand that's global and many customers across the world not just know but also prefer the brand and thus the brand enjoys high brand equity, good recall, and mindshare. The companies has offices in around 24 countries across the world and operate through a strong network of dealers and distributors.
Largest producer of tyres: Bridgestone is currently the world's largest producer of tyres and its specialty area is radial tyres.
Focus on OEM's : The primary target audience of Bridgestone is the OEM's and the company has always, made sincere attempts to forge strong ties with OEM's The company has a new strategy of also partnering with various car companies and making them their preferred brand.
Unique design: Bridgestone has has many firsts and is home to numerous innovations in tyre technology.One of the latest to join this list is the Drive guard which can be fitted to any type or category of vehicles through a tire pressure monitoring system.
Association with racing events: Bridgestone has always been a strong presence in most prestigious racing events such as Formula 1 where it has been associated with many winning teams. This has increased the brands' credibility and visibility as a high performance and durable tyre option.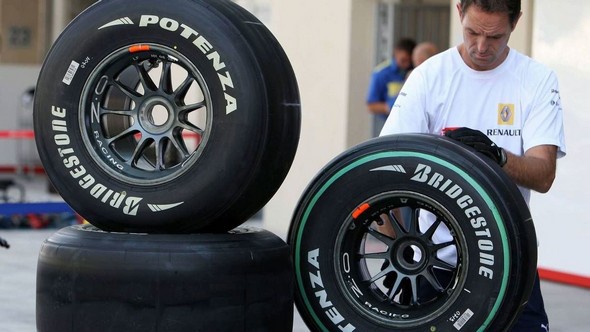 Weaknesses in The SWOT analysis of Bridgestone Tyres
Weaknesses are used to refer to areas where the business or the brand needs improvement. Some of the key weaknesses of Bridgestone:
Increased focus on India: Bridgestone has increased their dependence on the Indian car market with a lot of impetus given to OEM's here. In the long run, this may affect its focus in other markets which may be more lucrative.
Expensive: Bridgestone perceived to be an expensive tyre and customers who look for value for money tyres may not prefer to buy this. In a price-conscious market, this may mean lower margins for the tyre company.
Variety of terrains: Bridgestone makes tyres for countries all over the world which means that these tyres need to be suitable for a wide variety of terrains.This drastically increases the need for diverse product portfolio as well as mandates a lot of research which may be very expensive to fund.
Complex customer behavior: Each customer may have a different set of needs from the tyres and thus it is extremely important to listen to the voice of the customer. Thus research has to start right from the customer level and this needs to be made a continuous process. This presents a lot of challenges to the company.
Opportunities in The SWOT analysis of Bridgestone Tyres
Opportunities refer to those avenues in the environment that surrounds the business on which it can capitalise to increase its returns. Some of the opportunities include:
Increased demand for replacement tyres: The demand for replacement tyres is expected to surge in the next few years.This is a trend which has been prevalent for some years now and growing input costs and rising rubber and fuel prices will keep this alive for some more time.
Increasing vehicle sales in emerging economies: Countries like India, China and Brazil are going to be the top destinations for automakers in the next many years. The growing income statistics of the population and increasing awareness of driving safety will make people prefer more cars than two-wheelers. This will create a proportional increase in the demand for tyres.
Increased service orientation: Tyre companies are looking favorably at vertical integration and are also a provision of value-added services for an extra price. This includes GPS tracking, digital services, wireless application protocol and mobile device tracking services amongst others. These may all be potential opportunities for tyre makers.

Threats in The SWOT analysis of Bridgestone Tyres
Threats are those factors in the environment which can be detrimental to the growth of the business. Some of the threats include:
Competition: The competition from Michelin as well as from low grade and Tier 2 tyre companies from local markets are a threat.
Costs: The growing costs of technology and raw material will also be a future threat.
Liked this post? Check out these detailed articles on
Topic of SWOT of Brands
Alternatively, check out the Marketing91 Academy, which provides you access to 10+ marketing courses and 100s of Case studies.