There is no doubt about the fact that social media is the best platform for imparting you immense success in your business. Since it is social media content, there is everything social about it.
First, you share and build up a relationship with your customers but what next?
Well, the customer trust will be turned to leads only with relevant content that offers value to them. Therefore, it is clear that social media marketing can be a successful tool for promoting your business only when the right Social Media Content is being used.
Actually, in today's time, Social media is one of the most important parts of our life. Just imagine a world where you don't have Facebook and Instagram wouldn't that be boring? The answer to that question is yes. The truth is we wouldn't be anywhere without social media.
From making up in the morning to going to beds at night, we need social media to run our lives. But that's not all social media is for, right? Even businesses these days need the help of social media for their profits. How do you ask? That is exactly what we are going to tell here.
Why to Create the Best Social Media Content?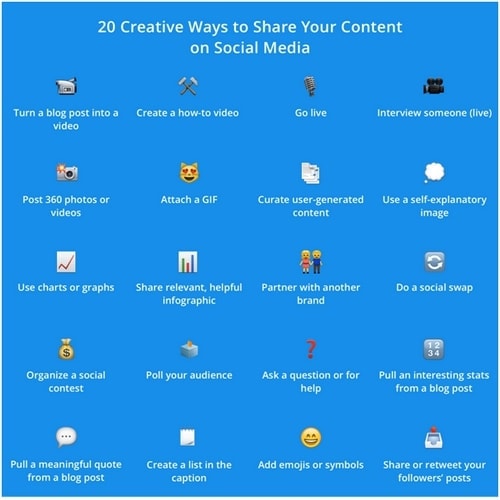 No one can deny that social media has a huge influence on people. This is because we all are human beings and are very curious about new things that we see. There are many social media platforms like Twitter, Facebook, and Instagram which no one has ever come across before.
This platform allows the streaming of videos and photos online and most importantly is the diffusion of ideas and opinions. We are really living on that kind of world where we have the liability to connect to anybody just at the click of our fingertips.
If you are aiming to promote your product then one of the best ways to build trust with the audiences is to build good social media content and engage with them. However, social media means that you have to be social and that is why you have to be responsive.
If you interact with your audiences regularly then it will show higher results with an increase in traffic and increase your ROI as well. Let us go through important tips related to Social Media Content-
9 Tips To Create Amazing Social Media Content on Social Networks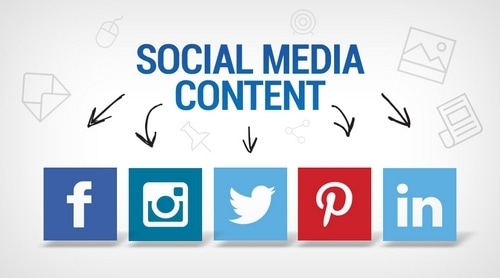 Here are some tips that will help you in making some strategies that will help in creating powerful social media content to promote your brand-
1) Increase The Number Of Images and Videos In Your Post
Whatever device your audiences are using whether it is a tablet, smartphone or desktop they will always want to see what you have to offer to them. This is because when you post social media content along with a good image then the audiences are sure to stop as they will have a better understanding of what you are selling or promoting. Alternatively, you can also add videos to have better engagement from your users.
However, one more thing to keep in mind is to adjust the sizes of the images for different social media platforms. You can also add some colors, do editing which will help to boost up the traffic from social media.
It is a very true fact that photos and videos get more likes, comments, and shares than plaintexts. Most of the time, people simply scroll up the texts. On the other hand, the images that contain messages in it go viral quickly. For stuffing in messages in your images, be creative.
When you are planning for a design for your social media update, always make it a point to stuff the empty spaces with images. This makes the visual content more attractive, appealing and readable.
2) Respond To Everything
It is very crucial that the business owners or the brands have to respond the followers regularly in the social media content that you post. It is essential because this will make the followers feel that you care about their opinions and feedbacks.
If you don't respond to them on regular basis then they might think that it is of no use to review or give an opinion on your social media content. There are many businesses and brands that take the social media to be the second opinion.
They post their content and think that it will be enough to drive a huge amount of traffic. Using a social media platform is itself a kind of job. This is why the brands who want to drive a huge number of traffics from the social media should have a person that keeps on monitoring the channels constantly.
3) Add Some Humour In Your Content
If something matches with the personality of your brand then add humor to your content once in a while. Your audience should know that behind the brand there is a face who more alike human and you can do it better by cracking jokes.
Your social media content should be in such a way that it brings a smile on the faces of your audience when they read. This will create an emotional attachment within the audience and the brand. This will differentiate your brand from other competitors.
However, make sure that you don't post something to joke that might hurt others sentiments. If you are at an industry level then your content should be at the level of professionalism like health care and law. You don't want to crack an off-color joke that might deprive the audiences of your brand.
4) Give Facts
If you want to get some engagement then you have to dazzle your audiences with some curiosity which will make their stay longer. Social media platforms like Twitter and Facebook can be interesting as well as educational by sharing some facts and opinions about your business and industry.
However, if you want to build leadership then you have to go straight to the point. Add some photos as they can be great to get some attention and get into engagement quickly.
This doesn't mean that you will be driving a huge traffic but will drive audiences which can be good for your brand awareness. You can share ideas like short case studies, condensed infographic, stats post, highlighting facts and top 5 lists.
5) Be Live
It is important that you post photos in social media content for effective business but live videos are more important for all the social media goals that you have. As we all know that social media gives us the opportunity to be more human, so going "live" can be one of the best ideas and have huge popularity.
This is because they are candid and can be done from anywhere to increase the awareness of your brand. You can also post the videos online and leave for your audiences to watch it later. Going live on social media platform was first available on Facebook and now many social platforms have these features.
Along with it, whenever you are life, the social media sends a push notification to the users. You can also use special social media content as they will help you to promote before you go live.
6) Recycle your content to infographics
It is true that infographics are shared and liked three times more than any normal visual images. Each brand should have their set of infographics that produces information in the most interesting way.
It has been noticed according to the study of Google that with time, the demand for infographics is increasing.
While designing infographics, one should have a creative bent of mind. Also, when you have an evergreen article, it can be reposted with infographics.
7) Share reviews and customer testimonials
Your happy customers are the ones who stand as milestones or guiding light to the potential ones. When the targeted customers listen to the happy success stories of the experienced customers, they instantly get an instinct of trying it out for themselves.
Henceforth, sharing reviews and customer testimonials gives the potential customers a sense of courage to enter into a new field.
Also, you can involve your customers in a conversation. Getting feedback from customers makes the customers feel important.
8) Organize contests and surveys
For boosting up engagement, organizing contests and surveys are the best options at hand. Put some giveaways in an irresistible contest on Facebook or Instagram.
Ask people to like your page and submit their email ids for taking part in a contest or survey.
This way, you will gain a lot of subscribers and followers.
9) Upload High-Quality Graphics
It is said that you should never settle for anything less than you deserve. The quality of your graphics is representative of your brand. Avoid using any kind of cheesy photographs.
Searching in Google for images is not worth it. That can bring copyright issues.
In order to get high-quality images, you can take help of canvas, pixabay, stokpic and unsplash.
So, these were some of the tips and guide to make some engaging social media content. Make sure you are nice to your audiences and ignore the bullies or those who tend to be rough.
Liked this post? Check out the complete series on social media marketing