The automotive sector is one of the most important and rapidly developing sectors in the economy. The automotive industry has had a lasting impact on society, starting as a steam-powered carriage and continuing through the new age of electric and autonomous automobiles. Technologies has changed the way we travel, live, and work, bringing people and places closer together than before. 
The legacy of the automobile industry is full of innovation, perseverance, and people's passion for engineering, design, and technology, making this a constantly evolving sector.
Let's analyse what are strengths, weaknesses, opportunities and threats in the automobile industry.
Strengths in Automobile industry SWOT Analysis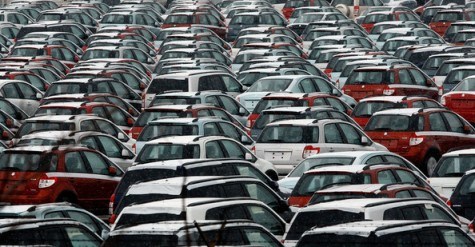 1. Rising Living Standards
As global living standards rise, more people can afford vehicles, resulting in increased demand. Furthermore, as developing countries continue to industrialise, the demand for commercial vehicles grows. With over 1.2 billion vehicles projected to be on the road by 2030, there is significant opportunity for manufacturers to capitalise on this growth.
2. Increased Penetration of Electric Vehicles
The use of electric cars (EVs) is anticipated to rise as a result of growing environmental concerns and governmental efforts to minimise carbon emissions. The global EV market is anticipated to grow at a CAGR of 24.3% from 2021 to 2028, reaching a market size of $1318.22 billion by 2030. According to a report by BloombergNEF, EVs would comprise just over two-thirds of the global passenger car fleet by the middle of the century.
3. Advanced Commercial Vehicles with Multi-Purpose
The global commercial vehicle market is expected to be worth USD 1.35 trillion in 2022, with a CAGR of 3.7% from 2023 to 2030. Growing demand for multifunctional commercial vehicles such as mobile clinics, food trucks, and mobile offices allows manufacturers to enter new market segments. Automobile manufacturers are aiming to capitalise on the rising demand for multifunctional commercial vehicles. 
4. Strong R&D and Technological Advancement
Significant advancements in alternative fuel technologies such as electric, hydrogen, and biofuels are helping to achieve sustainable development by reducing carbon emissions. Furthermore, emerging technologies such as blockchain, artificial intelligence, and augmented reality are being used to improve manufacturing processes and customer experiences.
For example, Ford reported research and development costs of around $7.6 billion dollars in the fiscal year 2021. In comparison, Volkswagen of Germany spent approximately $15.6 billion on R&D.
5. Veblen Effect and Luxury Car Sales
The Veblen Effect, or the phenomenon of increased demand for luxury goods as prices rise, has been a driving force behind the rise in luxury car sales. For example, Lamborghini, a super luxury carmaker, says that it is sold out for the Indian market for 2023 in just first month. Mercedes-Benz, BMW, and Audi have capitalised on this effect, with projections of continuous growth in luxury car sales globally.
6. Manufacturing Hub Shifting
The automobile industry is shifting its manufacturing hub from traditional markets such as North America and Europe to emerging markets such as China and India. According to a report India is expected to be the world's third-largest automotive market in terms of volume by 2030. With projections of over 115 million cars sold annually by 2030, there is significant potential for manufacturers to meet evolving consumer demands.
Weaknesses in Automobile industry SWOT Analysis
1. Increasing online-WFH culture
The necessity for personal vehicles has decreased as a result of the pandemic's increase in remote work and online meetings. Even after the pandemic, it is anticipated that this trend would persist, which could lead to a decline in demand for automobiles and related services.
2. High Working Capital Requirement Discouragement
The industry continues to be highly capital-intensive, with significant inventory, receivables, and payables requirements, as well as high fixed costs associated with production and development. This has resulted in numerous failures over the years, such as General Motors' bankruptcy in 2009. 
3. Car Recalls
Car recalls can significantly impact a company's reputation and bottom line. For example, in 2022, Ford and Volkswagen Group recalled over million vehicles due to potential engine fires. Indian OEMs recall 278,405 vehicles in 2022, depicting this as a major weakness for the industry.
4. Volatility in Fuel Prices
Fuel price changes continue to have a substantial impact on the industry's sensitivity, with oil prices still being a major factor in demand and profitability. This still represents a substantial weakness for the sector given the outlook for continuing oil price volatility (caused by the war) over the coming years.
5. Low Quality Vehicles for Cost Saving
Certain manufacturers have been known to compromise on quality in order to reduce cost, which has resulted in a reduction in the overall product quality and reputation. Maruti Suzuki also faced backlash due to quality issues, where the company's best-selling vehicles such as the Swift, Ignis, and S Presso all received a one-star rating in GNCAP crash tests. This continues to be a serious issue for the sector, especially given the additional pressure that manufacturers will be under to reduce prices.
Opportunities in Automobile industry SWOT Analysis
1. Innovative Manufacturing Processes
General Electric, Ford, and BMW have all received patents for innovative manufacturing processes such as 3D printing. Manufacturers can reduce production costs and improve overall profitability by being able to produce vehicle parts and components more quickly and cheaply.
2. Continuous Focus on Green Hydrogen
The automobile industry is continuously focusing on green hydrogen, which is a clean and sustainable energy source. According to a report by Straits research, Green hydrogen market size is projected to reach USD 72 Billion by 2030, growing at a CAGR of 55% making it an increasingly viable option for the industry.
3. Growing teenage drivers
The number of teen drivers is expected to rise in the coming years, providing opportunities for automakers to target this demographic with new products and services. According to Data Bridge Market Research, the automotive teen driver technology market will grow at an 18.75% CAGR from 2022 to 2029. 
4. Energy Storage and Management
Tesla, LG Chem, and Panasonic, among others, have received numerous patents related to energy storage and management, including advances in battery technology such as solid-state batteries and advanced lithium-ion batteries. These patents may enable greater range and faster charging times for electric vehicles, increasing efficiency even further.
5. Advanced materials
Advanced materials used in automobile manufacturing, such as carbon fibre or lightweight alloys, can improve fuel efficiency and reduce emissions. The global lightweight materials market for transportation is expected to grow at a CAGR of 8.06% from 2021 to 2027, according to researchandmarkets. This trend can drive demand environmentally conscious consumers.
6. Evolution of Driverless Cars
The global market for autonomous vehicles is expected to develop at a CAGR of 12.1%, reaching an estimated value of $1651.37 billion by 2027, presenting a huge market potential for businesses. The development of autonomous vehicles has benefited from significant advancements in sensor technology, machine learning, and computer vision, as well as from partnerships with technology companies. The potential for autonomous vehicles to reduce accidents and fatalities caused by human error while increasing efficiency makes them a compelling value proposition.
Threats in Automobile industry SWOT analysis
1. Government intervention
Governments enforce strict rules relating to pollution, safety, and other aspects on the vehicle sector. These regulations can significantly raise the costs of vehicle manufacturing because companies may need to invest in new technologies or processes to comply with such laws. 
2. Low growth due to ride-sharing
The growing popularity of ride-sharing services such as Uber and Lyft has reduced car ownership and demand for new vehicles. This trend is expected to continue, especially in urban areas with easy access to public transportation and ride-sharing services, which may result in lower vehicle demand.
3. Economic environment
Consumer confidence, interest rates, and employment levels are all highly dependent on macro and microeconomic factors in the automobile industry. Consumers may be more cautious about spending money on large-ticket items such as cars during economic downturns. For example, the COVID-19 pandemic has resulted in a significant drop in car sales.
4. Infrastructure challenges
The automotive industry has difficulties because of insufficient infrastructure in many areas. For instance, heavy traffic might make it difficult for individuals to commute effectively by automobile, decreasing the appeal of car ownership. Furthermore, a lack of charging stations for electric vehicles can make it difficult for people to switch to electric vehicles, lowering demand for these types of vehicles.
5. Intense competition
As major players vie for market dominance, the automobile industry faces fierce competition. Tesla, the market leader in electric vehicles, poses a threat to traditional automakers with its innovative technology. Supply chain disruptions and rising costs are affecting production and sales at Ford and General Electric (GE). To survive and thrive in this competitive environment, businesses must remain agile and innovative.
Conclusion
To sum up, the automobile industry is a cornerstone of modern society, providing people all over the world with mobility, freedom, and convenience. Its dynamism reflects the industry's constant evolution and adaptation, from the invention of the first automobile to the development of electric and autonomous vehicles.
It's a world of speed, luxury, and grace, where the road is the canvas and car is the brush. In the automobile industry, there's no limit to what you can create or where you can go.
Liked this post? Check out the complete series on SWOT