About:Bank of India (BOI) is one of the prominent public sector banks (PSB) in India. The bank is involved in banking and financial services for individuals and businesses. The bank operates in India, UK, USA, Singapore, Japan, Hong Kong and France. The bank is headquartered in Mumbai, Maharashtra, India.
The bank generated a revenue of INR157,428.9 million during FY 2015 growing at 3.1% year on year.
Logo: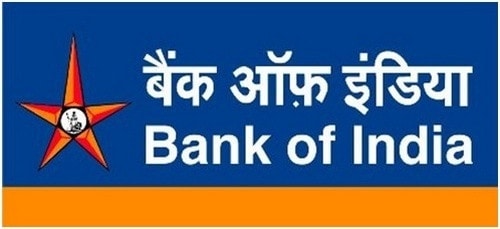 Strengths in the SWOT Analysis of Bank of India :
Strong Branch Network: Bank of India, being one of the PSBs has one of the strongest domestic branch networks. The bank added 1918 branches from the year 2008 to 2015 to reach 4,892 branches in the domestic market. Strong branch network enabled Bank of India to increase its total deposits by 11.5% in FY 2015.
Capital position: Bank of India has a string governmental shareholding at about 70% and about 30% non-government shareholding. BOI's total capital ratio is 10.73% well above the regulatory mandated. Strong Capital position can strengthen the bank to face any adverse market developments.
Increasing Profits: From FY 2011 to FY 2015, Bank of India's revenues increased at a CAGR of 11%. Also, BOI's operating profit increased an incredible 113% in the same duration. String financial conditions strengthen the business.
Weaknesses in the SWOT Analysis of Bank of India :
Decreasing asset quality: As measured by Non-Performing Assets, the asset quality of BOI has deteriorated during the last few years. The banks NPAs grew from INR 48,110 million in FY 2011 to INR 221932.4 million in FY 2015. As a result, the bank's return on average assets has declined even after string revenue growth.
The absence of good financial products / services : Bank of India lacks insurance, brokerage and investment-banking services. The bank totally depends on its wholesale banking operations, retail banking operations and treasury operations. This shows that BOI is heavily dependent on the few streams it is present in.
Opportunities in the SWOT Analysis of Bank of India :
International Business: BOI's international business is on the rise over the years with NRIs finding Indian banks remunerative. In FY 2015, the bank's business grew at 13.7% in the international market. This situation is likely to sustain and hence guarantees more growth for BOI.
UID/Aadhar based customer base:  The financial services companies stand to gain about 125 million new customers with the government's plans to collate UID and bank accounts for direct benefits transfers. This creates a positive outlook for the banking industry.
Growth in Indian Banking Industry: In the last 7 years, the total lending and deposits increased at a CAGR of 20.7% and 19.7&% respectively. Total asset size of the banking sector is expected to reach $28,500,000 million by FY 2025. This allows the bank to introduce new financial services and also to expand its market.
Improving products and services: Bank of India can improve its overall product portfolio thereby providing better and more number of products with very good services for the products. However, it seems to be mediocre at best where products and services are concerned.
Threat in the SWOT Analysis of Bank of India :
Intense Competition: After the RBI allowed 74% FDI in the banking sector, other banks have aggressively expanded. Various banks have been issued banking and payment banks licenses in the last 2 years. This allows new entrants to enter the market and also an older player to disrupt the market share.
Burden of NPAs: The Indian banking sector's NPAs collectively have grown from INR539,170 million in FY 2008 to INR3,416,410 million in 2015. The gross NPAs as a ratio of total loans have also increased for all the banks from 2.11% to 5.08% in the same period.
Declining brand equity – Players like Bank of Baroda are moving forward of Bank of India in pockets because of their strong marketing and service teams. As a result, the brand equity of Bank of India is declining and people are preferring regional players more then a centralized bank.
Liked this post? Check out the complete series on SWOT