Patented in The United States by Robert Chesebroughin the year 1859 which he invented by extracting a useful product from petroleum.
Chesebrough the oil fields of Pennsylvania in 1859 where he learned about residue called "Rod Wax" which had to be periodically removed from oil rig pumps and was then used as a healer for cuts and burns. This is what made Chesebrough think of making a medicinal product using this petroleum jelly which he named Vaseline.
The brand was owned by Chesebrough Manufacturing Company until it was acquired by Unilever in the year 1987.
Segmentation, targeting, positioning in the Marketing strategy of Vaseline –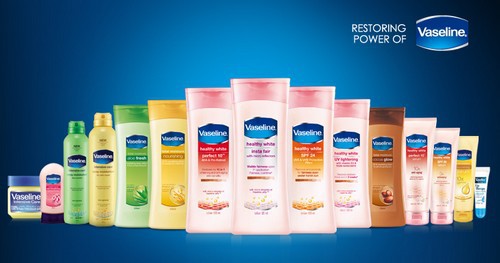 Vaseline Petroleum Jelly targets the families particularly the ones that have children. Demographics for the brand include 18-60 years old Female preferably with children, Single females who are career driven and are always on the go.
It is used by families for skin concerns especially during winters as the healer for dry rough skins. Being a skincare product it positions itself positioned as India's largest/ biggest skin care product for the winters and one which is there for everyone from kids to professionals to housewives by reaching out to nook & corner of the country.
Marketing mix – Here is the Marketing mix of Vaseline.
SWOT analysis – Here is the SWOT analysis of Vaseline.
Mission– "Vaseline's mission is to provide the knowledge, advice, and products that enable everyone to enjoy great, healthy looking skin every day. "
Vision– "Not Available"
Tagline-"The Healing Power of Vaseline"
Competitive advantage in the Marketing strategy of Vaseline –
It is a Wonder jelly!
For more than 140 year Vaseline has served as a staple skincare brand for the markets of almost all major countries. With its healing powers and skin care during the winters, it has been passed as the legacy through generations especially by the mothers to daughters.
Regardless of gender, age, region etc. it has served as wonder jelly across the globe and generations which suits every skin requirements especially during winters,
Vaseline has over 100 uses.
Cure chapped lips with Vaseline's power of healing.
2. Keep uncontrollable eyebrows in check.
3. Soften your cuticles with some Vaseline healing power.
4. Remove dead skin cells with your very own body scrub: all it takes is a mix of Vaseline with sugar.
5. Use it on your baby's bum to prevent nappy rashes and to the lavish baby with a full body massage.
6. Soothe sore feet with a good Vaseline foot rub.
7. Revive tired skin after sport or a good workout.
8. Form a Vaseline protective layer over minor burns, cuts, scabs, and rashes.
9. Apply Vaseline on knees and elbows to soften skin.
10. Soften hard hands with a good Vaseline hand rub.
BCG Matrix in the Marketing strategy of Vaseline –
Vaseline broadly categorizes its products in 4 segments which varying from Vaseline Jelly, Vaseline Intensive care, Vaseline Lip care and Vaseline Healthy white.
With Vaseline Jelly and Vaseline Intensive care being the star products for the brand Vaseline lip care and Vaseline Healthy white remains to feature as a question mark for the brand.
Distribution strategy in the Marketing strategy of Vaseline –
With a heritage of more than 80 years in the country HUL'sdistribution network, comprises more than 7,000 redistribution stockists, directly covers the entire urban population, and about 270 million rural consumers.
HUL's distribution network in rural India already directly covers more than 50,000 villages with the numbers increasing rapidly, reaching about 250 million consumers, through about 6000 sub-stockists.
Brand equity in the Marketing strategy of Vaseline –
With its unique Petroleum Jelly Vaseline claims to replenish 100% of the daily skin hydration along with other essential nutrients required by our skin to make it feel vibrant and feel healthy as Vaseline projects itself as a combination of vitamins, minerals, and conditioning moisturizers.
With its key ingredients being Protein Soya & Oat extracts and Vitamin E for its creams and moisturizers it creates a perception of skin nourishing cream among the customers.
Competitive analysis in the Marketing strategy of Vaseline –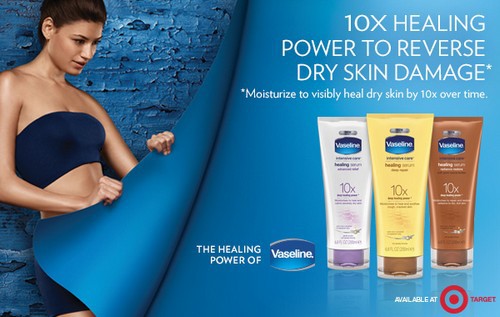 Unilever's other brands like Pond's and Lakme are close competitors for the brand Vaseline. With Amway and Nivea being the second and third largest brands in the industry.
Petroleum Jelly remains to be the market leader in its segment, in fact, no other product is even a close competitor of it. Nivea is a distant second in this segment. Vaseline is a step ahead of Nivea in terms as Nivea is limited in its ability as a cold cream while it has multiple uses ranging to even diaper rashes thus making it low competition market for it in this segment.
Market analysis in the Marketing strategy of Vaseline –
A report from Nielsen Retail Measurements 2016 officially recognizes Vaseline as a global bestseller in the hand and body care segment which considers sales from across 21 countries across Europe, Asia, Africa and the Americas.
Vaseline's healing project has been one of the major initiatives in making it the bestselling brand and maintaining its position for almost 3 years now.
Emerging markets such as India, South Africa, Thailand etc. have played a major part in its growth over the years.
The brand is further aggressively targeting further penetration in emerging markets by focussing on right prices and the right sizes across its various product lines in these markets.
Customer analysis in the Marketing strategy of Vaseline –
With high on white Petrolatum and low pricing compared to competitors like Garnier, Vaseline positions itself as a body lotion in the healthcare platform and a petroleum Jelly cream.
A seasonal brand unlike Pond's, Vaseline also has a foot care cream, has remained a niche product with limited during winters. Petroleum Jelly targets all demographics and other products like Vaseline lip care and body lotion mainly targets women both working and housewives.
Promotional analysis in the Marketing strategy of Vaseline –
With Vaseline already being a well-celebrated brand still, Unilever takes no chances and continues to invest in the product innovation and promotions.
The brand has used all the traditional, conventional and unconventional methods of marketing. With a robust marketing department Vaseline ensures that its promotion practices are smooth. The departments below are all associated with the promotions of this skin care product. These are:
Advertising, Sales, and Promotion
Product Innovation department
Operation department
Marketing & communication
Research & development department
Finance & Cost controlling sector
Liked this post? Check out the complete series on Strategies