Invented in The United States as a patent medicine by Theron T. Pond in 1846 under the name "Golden Treasure". It all started extraction of a healing tea from witch Hazel by Mr Pond which could heal small cuts and other ailments. Thus, After his demise in 1852, the brand was named as "Pond's Extract"
By 1886 national advertisements were rolled out by the band under the name Pond's healing until 1910. By twentieth-century company began to emphasise more on cosmetics products. Thus came "Pond's Vanishing Cream" and "Pond's cold cream" which marked the entrance of Pond's in the facial care industry.
Segmentation, targeting, positioning in the Marketing strategy of Pond's-
Brands major product offerings are for upper middle class and middle-income class groups. Also, customer groups on the basis of Gender and Age have been marked by the company so that it can target with products as per their life stage.
Products offered by Pond's is mainly targeted at mass market and has been positioned as soft and gentle moisturizing nature products.
Marketing mix – Here is the Marketing Mix of Pond's
SWOT analysis – Here is the SWOT Analysis of Pond's
Mission – "We make it our business to care about the future of your skin and the added strains of modern day life, so you don't have to worry. With this deep understanding, we are able to anticipate the future and uncover the solutions for all skin needs. We work every single day to create science and technology breakthroughs that correct the skin problems of tomorrow better than anyone else."
Vision– "Not Available"
Tagline – "Ponds: where your real age vanishes; Ponds, for timeless beauty; The miracle is you"
Competitive advantage in the Marketing strategy of Pond's –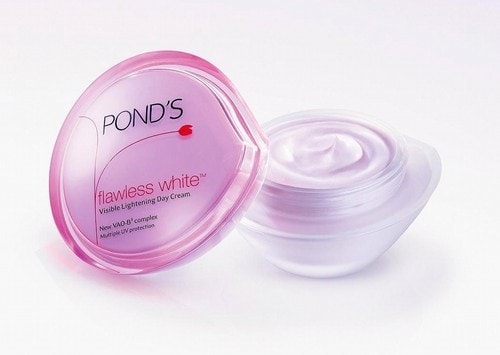 1) Bouquet of products:
With a large product portfolio Pond's caters to diverse customer segment comprising of Men, Women & Baby, this is what helps a company in increasing its Total Relationship Value (TRV) with the customers during their lifecycle ensuring repeated purchases and cross-selling their products to the existing customer base.
2) Get the expert to look after your skin:
Unilever as a parent company of the brand promotes Pond's as a beauty brand that delivers beauty transformation through revolutionary products innovation. With its wide range of products ranging from Anti Ageing creams, Moisturizers, skin lightening creams, oil control and Pond's Men range of face care products.
BCG Matrix in the Marketing strategy of Pond's-
Pond's offers products in four major segments i.e. Suncare, Anti-wrinkle (Anti-ageing), Anti-pimple creams and facewash business.
The Anti-ageing and Moisturizers products are bread and butter for the company and therefore is Stars in the BCG Matrix.
While Anti pimple cream and facewash is newly launched and suncare still needs to be strengthened to achieve a decent market share thus are positioned as the question mark in the BCG Matrix.
Distribution strategy in the Marketing strategy of Pond's–
Internationally Pond's started its operations in The United States with its manufacturing facility earlier located at Connecticut and sales office relocated to New York. With its products demand now in the international market and presence spreading to countries like Spain, Japan, Thailand and India.
Pond's has used the robust distribution network of its parent company Unilever to reach the remotest of places and reach even in tier 3 and tier 4 cities. It has the good reach to customers through supermarkets, hypermarkets, convenience stores and online sales via its channel which is serviced by wholesalers, distributors retailers and warehouses.
Also, the skin care products developed by the brand are tailored to the local needs and giving due consideration to the demographic and environmental factors. It distributes its product to all the six continents i.e. North America, Australia, Asia, Europe, Africa, and America.
Brand equity in the Marketing strategy of Pond's–
To target a larger market share, the brand has been promising to take care of the future of the skins of its customers with its wide range of offerings of its anti-ageing creams.
The Pond's Institute's mission stating "Future Proofing your Skin" speaks volume about their positioning and uniqueness they offer to stand out from the competitors.
'Skinnovation' is something which Pond's proudly boasts to offer with technology embedded in all their products nomenclature as Gen White, Intelligent Pro cell complex for creams and Activated Carbon for its facewashes.
Competitive analysis in the Marketing strategy of Pond's –
Pond's compete in the market on the basis of the array of scientifically researched and developed products with its Skinnovation and offerings such Gene Deep Beauty for females to lighten dark spots with GenWhite Technology, Intelligent Ageing with Intelligent Pro cell complex again for females and Facewashes with Activated Carbon for both males and females.
This advanced used of scientific research and development and its use in its products makes it stands out from the competitors like Loreal, Lakme, Johnson & Johnson, Nivea etc.
Market analysis in the Marketing strategy of Pond's –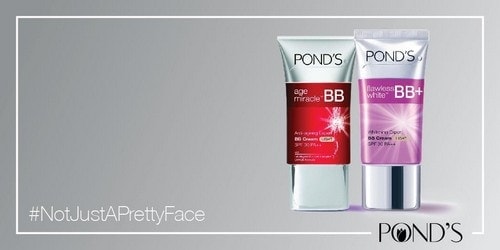 With the increase in the use of technology, Social networking sites in this digital era people are more and more becoming conscious about their looks and age thus are turning more and more towards skincare and beauty care products.
In the face wash segment, Himalaya remains to be the market leader with around 24% of market share and Pond's holds 10% of the market share.
In skin care creams segment Pond's stands 3rd with a market share of 11% after Himalaya and  Garnier clean and clear creams.
Pond's has been aggressively following Product development and Market development strategy to cope up with changes. Their advance of R&D in new product segment and use facial recognition technology such as "My skin advisor" makes them stand apart in terms of product and services offerings from the competitors in the market.
With its presence in over 56 countries, pond's has cut across age groups and skin care requirements by delivering beauty products through revolutionary products innovation.
Customer analysis in the Marketing strategy of Pond's–
Women in Middle class, Upper middle class and High-class segment who give extra care to their skin tone, face wrinkles, tanning and softening are the major customers for the brand. Majority of such customers lie in the age group of 18-50 years.
Men brand has been primarily focussing on young generation particularly college going students and working professionals ranging in the age group of 18-45 years.
Customers purchase these products with a perception that it will make their skin look younger and fresh and will make them feel confident about themselves.
Promotional Strategy in the Marketing strategy of Pond's –
Pond's basically targets through Above the Line and Below the Line promotional strategy by advertising in Televisions and Newspapers.
Recently Pond's signed Disha Patani as his Brand Ambassador for Women skincare segment and also has Karishma Kapoor as her Brand Ambassador for its Age Miracle range.
Liked this post? Check out the complete series on Strategies