Founded in 1983 as a joint venture between Government of India and Suzuki Motor Corporation, Japan, with a motto of motorizing India, Maruti Suzuki India (MSI) is currently a leading manufacturer of four-wheelers in India.
Initially, the company started with Government of India holding major stakes of the company. As of present Government has disinvested its stakes in the company completely handing it over to Suzuki Motor Corporation. With its two manufacturing units located at Gurugram and Manesar, both south of Delhi Maruti Suzuki employs more than 75,000 employees.
Segmentation, targeting, positioning in the Marketing strategy of Maruti Suzuki –
Having the wide range of models in almost every segment of the automobile market. Maruti Suzuki offers 16 brands and 150 variants spanning across all segments consisting of Maruti 800, Maruti Zen EstiloMaruti Omni, Maruti Alto, Maruti Versa, Maruti Gypsy, Maruti A Star, Maruti Wagon R, Maruti Swift, Maruti SX4, Maruti Kizashi, Maruti Eeco, Maruti Ertiga, Maruti Grand Vitara. Thus serving the diverse range of customers. Brand product strategy focuses on catering to the needs of almost all the segments from the middle class to high class.
With cars in the economy segment, mid-range segment luxury and super premium segment Target group for the brand includes anyone above 4 Lakh p.a. salary, people looking to switch from 2-wheeler to 4-wheeler, millennials employed as professionals and managers. The middle class, Upper middle class, High class, and Affluent class the age bracket of 21-65 years comprises of its target group.
MSI positions all its16 brands in almost as many ways to serve different wants and desires of consumers such as:
Alto– Let's go- Positioned as India's most fuel efficient car which can be afforded by lower income groups as well.
Wagon R– Inspired Engineering- Positioned as a brand which goes well with people who want to lead economic and interesting lifestyle, reflect confidence and have the multifaceted personality.
Swift– You're the fuel– Positioned as the car with style, modern looks, and young attitude.
Swift Dzire– The heart car- Positioned as an entry-level sedan for the aspirational class.
SX4– Men are Back– Positioned as the powerful car for men.
Ertiga– "A Feeling called LUV" – Life Utility Vehicle– Positioned as a compact seven-seater, one which will have a small footprint and a tight turning radius.
Marketing mix – Here is the Marketing Mix of Maruti Suzuki
SWOT analysis – Here is the SWOT Analysis of Maruti Suzuki
Mission –With no mission statement mentioned as such, still brands mission since its inception has been "To motorize the country".
Vision– "The Leader in the Indian Automobile Industry, creating customer Delight and Shareholder's wealth; A pride of India" Core Values of MUL
Customer Obsession
Fast, Flexible and First Mover
Innovation and Creativity
Networking and Partnership
Openness and Learning
Tagline-"Way of Life"
Competitive advantage in the Marketing strategy of Maruti Suzuki –
With over 30 years of presence in the country, there's a brand trust among the customers. Also With two manufacturing unit in the country, one in Gurugram and Manesar gives the brand edge over its competitors.
Factors which sets apart Maruti Suzuki from its competitors include
The Quality Advantage
Brand Trust- A Buying Experience Like No other
Quality Service Across 1036 Cities
The Low cost of Maintenance Advantage
Lowest Cost of Ownership
Technological Advantage
MSF continues its strong domination both in Indian market and in exports as well with the company selling over 1.64 million vehicles to bring its  market share close to 50% in the domestic market and exporting 4-wheelers to over 125 countries globally to become the largest passenger cars exporter from India last year, dethroning Hyundai Motors India Ltd. which now stands fourth after Volkswagen and General Motors.
The company exported 57,300 units in the April-September period last year with a growth of 6% from 54,008 unit a year ago. MSI has also not only managed to sustain its huge sales numbers but has also increased its market share both in the urban and rural market.
BCG Matrix in the Marketing strategy of Maruti Suzuki –
With most of the brands of MSI are popular among customers and are preferred over the rivals in the same segment because of low maintenance cost thus Brands like Celerio, Alto, Alto K10, Eeco, Vitara Brezza, Baleno, Ignis, S-Cross, Ertiga
The brand continues to hold high market share in their segments and thus feature as Stars for the company.
While Swift, Swift Dzire and Wagon R have been the Cash Cow for the company in their respective segment. While Ciaz as a brand hasn't been able to make a mark in Sedan segment and Gypsy along with Omni have lost their market share over the years thus all three continues to a question mark for the company.
Some of the brands like Zen Estilo, Versa, SX4, A-Star over the years started to appear in Dog segment and has thus been discontinued by the company in the last couple of years.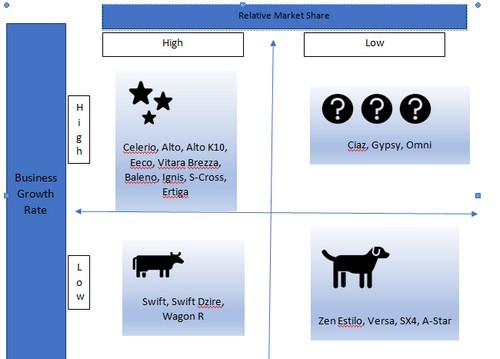 Distribution strategy in the Marketing strategy of Maruti Suzuki –
With its two manufacturing units having a combined production capacity of 14,50,000 vehicles annually Maruti Suzuki has a strong dealer network as well to complement with. Maruti Suzuki, in fact, has been one of the very first company in the country to realize the importance of after-sales service in high involvement product like cars.
The company has the largest distribution and after-sales service network comprising of over 400 sales showrooms, 1900 Authorized Service Stations spanning across over 1190 cities, 30 Express Service Stations on 30 National Highways across 1,314 cities and over 600 dealer workshops which are unparalleled in the country.
The company also has 280 Nexa showrooms exclusively for premium car segment. To increase customer touch points in the rural parts of the country where setting up of the complete dealership was very difficult company has opened extension counters which are operated by some dealer in the city.
Brand equity in the Marketing strategy of Maruti Suzuki –
Maruti Suzuki has managed to break into global Top 10 brand chart for the auto sector, where it stands at 9th most valuable auto brand in the world just ahead of Volkswagen and behind Tesla.
In addition to this Maruti Suzuki India is ranked 99th  and 71st on Forbes World's Most Innovative Companies list and Top Regarded Companies list of 2018. The brand also features at 366 on Global 2000 companies of Forbes 2018.
Competitive analysis in the Marketing strategy of Maruti Suzuki –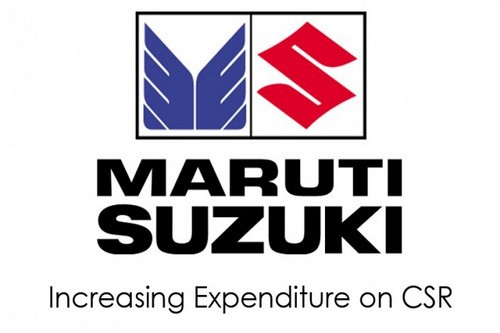 With the Automotive market in India appears to be a red ocean market with the present lot of National and International players companies like Hyundai, Fiat, Tata Motors, Mahindra, Honda & Toyota are giving a stiff competition to the brand with everyone biting upon each other's market share.
Maruti Suzuki over the years has very strongly been associated with small cars which have helped its competitors take a massive edge in the premium car segment. People buying entry-level cars are very different from the ones preferring premium vehicles as Premium is not just price but also feel and features for the customers.
Maruti Suzuki is a company with such a widespread product portfolio in 2015 decided to launch Nexa to keep its premium brands which in past have failed to reach the deserved heights like Kizashi, SX4, Baleno etc. The launch of Nexa for the company is a step to increase market share in premium car segment through re-branding. Nexa now has 280 showrooms in the country and has already sold 3,00,000 vehicles and is expecting to sell 3,00,000 more vehicles this fiscal year.
Market analysis in the Marketing strategy of Maruti Suzuki –
Maruti Suzuki achieved a market share of 50%in the passenger vehicles segment for the first time ever in 2017-18 with its utility vehicle sales outpacing that of its rivals. Company for the first time in its over three decades of history sold more than 1.5 million units with the figures reaching 1.65 million sales were 14% more than it was a year before.
With Hyundai Motors deciding to stop selling Santro and customers dwindling preference for TATA Nano has also helped the company in small-car space. Maruti Suzuki India hopes to retain the top spot in utility vehicles segment for the fiscal year 2019 with the company planning to launch its all-new Ertiga this year andBrezzawith its popularity among consumers continues to drive sales in volumes.
Customer analysis in the Marketing strategy of Maruti Suzuki –
Customer profile for the brand includes middle to high-income groups ranging from the ones who are looking to switch from 4-wheeler to 2- wheeler to those who are planning to buy the second car or a luxury car for their family. Thus, it includes customers in the age bracket of 22-60 year and also high business professionals who are looking for low maintenance or innovative and trending world-class vehicles with advanced safety features.
Promotional strategy in the Marketing strategy of Maruti Suzuki –
Maruti Suzuki carries out its promotional strategy in 2 ways:
Above the line (ATL)
TV, Radio
Newspaper print ads (advertisements in newspapers by local dealers)
Advertisements in magazines
Below the line (BTL) Promotions includes:
Corporate display activities
Exchange fair or Melas
Loan and Rural Fair,
Rural fair
Liked this post? Check out the complete series on Strategies