The Korean conglomerate giant was popularly known as Lucky-GoldStar has the presence over more than 100 countries worldwide with its subsidiaries such as Zenith, LG Chemicals, LG Innotek, LG Electronics, ZKW group (premium automotive lighting company) etc.
The company deals in products such as mobile telephony, information technology, Electronics items both for home as well as businesses, power generation, telecommunications, engineering, chemicals etc.
It has developed world's first 8K OLED display (88 inches) in the year 2018, U-C LED which was developed by Innotek (2017) gives world's highest output etc., these are some of the recent achievements of the company.
Segmentation, targeting, positioning in the Marketing strategy of LG–
The brand has been segmented based on the product usage like smartphones are mostly used by the tech-savvy millennial/ generation Y while the home appliances are used by the married couples mostly, AC is used in urban or semi-urban regions.
Since the company have the presence in such wide variety of product portfolio, therefore, it makes sure that it has a presence in different segments like it has low end and high-end mobile phones, TVs, AC's and other Home appliances which helps the company to serve customers from different segments and target groups.
In 2014, the company has changed its tagline from Life's Good to "It's all possible" there highlighting the ongoing technological advancement in the products of the company thereby making it digitally advanced by offering artificial based solutions which are eco-friendly and consumes less power.
Marketing mix – Here is the Marketing mix of LG.
SWOT analysis – Here is the SWOT analysis of LG.
Mission- "To maintain the hard-earned reputation for bringing added value to lives of consumers"
Vision- "To become the market leading company with broad market recognition"
Tagline-"It's all possible"
Competitive advantage in the Marketing strategy of LG –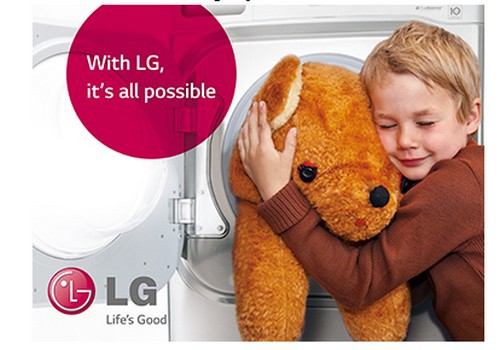 1. Conglomerate:
In order support each of its businesses; the company has broadened its product portfolio ranging from Vehicle components, Air solutions, Commercial electronics components and information display products.
2. Brand Visibility:
The Brand has been vocal in communicating the essence of the brand through different mediums such as sponsoring Cricket World events, German Bundesliga club Bayer 04 Leverkusen, Sponsoring ICC awards, working as the technology partner in Formula one race during 2009-2013, London fashion week etc.
BCG Matrix in the Marketing strategy of LG –
The reportable business segments that the company operates into are Home entertainment, Mobile communications, Vehicle components, Home appliance & air solution and Business to Business solutions.
Home appliances & Air solution and Home entertainment generated revenue of $ 17.3 billion and & $16.9 billion which is approximately 31% & 30% of the Total revenue. Other businesses generate business of $ 10.5 billion (Mobile communications), $ 3.1 billion (Vehicle Components) and $ 7.5 billion B2B solutions.
Out of these since company have strong product portfolio, higher revenue share, and growth prospect in the emerging markets for segments Home appliances & Air solution and Home entertainment, therefore it stars in the BCG matrix and rest businesses are the question mark.
Distribution strategy in the Marketing strategy of LG –
LG group functioning in electronics and appliances industry make its products available in the market through local & national distributors such as Redington, Ingram Micro.
LG has more than 222000 employees (Domestic: 137000 and Overseas: 85000) worldwide out 0f which 83000 are dedicatedly working for LG electronics business. Such large workforce is enabling the company in distributing the offerings through the network of wholesalers, distributors, company own sales team in case of corporate sales, e-commerce sites and authorized retail outlets.
Brand equity in the Marketing strategy of LG –
LG has been ranked 811th in the list of Global 2000 companies (2017) and 65th in the Forbes magazine list of World's most powerful brand (2012). The Bank has Market Capitalization of $ 10.2 billion as of May 2017 with revenue of $47.72 billion.
Some of the awards and accolades won by the brand are European High-End TV 2016-2017 "Best Product" at EISA Awards 2016, CES Innovation Awards 2017 – Honoree.
Competitive analysis in the Marketing strategy of LG –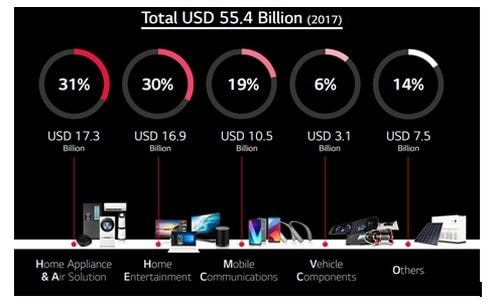 The high brand visibility in the market, shelf visibility, adequate supply in the market LG is making it sure that the products are reaching to the customers whenever there is a demand through its extensive reach, thereby creating a competitive edge over competitors.
Also, each of its businesses is proving stepping stone to other businesses and safeguards the company's interest while entering the new markets.
It competes with the companies such as Voltas, Philips, Panasonic, Samsung, Haier, IFB etc.
Market analysis in the Marketing strategy of LG –
Presence in diversified industries, trade protectionism by developing/developed nations, Global uncertainty over exchange rates, interest rates, the advent of artificial intelligence in the electronics items and trade cooperation between the nations are some of the affecting the industry/market in which LG operates.
LG has been continuously doing market and product development like it is expanding its portfolio in the premium smartphone segment, GenCool ACs with dual inverter technology, strengthening its B2B businesses and entering into new markets to the tune of 100+ nations globally.
Customer analysis in the Marketing strategy of LG –
With its array of products for both consumers as well as big corporations, company sere the market needs.
To retail consumers, it serves customers in the age group of 30-50 years in the Home appliances and Home entertainment segment and is in middle/ upper middle-income group while in the mobile communication it customers are in the age group of  15 years & above serving customers from all income group through the mix of products.
To corporate, it provides tailor-made solutions to the MNCs, government institutions in the business segment such as vehicle components, security systems, infotainment etc.
Liked this post? Check out these detailed articles on
Topic of Brand Strategies
Alternatively, check out the Marketing91 Academy, which provides you access to 10+ marketing courses and 100s of Case studies.