The ladder of inference is a theory that implies that people jump to conclusions by putting them together to make it a five. Decision making is an essential step in every aspect of life, and in this fast-moving and ever-changing world, most of the time, we are under pressure to make fast decisions rather than correct ones.
In such cases, one may end up putting two and two together to make five. Hasty jumping to conclusions is not an uncommon thing, and you may know people who do that. Sometimes, it is known as the process of abstraction since it helps to understand the steps which can lead you to arrive at incorrect conclusions.
The theory was designed by Chris Argyris, who is considered a leader in organizational learning, and the concept of the ladder is all about learning and unlearning and reasoning,
The theory of Ladder of Inference
This theory helps to share a light on the thought process that we go through. It describes how we get from a fact to a decision by following different steps.
The ladder starts at the following steps and proceeds as follows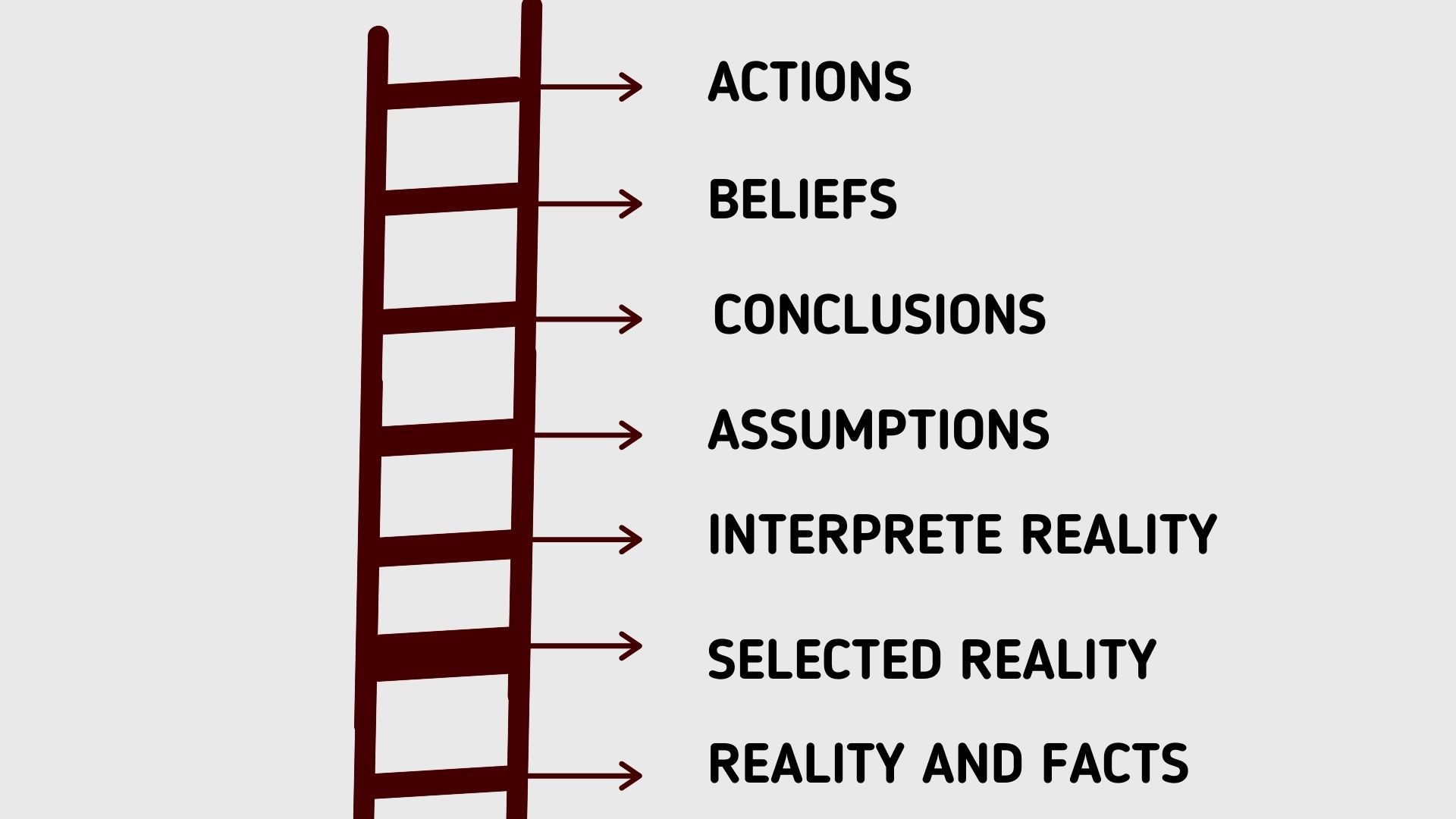 1. Reality and facts
This is all the available data that is directly observable in your surroundings. That includes verbal and non-verbal communication from different people and different sources. Reports, surveys, if actual numbers are the ones that are qualified as reality and facts.
2. Selected reality
Most of the time, we don't pay attention to all the available facts, and the choices are sometimes conscious. We knowingly ignore specific facts and focus on specific other facts.
The selection process more often happens with the help of the subconscious mind.
3. Interpreted reality
Whenever we get input from other sources, we interpret it. It may be words, written communication, video, gestures, or any other form used to convey information, gather all of it, and interpret the meaning.
However, not every time, the interpreted meaning is the intended meaning.
4. Assumptions
Having assumptions is the most common thing which all of us encounter. We have assumptions about many things, people, and processes. These assumptions get added to the interpreted reality to form a conclusion.
5. Conclusions
The conclusion is the crux or summary of what you have understood and not what is intended to understand. The number six for someone may look as nine for you if you stand on the wrong side.
Therefore your assumptions interpreted reality, and the facts play an essential role in forming the conclusion. The most important role is of self-beliefs in concluding since most of the conclusions are affected by self-beliefs in our thought process.
6. Beliefs
When you have a conclusion in front of you, your beliefs act and try to modify the conclusion. You concluded that someone is a bad person, but beliefs say that the person is bad unintentionally, and you may forgive him. Bias towards the person or the process also affects the inference ladder.
7. Actions
Based on all the data that you have collected above, you decide to take action. This action may be the trigger for the cycle to repeat, depending on the decision you take. For example, if you decide that someone is not a good person, you will avoid meeting that person.
This action may trigger another reality and a fact-based cycle of the ladder of inference.
How to make use of Ladder of Inference
You can make better decisions with the help of the ladder of inference or solve the challenges in your way. You can also challenge other people's conclusions with the help of this theory.
Following is the stepwise process which will assist you to remain objective while working or challenging others.
1. Reconsider your reasoning
You may have your assumptions and beliefs that have led to a conclusion about something and from your reasoning. Still, it is essential to reconsider it time and time again since there may be multiple factors affecting the reasoning, which may change over time.
2. Identify your position on the ladder
As discussed above, there are seven different steps in order of inference. You must understand where you are and act accordingly. You may be at selected facts or assumptions or beliefs. You must test thoroughly every step against the facts so that you don't make erroneous assumptions.
3. Analyze your reasoning by working back and retracing your steps
This will help you to throw light on some assumptions which you are doing wrong. Ask yourself at every stage, what are you thinking, and why do you think about it.
This will help you to understand the logic behind your reasoning, and it will correct your reasoning from the core if required. Ask yourself questions like what are the other options that I could have assumed? What made me to discard those options? Are my assumptions valid?
4.When you have discovered a refined sense of reasoning, you will see the existing fact and assumptions in a new light. These new-formed assumptions may be more logical and fact-based than earlier ones.
You will be able to trace your step forward and get rid of your unrealistic assumptions. This will help you to make proper decisions that are based on facts and opinionated.
Avoid climbing the ladder of inference
The first step in avoiding the ladder of inference is to realize that you are climbing one.  Unless you realize that, you cannot start avoiding it. Even acknowledging the existence of the ladder is the best way to start avoiding it.
You also have to accept that no matter what happens, you tend to draw conclusions based on past experiences out of habit. While it is desirable and acceptable to draw conclusions based on your past learnings, making assumptions is not expected. Don't take things for granted, especially when you are in your thought process.
These things that you take for granted are deeply rooted in your belief system. You must pause for a moment, acknowledge their presence, and make sure that they are not baseless assumptions but useful facts. If they are not facts, you need to weed them out lest they interfere with your future conclusions. It is essential to consider there might be other perspectives apart from your perspective, and they could be correct.
Thinking and assuming that only your assumptions are correct is a form of narcissism that should be avoided. It is one of the reasons why people climb the ladder of inference.
Conclusion:
The ladder of inference helps to show us our bias in thinking, and it suggests people jump from one assumption to another very fast to arrive at an unrealistic conclusion. Avoiding the ladder of inference is essential, and it starts with acknowledging its presence in the first place.
Avoiding baseless assumptions and sticking to facts will help you to avoid climbing the ladder.
Liked this post? Check out the complete series on Decision Making