Blogging is all about putting your writing skills to test. If you do not have a flair for writing, you may not be able to succeed in what you are attempting to achieve in terms of blogging.
Writing is a skill that needs to be developed gradually. However, using a good writing app can help you achieve excellent writing skills. If you are looking for a few useful writing apps for Mac, this compilation can help you find a few good ones.
Table of Contents:
Bear
iA Writer
Ulysses
Scrivener
Notebooks
Write! App
Blogo
Byword
OmmWriter
Manuscripts
Top 10 Blog Writing Softwares for Mac
Mac is, indeed, an impressive operating system. If you are a blogger using Mac as your primary option for an operating system, the following list of Blog Writing Software can help you achieve the best results as long as enhancing your writing skills are concerned.
A good Blog Writing software needs to be pleasing in its looks and provide a seamless environment for writing flawlessly. An excellent tool would be the one that helps you keep writing in a distraction-free environment.
Check out these blog writing software tools that will let you focus on writing and handle the rest of the tasks on its own.
1. Bear

A perfect replacement for Evernote, Bear app can be considered to be an excellent tool for taking notes and compiling small prose, or even a blog post. A combined interface with those two features should make it an exceptional choice, making it both fun and practical to use.
The app won the award for Apple's best Design app in 2017. The interface is divided into three panes, and they save groups, notes, and the editing panel, respectively. This tool is a free-form organizational tool and can be your best bet for a single note in multiple groups.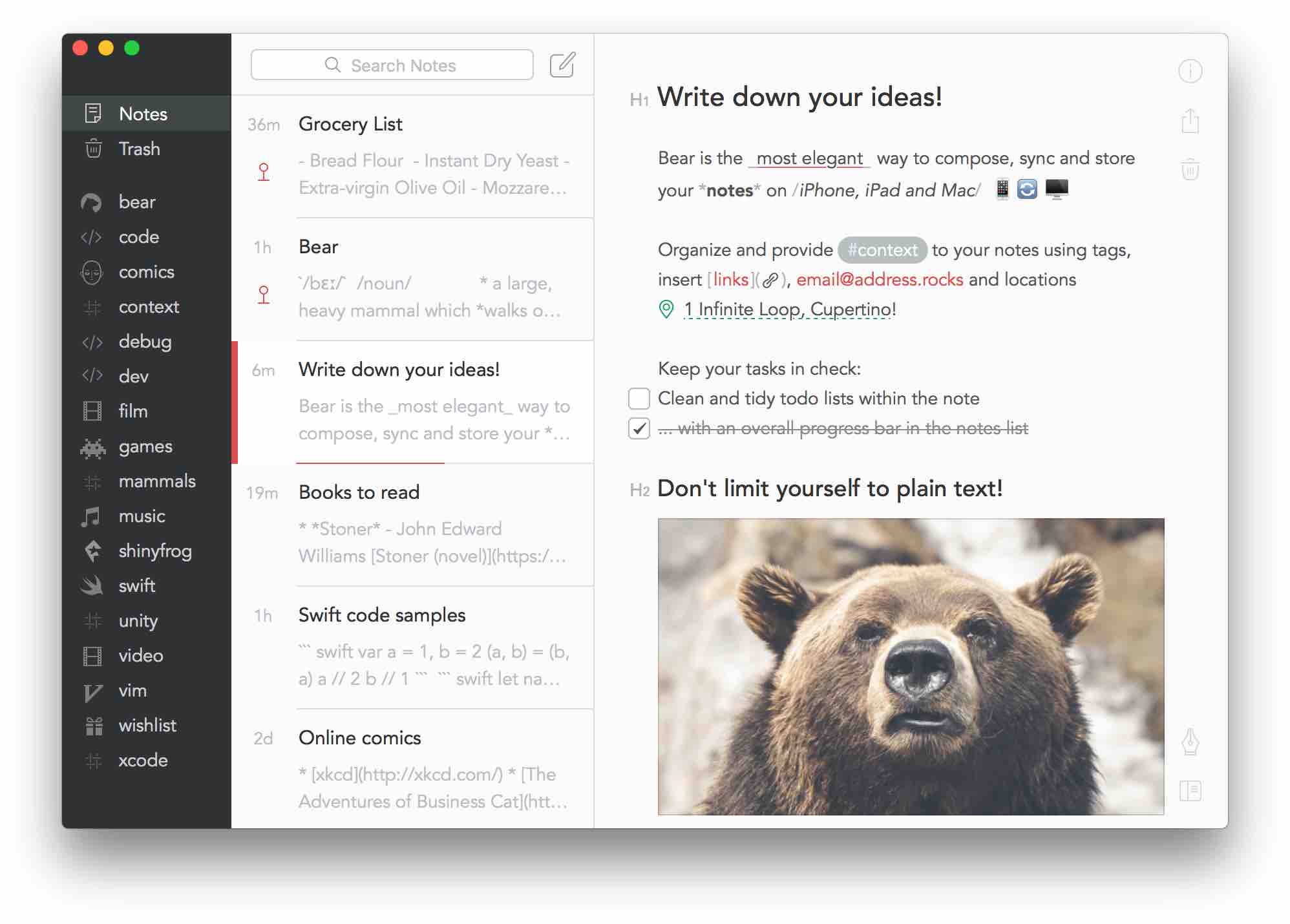 It should be one of the excellent options for writing and editing small articles and blog posts. The theming capacities available on the tool would make it an excellent choice in every right. You can use the free version first to ascertain yourself of the features and functionalities that it comes with.
One of the issues could be it uses a subscription-based model than a one-time purchase option. The Pro version offers you theming, exporting and cross-device syncing functionalities.
2. iA Writer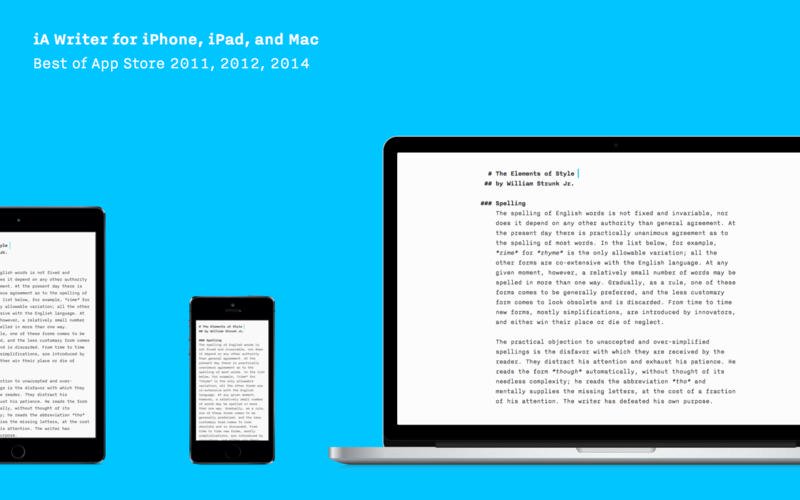 iA Writer is an excellent writing app for distraction-free functionality. One of the best options for short blogs and articles, it offers you all features at its best. The tool gives you a syntax (Markdown) to format your text.
The tool lets you create sheets and search between the sheets through the use of keywords. The tool comes with a Focus Mode for a distraction-free writing capability.
The full-screen mode blurs out everything on the screen except for the current line that you are writing on. This can be one of the best features that help you focus on the current point. It can indeed be a great feature when you are writing on your creative projects.
You also have a dark theme that can help you in case you are working late into the night. The app performs in a light environment and offers you performance without lags. Providing you a great writing environment, the tool does everything that is expected of it.
3. Ulysses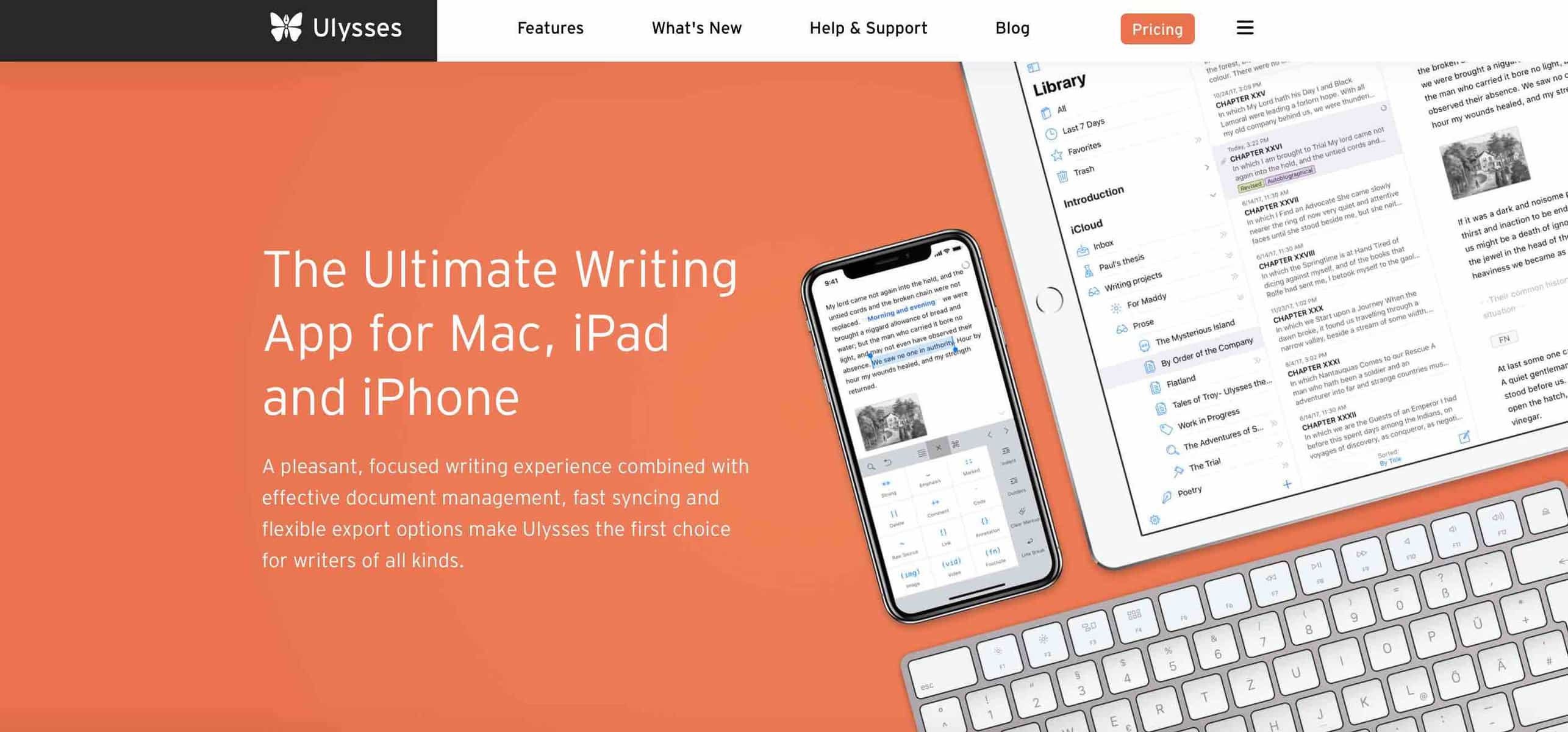 Ulysses is probably the prime writing software to use for your blogging needs. One of the best alternatives to iA Writer, it offers you several advanced features and functionalities. No matter whether you are looking for creating larger or shorter content. You can either write a novel or even a blog post using Ulysses.
You have access to Markup based text editor and keyboard shortcuts for easy functionality. Some other features that make it an exceptional choice would include a library for organizing your documents, setting writing goals, and publishing directly to WordPress and Medium.
Like Bear, the interface is divided into three panes. The first pane is for Library, which would function as your main navigation area. This will hold your documents, trash, and other folders. The dashboard lets you save your files locally on Mac or save them on cloud services.
The second pane is labeled sheets and can be used to hold your documents. The third pane acts as a text editor, and this is precisely where you would work on your projects. You can hide the other two panes for distraction-free writing experience.
The export options available on the tool are indeed exciting and helps you export any document into Text, PDF, HTML, ePub, and Docx formats. A few features include goal setting, photo attachment, keyword search, and inbuilt notes.
4. Scrivener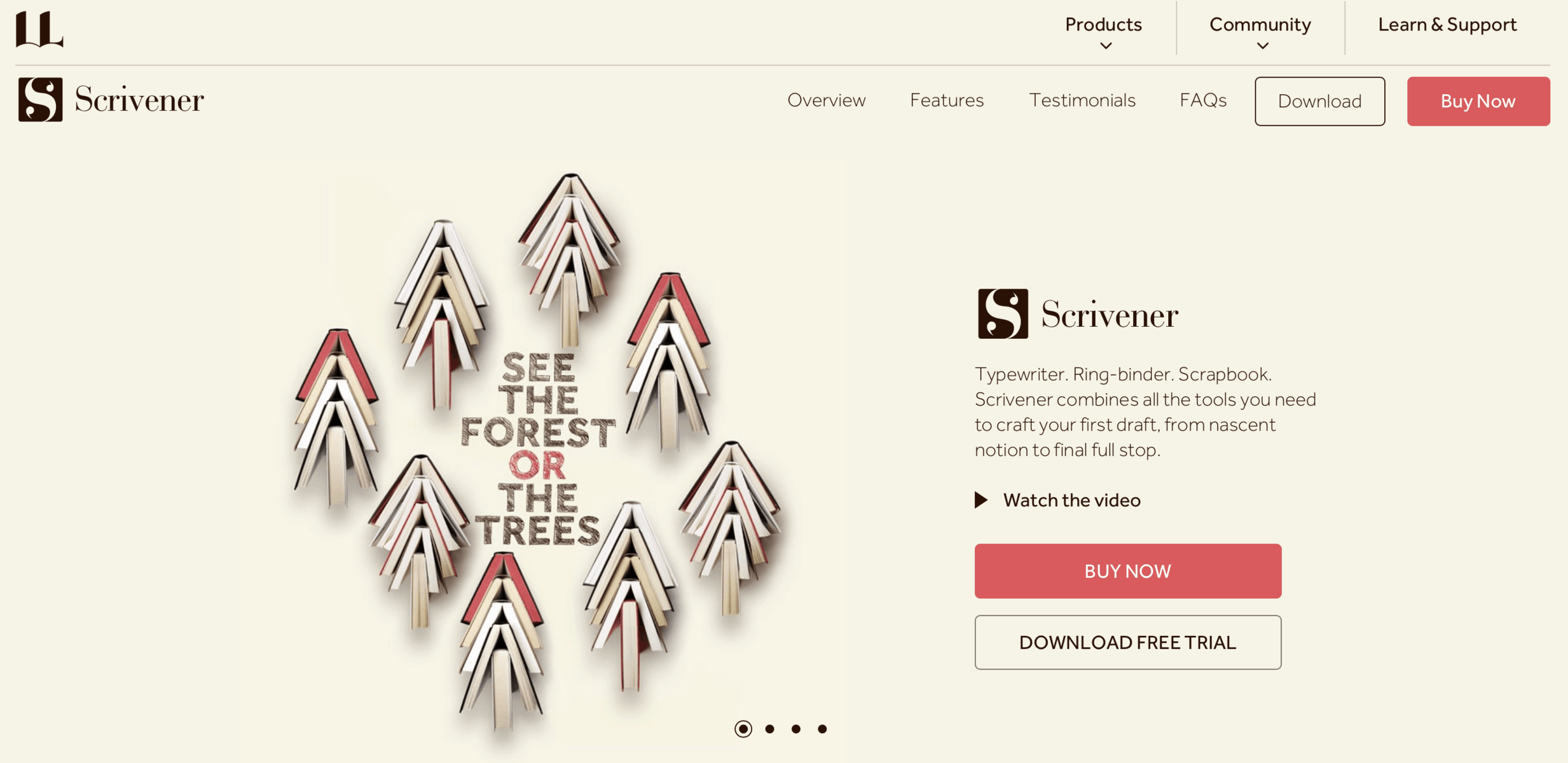 iA Writer we discussed above is for your short blog posts, and Ulysses works the best for both short and long posts, Scrivener is king of long-form writing functionality. If you are looking for the best long writing projects, this is the best you would go with.
If you are in a long-form of content like magazine articles, novels, reports or even books, Scrivener is an excellent option you can go with. However, when it comes to the functionality and ease of use, Scrivener may be a little tricky to work with.
It comes with a steeper learning curve so that mastering it may not be as easy as it would appear to be. You will need to go through a few hours of getting used to the tool. Of course, the built-in tutorial should be helpful enough to a greater extent.
Scrivener comes with a set of templates to work with. Moreover, there are a few other features that would make it an excellent organizational structure in itself.
You can create folders and nest folders within folders to offer an exceptional structure. Managing and finding your content should be a cakewalk for most of your needs.
The app also features a separate section for research. You have an option for sketches, texts, links, and pictures. The export feature is what we love the most with the tool. Some of the options include exporting your creation as a single manuscript, a hardcover novel, ePub for iBooks, and MOBI.
The tool is indeed worthy of your money if you are into long-form content writing.
5. Notebooks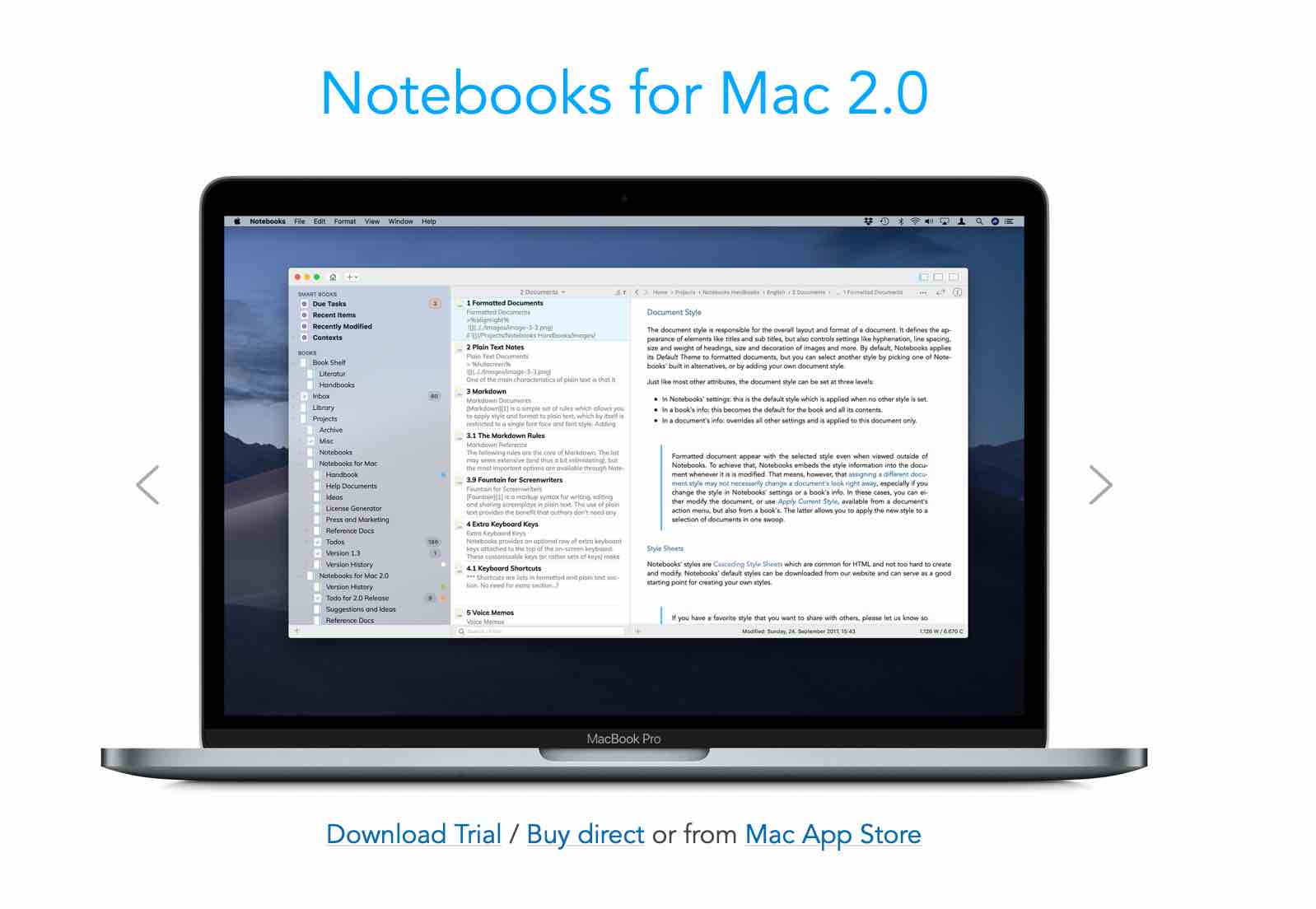 The app suits all your needs – whether you are looking for note-taking requirements, writing small posts, or handling more significant projects. The tool works basically through the means of creating folders referred to as Books.
You can create as many books as you wish and nest them one into another. Easily create a vertical hierarchy. As with most of the other writing apps we discussed so far, Notebooks to offer you a three-panel design. The panes store your books, notes and text editor in that order.
If you are not into longer writing projects always and offer you an exceptional organizational feature. It can be one of the best options for creating drafts for your posts, jotting down your notes, or for those brainstorming sessions.
Of course, the interface can be a little difficult for you if you are coming from other apps that share almost a typical kind of interface.
6. Write! App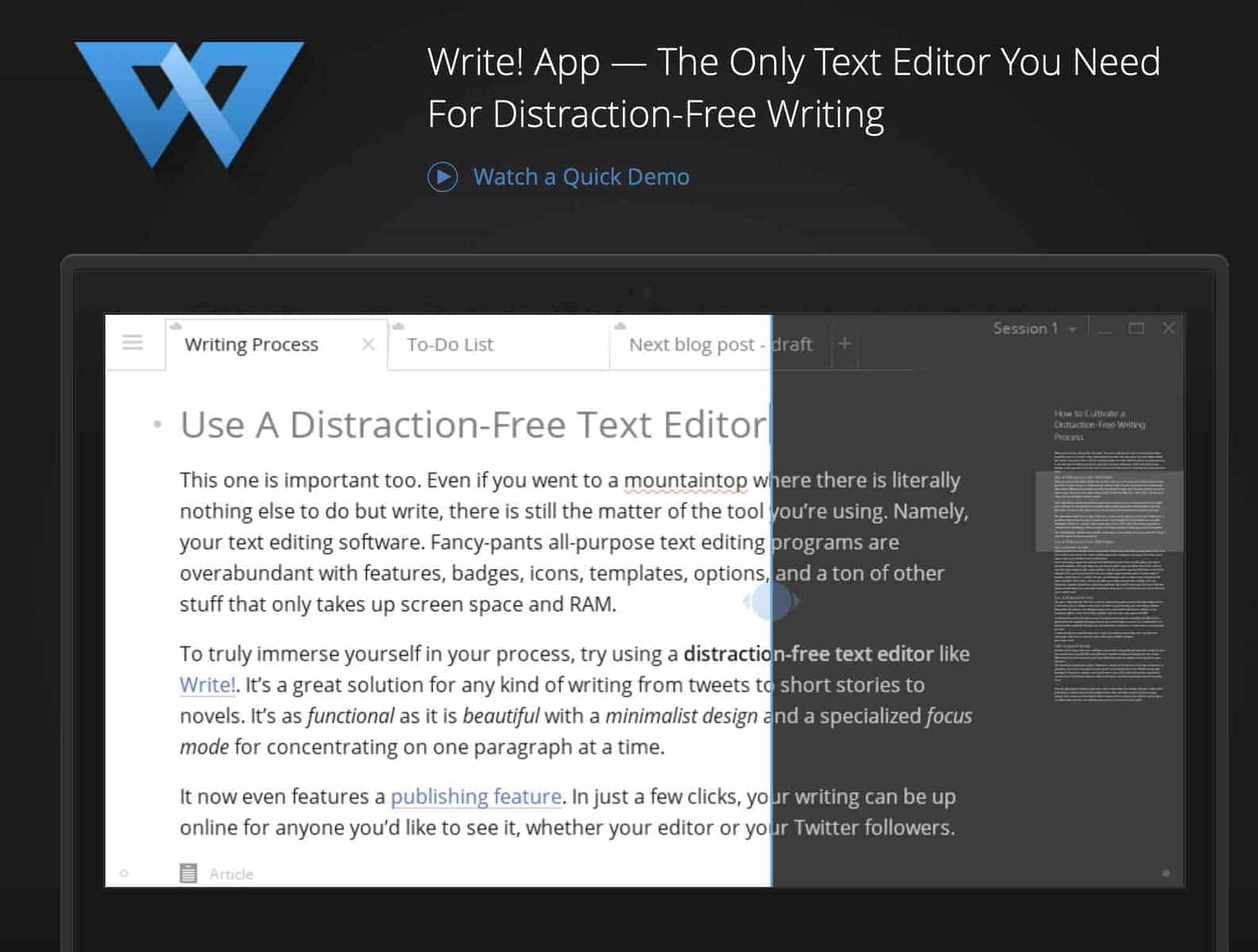 Most of the writing software options on Mac have been turning towards the Markdown category. If you are looking for a tool that works in the category of Rich text editor, Write! can be an excellent alternative for your needs.
The app appears more like a Windows app than a mac based tool. It does support markdown but works excellently as a rich text editor. You have access to a host of keyboard shortcuts for formatting your text.
Yet another feature that would make it a great choice would include its ability to sync with cloud service, thus allowing you access your work across any of the devices.
The app also lets you create shareable links just the way you would share your work through Google Docs links.
In essence, in case your requirements include a distraction-free writing and rich text editing functionalities, Write! Should be the right choice for all your needs. But yes, the tool comes with a rather steeper learning curve so that you can get used to the app and make use of all the features that it offers.
7. Blogo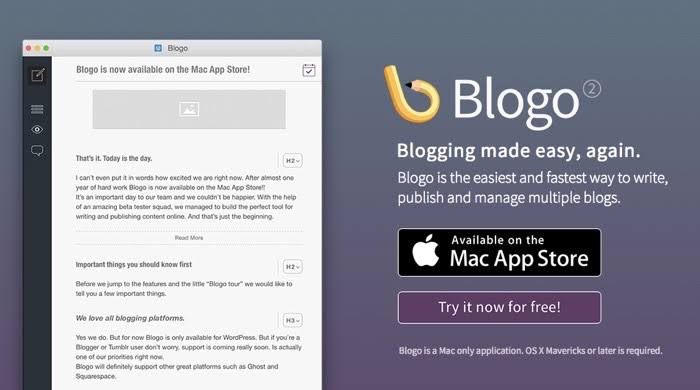 Blogo is one of the excellent choices on Mac and helps you write for WordPress, Blogger, and medium. The simple interface, coupled with powerful functionality, should ideally make it an excellent choice for all your needs in creating valuable content.
It comes with several features that a blog writer would need. The software lets you handle almost all tasks, including title, tags, and other details. The writing tool comes with a customizable workflow that even counts the words and characters.
You can either choose rich text or markdown for creating content. There are several features that the tool supports, and a few examples would include inserting inline tests, performing photo editing, and adding effects to your documents.
The tool is available with a 30 days trial period so that you can check out the features.
8. Byword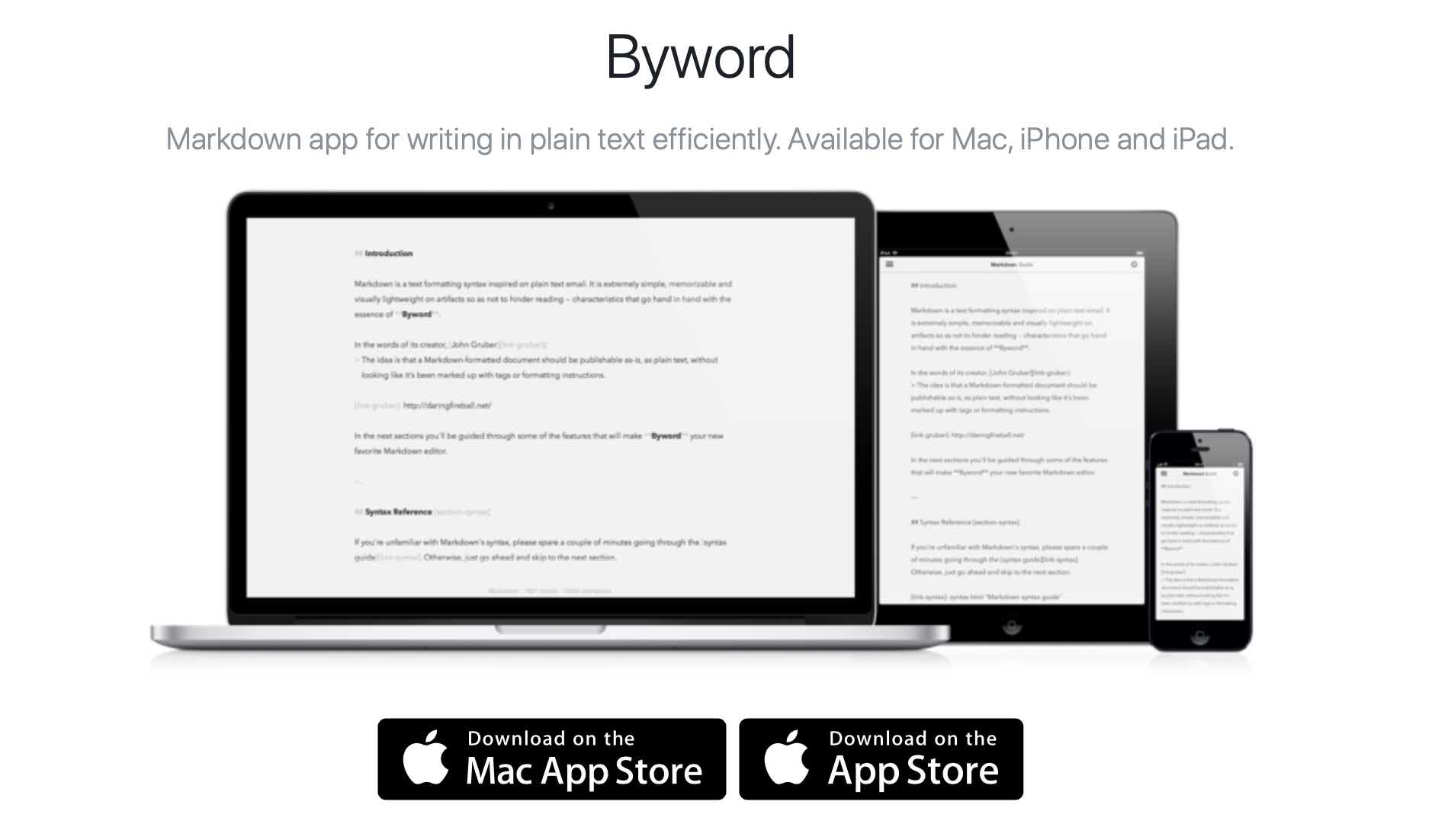 If you are into Blogging, Byword should be your perfect option for all your needs. The app is entirely lightweight and supports a host of mediums wherein you can publish your documents or content. Some of the mediums supported by the app include WordPress, Medium, Tumblr, and Blogger.
The writing app for Mac supports line and paragraph view options wherein everything except the paragraph or the line you are working with will be faded out.
That should help you a distraction-free writing experience so that you can focus on what you are doing at the moment. There is also a Typewriter mode that would help you focus on the middle of the page.
9. OmmWriter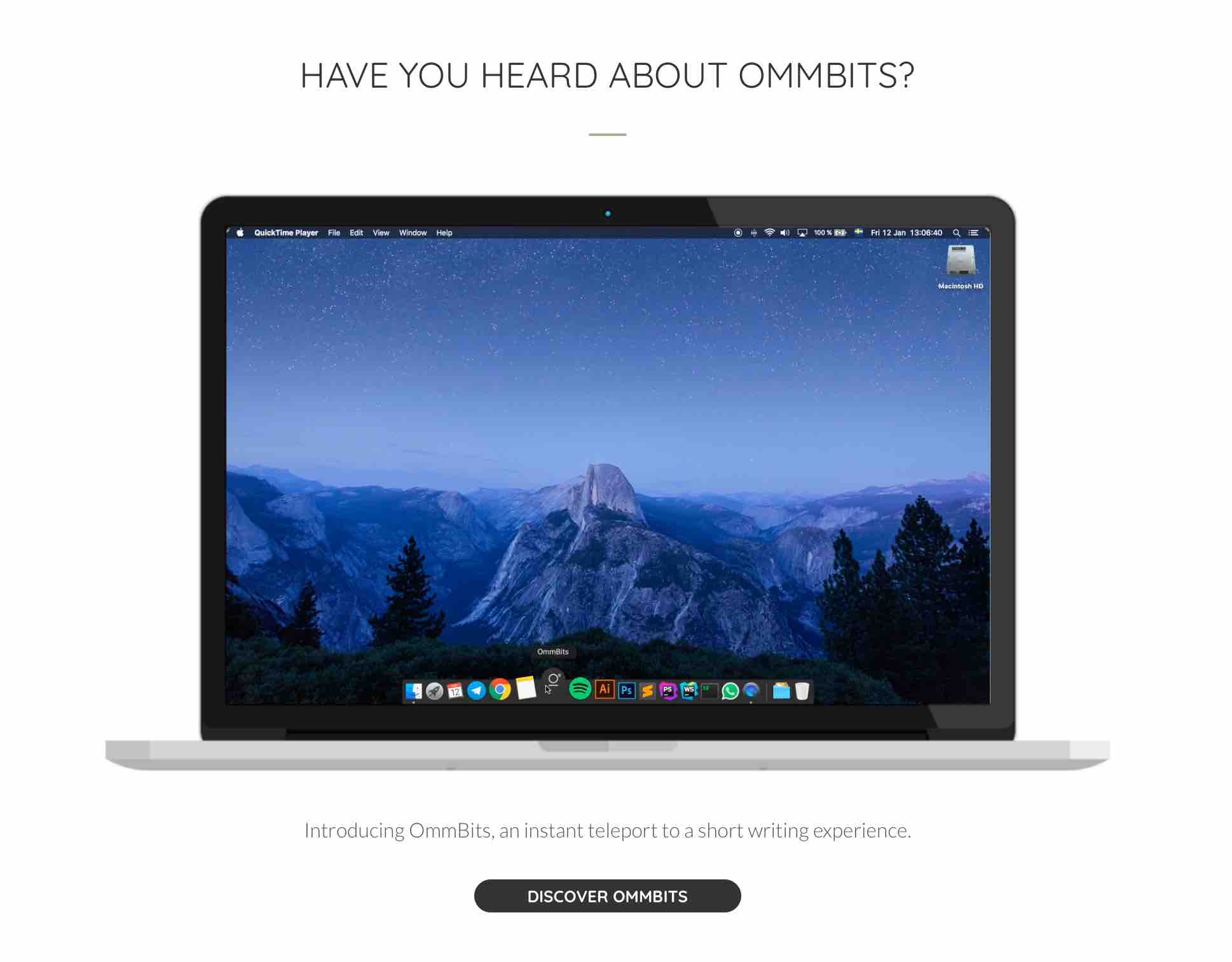 The options above offer you a minimalistic writing space and similar other features; the tool concentrates on a full-screen mode. The full-screen functionality would be helpful enough for a distraction-free writing experience.
OmmWriter also comes with a unique concept where it offers you a choice between the ten different soundtracks. These tracks will help you with music or natural white noise. This can help block out the noisy surroundings. The tool does not offer you any sync functionality.
10. Manuscripts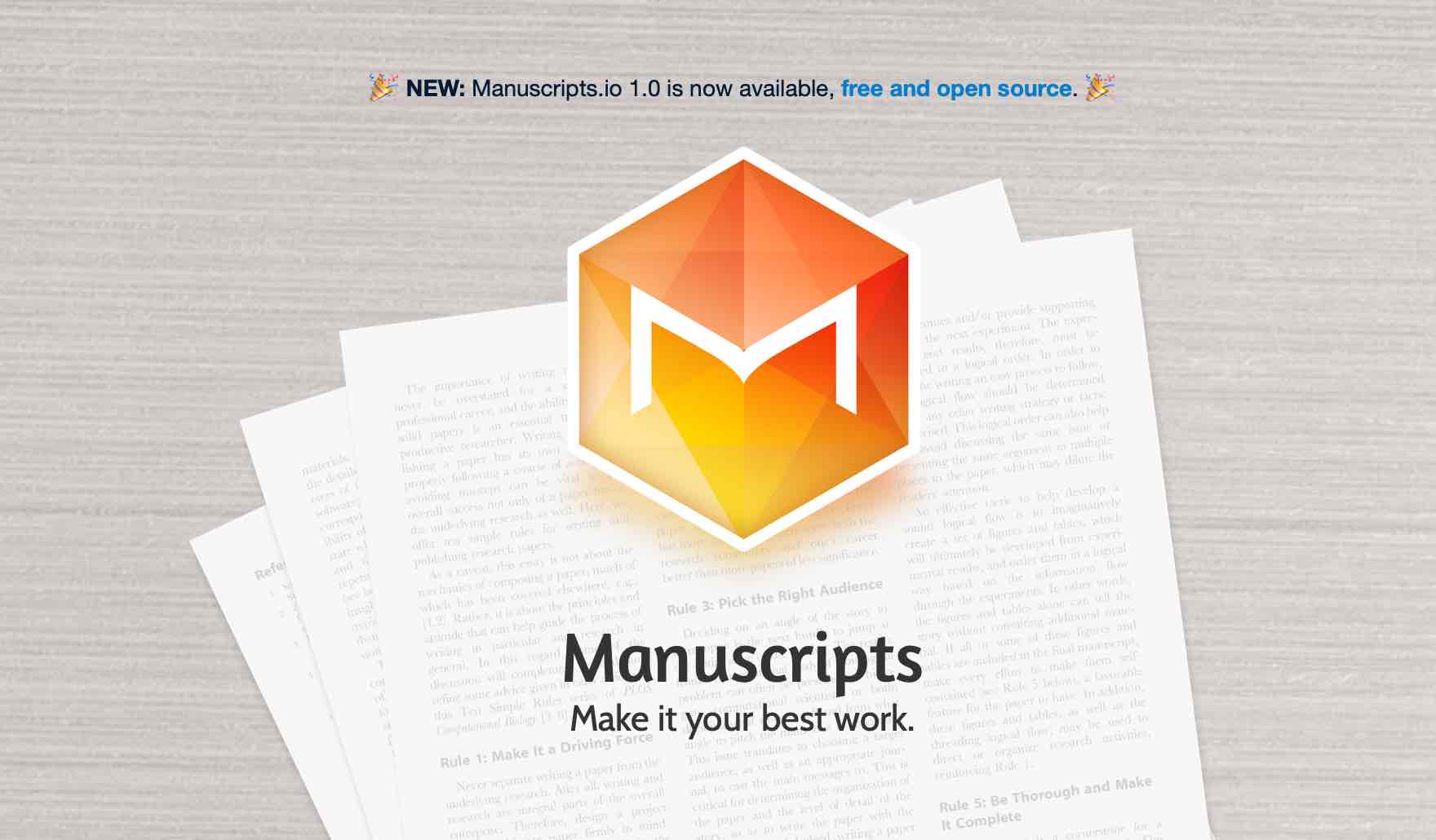 Are you into scholarly writing? Manuscripts should be the best choice for your needs. Not that it does not suit your blog posts or smaller content, but the best use you can put manuscripts is to create research papers.
It comes with a full-screen mode and a fully-fledged interface for most of your writing needs. Choose your popular formats and configure your preferences for the trouble-free writing experience. Once done, you can export your write-ups into multiple formats like PDF, Word, Text, and HTML, to name just a few.
Available only for Mac operating system, the writing app is entirely free to use.
The Parting Thoughts
That should be, in fact, a complete showdown for the best blog writing software options available for Mac. We have made it a point to include every kind of app that would meet most of the needs you may have.
We have listed the apps that would cater to almost all the write-up requirements. No matter whether you are looking for a tool for scholarly writing, shorter posts, or even longer articles – you should have an app or tool that exactly meets your needs perfectly.
Ulysses would be the prime choice if you are a professional and looking for complete integration with the blogging platform you are using, while Scrivener would serve the need for those involved in the professional level of writing like those who are into novels or considerably longer posts.
Which of the tools featured here have you used for your writing assignments? Share your thoughts, experiences, and opinions about the writing software tools that you have used.