Kaya Skin Care Clinic is a network of clinics which are a completely owned subsidiary of Marico which takes care of skin care needs and addresses skin problems of customers.  Marico is one of India's top companies that sells multiple categories of products in the consumer goods headquartered in Mumbai, India.
In addition to skincare consultation, Kaya also has a number of off the shelf products that address various common skin problems across 13 skin and hair care domains. Marico set up the Kaya Skincare Clinic with the clear understanding that since each individual skin different from others, everyone needs a certain level of customized skin care.
Kaya Skin Care Clinic has a network of clinic primarily in tier 1 cities and metros in India and the Middle East with qualified dermatologists and skin care experts to provide consultation and treatment for skin problems.
About Kaya Skin Care Clinic
Type: Skincare Clinic
Industry: Healthcare
Founded: 2003
Founders: Harsh Mariwala
Headquarters: Mumbai, India
Area served: India, Middle East
Current CEO: Rajiv Nair
Number of employees: 1,400+
Major products: Skin care treatments, Laser hair removal, Body treatments, Hair care treatments, Products (creams, serums, etc.)
Strengths in the SWOT analysis of Kaya Skin Care Clinic
The following are the strengths of Kaya Skin Care Clinic are:
Customised treatment options: Kaya Skin Care Clinic is a realization of Maricos research finding that there is huge scope for customized skin treatment. This is Kaya Skin Care's the biggest strength since it is probably the only clinic which offers personalized solutions and expert advice for skin care problems of customers.
Trust and goodwill of customers: Kaya Skin Care Clinic enjoy the high trust and goodwill from customers. The clinic has highly qualified dermatologists and other skin and hair care specialists to analyze each problem that the customer has and to recommend solutions that are personalized. This has helped them secure a strong base of loyal customers.
Strong backing of Marico: Marico Industries have an established base of hair and skin care products including some very popular ones like Parachute, Hair & Care, Nihar, Set Wet & Livon. The customer is familiar with Marico products and thus this has helped Kaya win the trust right from day one.
Two-pronged strategy: Kaya Skin Care adopts a two-pronged strategy to target customers. The first is a dermatology clinic which looks at customers who have a problem which needs medical consultation. The second is a beauty salon which takes care of routine skin and hair care needs of the customer . Thus through Kaya Skincare Clinic, Marico is able to target both specialized and regular skin care thereby helping them to target a wider audience.
Specialist employees: Kaya Skin Care Clinic has a team of 130 dermatologists and skin care experts in their employee roster all of who have proven expertise and experience in the domain of skin care. The professionals are trained by Kaya to ensure that they are able to provide the necessary service quality levels that the customer expects.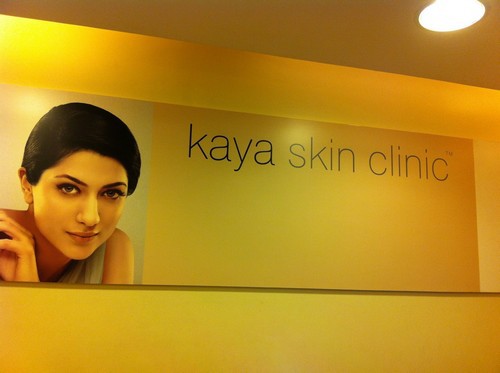 Weaknesses in the SWOT analysis of Kaya Skin Care Clinic
Weaknesses are used to refer to areas where the business or the brand needs improvement. Some of the key weaknesses of Kaya Skin Care Clinic  are :
Inability to keep up with the momentum: Though Marico launched Kaya Skin Care with the bang it has been unable to keep up the momentum with the business suffering from severe losses after the first few years. The losses incurred by the company is to the tune of 145 crores which is profuse.
The high cost of operation: Kaya Skin Care Clinic positions itself as a premium skin care treatment provider and thus the package includes salon like ambiance, plush interiors, welcome drink, and well-trained staff in designer uniforms. These are all expensive to maintain and this means that the cost of maintenance of the facilities was too much for the clinic to manage.
Opportunities in the SWOT analysis of Kaya Skin Care Clinic
Some of the opportunities include :
Excessive skin problems: Customers are fussy today and more aware of various skin care problems. They also have the propensity to spend money on treatments which make them look favorable and this serves as a huge opportunity for skin care service providers since customers want to look good and are overly concerned about creating a favorable impression in environments they move in.

Threats in the SWOT analysis of Kaya Skin Care Clinic
Threats are those factors in the environment which can be detrimental to the growth of the business. Some of the threats include:
Competition: The primary challenge for Kaya Skin Care Clinic are competitors like Lakme salon, YLG, Naturals and Affinity Salon.
Excessive fragmentation: The beauty industry especially skin care clinics face a lot of problems from fragmentation which has resulted in the average number of players in the space right from local players to premium ones like Lakme Absolute.
Low barriers to entry: There are minimal or no barriers to entry into the beauty industry and even small salons are able to build a captive market.The skin care clinic domain is full of small salons who provide beauty services at minimal prices.
Liked this post? Check out the complete series on SWOT