Bata is a global footwear and fashion accessory manufacturer and retailer, headquartered in Lausanne, Switzerland. Bata was founded in 1894 in Zlin, the Czech Republic by Tomas Bata. Bata is still owned by the Bata family and expanded in over 70 countries. India has been a preferred market for Bata with a presence in over 500 cities across 1265 retail stores.
Strength in the SWOT Analysis of BATA :
Global Presence: Bata is present in more than 70 countries, with production facilities in 27 countries. This makes Bata a global player and hence not dependent on a single market.
Market Penetration: Bata has penetrated the market really well. Bata is present in large cities to small towns. This helps in maintaining its customer base and also capturing the new demand created in the market.
Strong Distribution Network: Bata has a very strong distribution network throughout the world with about 5000 retail stores worldwide out of which more than 1200 are located in India.
Excellent positioning: Bata has positioned itself really well as a fashionable yet affordable footwear brand.
Cost Advantage: Its quite clear that bata has the cost advantage and is able to manufacture a huge range of footwears at a very affordable price.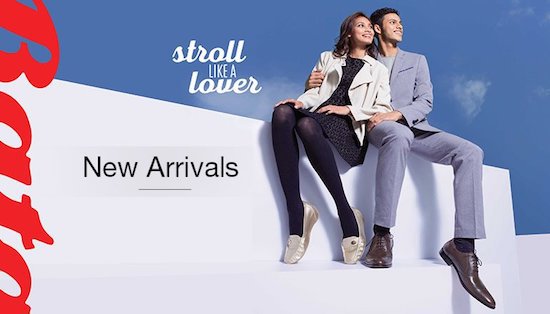 Weakness in the SWOT Analysis of BATA :
Limited market share due to competition: Bata has been subjected to high competition which doesn't allow Bata to have a high market share. Bata's market share has been reduced to 6 per cent.
Falling Sales: Bata India's year on year sales has been on a downturn. Although the company's profits have been increasing.
Low quality image: Because of the low pricing of Bata shoes, most consumers think the quality of the shoes will be low as well. This is a typical price quality approach of positioning.
Opportunity in the SWOT Analysis of BATA :
Footwear as a Fashion statement: Footwears are now considered fashion statement and hence sales are bound to increase. This creates an opportunity for Bata to enhance its revenues.
Growing Rural Market: Bata has a strong presence in the emerging nations. Rural market in the emerging nations is growing at a high rate. Bata needs to take advantage of the demand created in the rural market. This will help in improving its bottom-line.
Growing demand in the premium footwear category: There is a growing demand in the premium footwear industry, especially in the emerging nations where the standard of living is growing.
Threat in the SWOT Analysis of BATA : 
Intense competition: Bata is facing intense competition from other leading footwear brands in all the categories and hence enlarging its customer base and market share is becoming difficult.
Duplicity in the market: The Footwear industry is also subjected to duplicity in the market, which not only decreases sales but also weakens the brand name.
Liked this post? Check out the complete series on SWOT