The Italian fashion and accessories brand was established in 1921 and is known for its offerings in the luxury segment. It is the part of Kering group which is a world leader in apparel and accessories with its portfolio of luxury, sports and lifestyle brands.
Its offerings are a symbol of Italian craftsmanship and are known for its quality, modern outlook and attention to detail.
Segmentation, targeting, positioning in the Marketing strategy of Gucci –
The Italian brand uses a mix of demographic and psychographic segmentation strategies in order to identify the different segmentation variables and come out with offerings which are way ahead of its time in the fashion industry.
Since it targets a very limited segment of customers, therefore, it uses selective targeting strategy.
It has always positioned its products as a symbol of quality and pinnacle of Italian craftsmanship with trendy fashionable apparel & accessories. It uses value-based positioning strategies to position itself as a luxurious brand.
Marketing mix – Here is the Marketing mix of Gucci.
SWOT analysis – Here is the SWOT analysis of Gucci.
Mission- "Not Available"
Vision- "Not Available"
Tagline-"Quality is remembered long after the price is forgotten"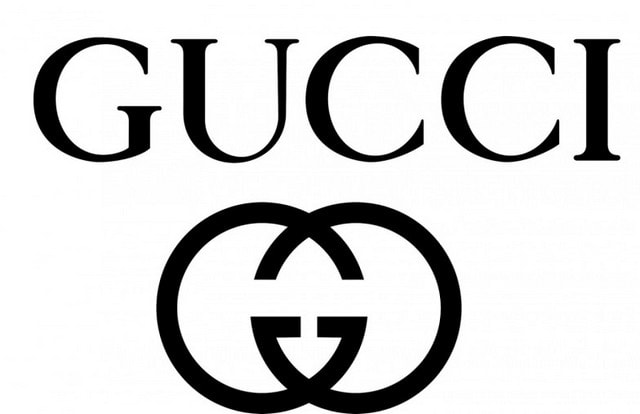 Competitive advantage in the Marketing strategy of Gucci –
Strong Parent company: Gucci is part of the global luxury group, Kering which develops an ensemble of luxury apparel and accessories through its brands Bottega Veneta, Saint Laurent, Alexander McQueen, Balenciaga, Brioni, Christopher Kane, McQ, Stella McCartney, Tomas Maier, Boucheron, Dodo, Girard-Perregaux, Pomellato, Qeelin Ulysse Nardin and Sport & Lifestyle brands Puma, Volcom and Cobra. These brands are distributed in more than 120 countries globally supported by a strong workforce of 40000+ employees.
Scalable business: The parent company have so many brands to offer in its portfolio which is helping the company in being competitively ahead of its competitors and at the same time minimising its operational cost through scaling its operations.          
BCG Matrix in the Marketing strategy of Gucci –
It operates in product categories such as Leather Goods, Shoes, Ready to wear, and Accessories.
Its business segment Leather goods, shoes and accessories are starred in the BCG matrix having a share in revenue as 55%, 17% and 15% while ready to wear product segment is a question mark due to the presence of a large number of brands in this segment.
Distribution strategy in the Marketing strategy of Gucci –
It uses various channels to make the products available to the end customers. It distributes its products through company-owned stores, e-commerce sites, wholesalers, distributors and retailers. As of December 2016, it has 520 company-owned stores globally which is helping the company in generating 34% revenue from Asia Pacific and 21 % revenue from Western Europe.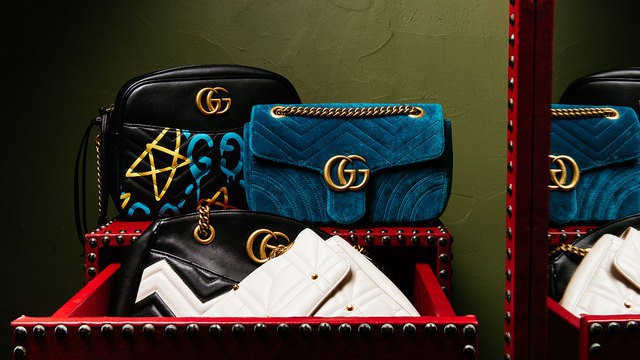 Brand equity in the strategy of Gucci –
Strong brand association and positive controversial buzz creation like that of "The G SPOT" advertisement has helped the brand in creating high TOMA (top of mind awareness).
Gucci has been ranked 47th in Forbes magazine list of World's Most Valuable Brands. The brand has been valued at $12.7 billion as of May 2017 (market capitalization value method) generating revenue of $4.78 billion.
Competitive analysis in the Marketing strategy of Gucci –
In the premium and luxury segment, creating a buzz in the market, high visibility and garnering reputation is necessary in order to build a distinctive image in the mind of the consumers. Gucci has been closely associated with the various campaign and its partnerships have helped it in positioning itself superior to its competitors. Hermes, Louis Vuitton, Chanel, Prada etc are some of the brands which compete with Gucci.
Market analysis in the Marketing strategy of Gucci –
Changing lifestyle, low fad life cycle, climatic conditions, sociocultural differences, migration of people, the rise of cosmopolitan culture and evolution of digital media even in the underdeveloped nations are the factors affecting the companies in the luxury fashion apparel & accessories industry.  Companies in this industry are more focused on the fashionable products and promotions through different mediums.
Customer analysis in the Marketing strategy of Gucci –
Customers of Gucci are from the age group of 15-40 who have an inclination towards the fashionable wear & accessories. Customers of Gucci are from upper middle income and upper-income social groups.
Liked this post? Check out the complete series on Strategies