The Wadia Enterprise, Britannia Industries Limited is an India Food company founded in 1892 and is manufacturing & selling biscuits, Rusk, cake, bread, and dairy products.
It is among the most trusted brands in India manufacturing daily food brands such as Good Day, Milk Bikis and Marie Gold, Tiger, and NutriChoice. These brands have become a household name in not only urban but rural markets also.
Its dairy business contributes approximately 6 % of the total revenue and it reaches to 100000+ outlets while its bread vertical is largest in the organized bread market with an annual turnover of over 1 lakh tons (in volume) and Rs.450 crores.
Segmentation, targeting, positioning in the Marketing strategy of Britannia –
Segmentation helps in understanding the different group of customers available in the population and what are characteristics associated with each of the group.
Britannia uses a mix of demographic & psychographic segmentation strategy considering the population variables such as age, social class, education level, income level, marital status, and occupation.
To serve the different customer groups accordingly, it uses differentiated targeting strategy.
Britannia has positioned itself as a brand caring for the consumers and serving healthy and delicious processed foods. It uses value-based positioning strategy.
Marketing mix
SWOT analysis
Mission- "To deliver continuous and sustainable financial performance for the company and all its stakeholders"
Vision- "Not Available"
Tagline-"Eat Healthy, Think Better"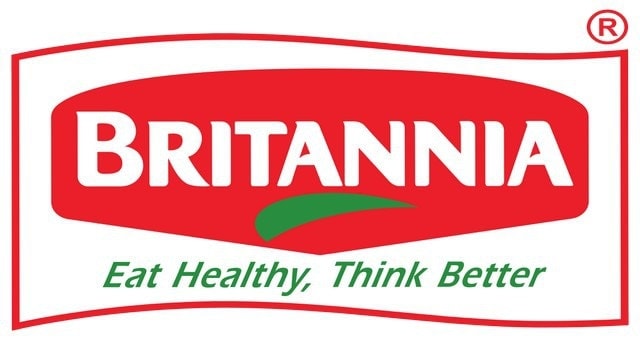 Competitive advantage in the Marketing strategy of Britannia –
Strong Product portfolio: With a wide presence in each of the products categories supported by the sub-brands has helped the company in capturing the rural market generating Rs. 1556 Crs in Mar'17 which is 22% jump from the last Financial Year. Britannia Industries operate in the market with more than 300 SKU's.
Parent Company, Wadia Group: Britannia Industries is a part of the strong parent company Wadia group which have a presence in a large number of business whether it is textile, aviation, Real Estate, plantations, foods, chemicals, electronics and light engineering, or health care. Some of the well-known companies group have are Bombay Dyeing, GO Air, Bombay Burmah etc.
Premiumisation of Products: Although the company has sub-brands in its product portfolio recently it has entered into premium bakery & Dairy products segment in order of being competitive in the market and have a bouquet of products for all segments of the society. Some of their products in the segment delivering delightful innovative products to customers are Good day Wonderfulls, Britannia Treat with Choco & Vanilla flavor.
BCG Matrix in the Marketing strategy of Britannia –
It operates in strategic business units such as bakery and dairy products.  Bakery segment consists of products such as Biscuits, Bread, Cakes, and Rusk while Cheese, Milk & Yoghurt Beverages, and Fresh dairy products form part of the Dairy segment.
Both of the SBU's that the company operates into are Stars in the BCG matrix.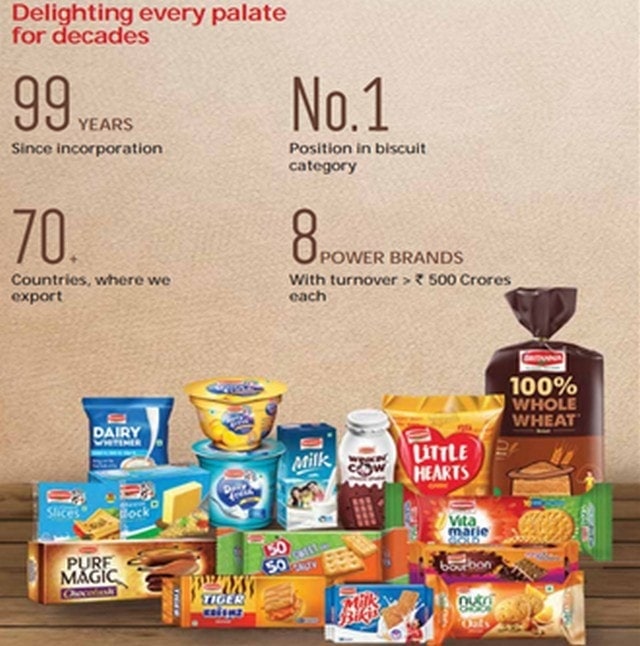 Distribution strategy in the Marketing strategy of Britannia –
Britannia Industries makes its products available to more than 70 countries globally while it has 81+ manufacturing units in India out of which 41 are Biscuit units, 13 dairy units, 12 bread units, 9 Rusk units and 6 cakes units.
Through these manufacturing units, Britannia makes 2.8 Cr packs per day which are distributed to more than 36 lakh outlets through 51 depots, 3700 stockists and 900 trucks per day.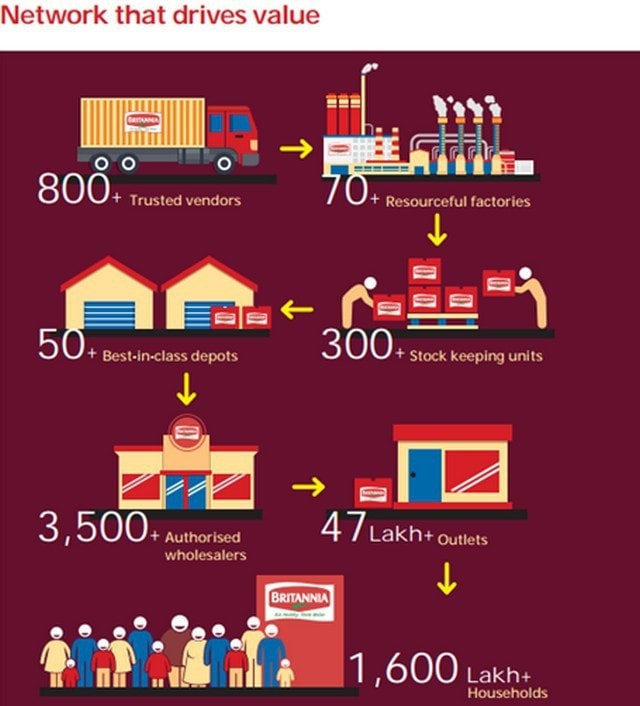 Brand equity in the Marketing strategy of Britannia –
Britannia Industries has been ranked 56th on Forbes magazine list of Innovative growth companies. The brand has been valued at $6 billion as of May 2017 (market capitalization value method) generating revenue of $1.32 billion.
The brand has bagged many award and accolades such as Renewable Energy India Awards 2016 selected Britannia for a special recognition under the Leading RE Investor category, Best Brand Campaign (Britannia Tiger), Big Bang Awards 2013 and many others. 
Competitive analysis in the Marketing strategy of Britannia –
Spread across the knith & kin of India, the brand has created high visibility in the market both Rural & urban areas.
The company competes in the market basis on factors such as extensive presence in the market through a distribution network, deep product assortments, and cost-effectiveness per unit, manufacturing facilities near the markets, quality workforce and innovative products. Some of the competitors of the company are AMUL, Hindustan Unilever, Priya Gold, Parle, Kraft Foods, Sunfeast Etc.
Market analysis in the Marketing strategy of Britannia –
The Britannia Company operates in the packaged food industry, in bakery and dairy product categories.
The business in which Britannia operate has a high share of bakery products especially biscuits and bread.
Macroeconomic challenges, political stability, infrastructure growth, increasing number of suppliers, bargaining power of customers as well as suppliers are some of the driving force for the industry.
Customer analysis in the Marketing strategy of Britannia –
Customers of Britannia are people from all age groups who prefer to have snacks and healthy delicacies on day to day basis.
Britannia has been aggressively penetrating in the rural markets through its Small SKU's (Stock keeping units) and outlet coverage which doubled from 7.3 Lakhs directly reached outlets in Mar.,'14 to 15.5 Lakhs outlet in Mar.,'17.
Liked this post? Check out the complete series on Strategies