Everyone wants to be a part of the great team but have you realized that it is not just collaboration but bonding between members that makes the team best and differentiates it from others. A team that challenges, responds, and gets excited to create a successful venture together is the one that has integrated properly via its bonding and togetherness.
It is not quick and easy. Improving team bonding is a gradual process that needs trust, understanding, and faith so that everyone knows automatically that his team is at its back even in adverse conditions to support him. Good teamwork boosts morale, increases motivation and encourages better productivity.
10 Different Ways to Improve Team Bonding
1) Clarify roles and responsibilities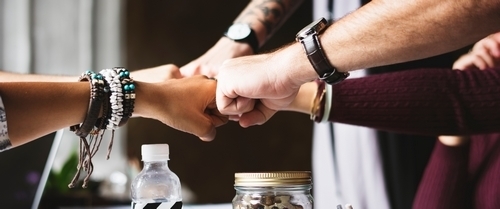 Well-defined goals increase team collaboration whereas unclear and half-hearted instructions can cause severe problems within it. It is better to offer clear guidelines and precise instructions to each and every member. Clarify their role and responsibility to the team and see that nobody is stepping on someone else's turf.
Appoint a team leader who has the respect of his members to guide and instruct them. Make sure that each member is answerable to his leader and the work they accomplish will be judged on the basis of a team, not on individuality factor. This will give them clarity in thoughts and make them responsible and accountable for each other and thus improve team bonding.
2) Define the goals
A well-set target facilitates better focus. An employer has a definite vision and set of goals and it is better if he takes the time to define them to respective teams.  It is then the teams that will set their specific goals to keep the members on the same page and urge them to work towards achieving it in a collective manner.
The team will now have a target with defined and outlined goals and it will become easier to achieve expected outcomes easily. Set up a meeting, define the goals and decide the pathway amongst every member to improve team bonding.
3) Give everyone a say
A team is created with several members who have individual ideas and thought process. Diversity must be encouraged within a team as everyone comes to know and appreciate other ideas. Encourage every single member to speak up and have a say in every matter for sharing of opinions.
Unique perspectives and diversified opinion will enhance the innovation levels amongst the members. They will appreciate the chance, embrace disagreements and remember the importance of a balanced decision so that they can come together and work as one single entity. It is this diversity that will bring unity and improve team bonding.
4) Open door policy
There should not be any barriers within a team. No secrecy please should be the mantra of each team to promote and improve team bonding and harmony.  A team leader should always support open door policy in terms of communications and airing of any grievances so as to resolve every matter promptly.
He must guide and encourage meaningful interactions within a team on a regular basis to promote transparency, clarity, and trust. Open door policy can help members to discuss, consult and resolve project related issues for better work productivity.
5) Build team spirit
Team bonding does not take place within a day.  It takes incessant effort and willingness over a period of time to build an actual team spirit where every member works for the team. When a team is created there is bound to be awkwardness as all the members come from a diversified background with different mindsets. It takes time and opportunities to bring them together and gel as a unit.
Create an open environment and emphasize the outcome that will impact the members equally not individually. In order to build team spirit and improve team bonding encourage simple get together like exercising, running on obstacle courses, going for drinks, and even going to social events that will create a relaxed atmosphere.
6) Review progress together
It is the team that set out to achieve the goals laid out for them and so it should be the team itself that reviews its progress together. It is better the full team sits and analyze its performance and end results. Give feedback to each other so that you can know the areas of concern and work towards eliminating them the next time.
Focus on good points at first so that confidence becomes high and encourages you to increase your work productivity. If an individual has caused a mishap, it should be the team leader, who should warn him and also encourage him to do better the next time. It is at times like this when a member needs the whole team behind him as a support system.
7) Resolve any conflict quickly
No one is perfect in the world and when a group of people is working for the interest of a team there are bound to be several disagreements. Do not let it fester as it will then work as a poison and slowly and steadily spread amongst each team member. Sit and resolve any conflict in a timely manner so that the poison is purged out immediately.
Let everyone share his concern and tell about his difficulties with other members. Open your minds and listen attentively because either of you can be in wrong and it is in the best interest of your team that you realize your mistake and come forward without any prompting to accept and rectify it. At the end listen and accept the verdict of the team leader and move forward together to maintain and improve team bonding.
8) Get feedback
Solicit and encourage ideas from teams to improve the productivity of a company. The teams will have brainstorming sessions amongst them and generate excellent insights and great ideas. These contributions and debating will open new closeness and improve team bonding. Open feedback channels so that a team can forward it to the required authority.
If every team and its members give important and meaningful feedback then it will prove beneficial for the company. Just receiving them is not enough the company must set up an efficient team to handle this feedback and take appropriate steps towards implementing the good ones.
9) Celebrate
Successful projects need celebrating together to improve team bonding. It is not important to have a lavish and large-scale celebration, sometimes small and cozy get together can make a huge difference. Weave it inside a team's culture and make it mandatory within a team. It will make the success more impactful and lasting because everyone remembers celebrations.
Motivation levels will become high and members will strive again to achieve goals in a better time period. Celebrate with a casual weekend outing or a simple get together during lunch hour and chat about the success of the team, not individuals. Thank everyone in the team for their efforts and mention that it is the team that has achieved the success and deserves the celebration.
10) Encourage social events
Go for a lunch/dinner or a drink, a movie or an event with just team members and see how it brings about closeness and encourages collaboration.  Events are a great way of unwinding and knowing others. Formal settings do not offer opportunities to know each other on a personal basis but informal settings and social events do. While working the attention of employees is on the project at hand and so they do not have the necessary time to bond with their teammates.
Casual surroundings are a great way for getting to know each other and improve bonding. Low-pressure events are best to sit, relax and enjoy a drink with mates. Social events are part of a company and it is best that the whole team participates in it to improve the team bonding because the members will be able to relate to each other on personal levels.
The above were all the ways you can improve team bonding. The best thing would be to look at your current team and focus on pointers which will help improve team bonding,
Liked this post? Check out the complete series on Team Management