Vodafone is a brand known for its deep telecom roots across multiple countries and nations. Originally, Vodafone hails from the United Kingdom and has its headquarters in London. Vodafone was founded in 1984 and since then, has impressed the world with its wide distribution and its smart marketing tactics. It is the favorite telecom brand for many people.
Here is the SWOT analysis of Vodafone
Strengths in the SWOT analysis of Vodafone
Massive market coverage – Vodafone is ranked 395th amongst the worlds top 2000 brands by Forbes. It is known for its wide distribution and network cover. It has the second largest subscriber base in India. It is the second highest ranked telecom operator and is behind only China Mobile. Vodafone operates in more then 25 countries across the globe.
Revenues generated – Vodafone generates billions of dollar of revenue every year. The latest figure of 2016 is it has generated a revenue of a whopping 87.3 billion dollars. Naturally, this results in boosting the rankings and expectations from Vodafone even further. It is ranked 104 in its sales figures across the global 2000 list and number 84 in market value.
Marketing – The Marketing by Vodafone is legendary. The Vodafone pug is known across the globe to follow Vodafone users everywhere. Simmilarly, the Vodafone zoozoo's was a brilliant and endearing campaign which converted many users to die hard fans of Vodafone. Time and time again, Vodafone comes out with brilliant campaigns at the right time.
Premium cost – While other telecom operators are penetrating the market, Vodafone is differentiating its services regularly. Due to its marketing and communications, users already think that Vodafone is a notch above the rest and they are proud to be a user of Vodafone. As a result, Vodafone is still able to get some premium out of their customers and float in margins whereas other telecom operators are struggling to maintain positive margins.
Subscriber base – Vodafone has a massive subscriber base which they retain efficiently. As of 2016, the total subscribers of Vodafone across the world was close to 350 million people.
Brand recall and brand valuation – The brand valuation of Vodafone is 28 billion dollars as of 2016. Besides the brand valuation, the brand equity and the brand recall of the brand is very high too. It is impossible that anyone will not refer to Vodafone when talking about the top telecom players.

Weaknesses in the SWOT analysis of Vodafone
1. Dropping subscriber base – As can be seen from the **graph below**, the subscriber base of Vodafone is dropping in the last 4 years. This is a major problem for Vodafone looking at the global market scenario. The brand needs to strengthen its core values and implement strategies to acquire more customers.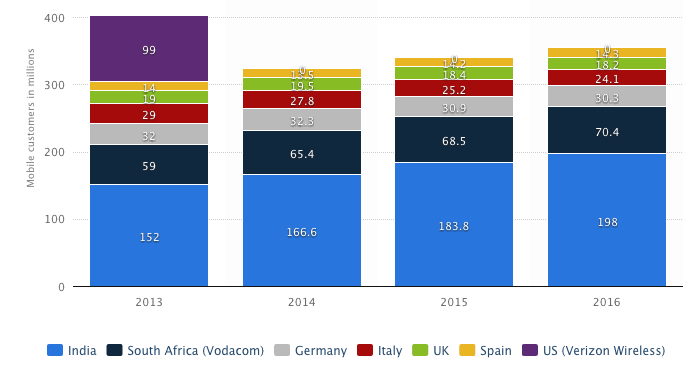 2. Dropping brand valuation – One of the possible reasons for the drop in subscriber base of Vodafone can be the dropping brand valuation of the company. Both – subscriber base and brand valuation of the company was very strong to begin with. But both have them have suffered in the last 3-4 years. Brand valuation drop in the last 1 year was phenomenal.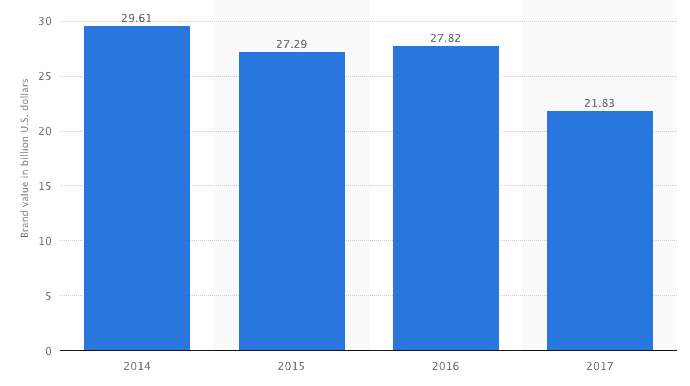 3. Losing market share in USA – USA is a country where Vodafone could have demanded the premium it needs to keep itself afloat. However, it is fast losing market share in the USA to Verizon wireless and AT&T, both of whom are performing far above Vodafone if we consider the US market only.
4. Poor performance in Europe – Due to brexit and other economical conditions in Europe, Vodafones performance in its home market has been poor and it has not generated much revenue from its home market. In fact, if we look at revenues, 40% of the revenue is coming from India and not from US or UK.
Opportunities in the SWOT analysis of Vodafone
Rural markets – If a high percentage of subscriber base of Vodafone is in India, then rural market penetration becomes a priority for the telecom operator. However, Vodafone seems to be operating more only in urban markets whereas its top competitor such as Airtel and Reliance communications have penetrated rural markets successfully. This naturally causes a loss of future potential for Vodafone.
Emerging markets – Not only rural markets in developing countries, other emerging markets such as those in Africa are also a great potential place for Vodafone. These new and emerging markets have increasing disposable income and communication becomes important once a network is growing. Thus, there are many roles a telecom company can play in an emerging market. Hence, besides the rural markets, Vodafone should also concentrate on Emerging markets across the globe.
Dependency on Cellular networks – As people rely more and more on their smartphones, paralelly their dependency on cellular networks is rising. This is a pretty good news for Vodafone because customer retention is not much of a problem. It is a need based segment, so the number of potential users will always be on the rise. The challenge is to acquire the potential base of consumers.
4G – The 4G spectrum has created disruption but at the same time has made people look at the telecom operators once again to see which one they will side with. In india for example, the free plans of Reliance jio have resulted in many people leaving Vodafone and joining Jio. Nonetheless, in the long run, the 4G spectrum can result in higher revenues for the telecom operator.
Improving the network coverage – A major problem which consumers of Vodafone sometimes have from the brand is its network coverage. Vodafone is known to have poor network coverage many a times. This is possible because of the number of towers the company owns or operates out of. Keeping an eye on the network coverage and improving it as much as possible is a good opportunity for Vodafone to increase customer acquisition as well as retain current customers of the organization.
Threats in the SWOT analysis of Vodafone
Competition – A major threat for Vodafone is the competition it faces everywhere it goes. So if it goes to the US, it will face competition from Verizon Wireless and AT&T. China has its own China mobile. India has Airtel and Reliance Jio. There is cut throat competition in the telecom sector and this is strongly affecting the brand Vodafone, which was trying to offer differentiated services by keeping a bit of premium pricing.
Low margins – Vodafone's differentiation initially worked, but in the last 3-4 years, the competition has been so fierce, that the whole telecom market is operating in a penetrative pricing mechanism. Competition is always good for consumers but too much competition is bad for companies. As a result, the margins earned against the revenues generated has been steadily dropping for all telecom brands (vodafone included) in the last 3-4 years.
Mobile number portability – MNP is a major threat to Vodafone because whenever a competitor introduces a cheap plan or someone like Reliance Jio gives phone calls and internet for free, then consumers dont think twice before switching brands. MNP has made it easier for consumers to switch between multiple telecom operaters. As a result, this is a major threat to Vodafone which is losing its brand equity already.
Saturation – Saturation of the market in terms of the noise created by the telecom operators as well as the number of competitors present ultimately results in a waste of revenue spent on customer acquisition campaigns or strategies. Saturation results in the brand spending more and more on customer acquisition and getting lesser customers for the same amount spent.
This was the SWOT analysis of Vodafone. Can you add anything to the strengths, weaknesses, opportunities or threats of Vodafone? We will be glad to hear it from you.
Sources – Forbes.com , Statista.com , Wikipedia
Liked this post? Check out these detailed articles on
Topic of SWOT of Brands
Alternatively, check out the Marketing91 Academy, which provides you access to 10+ marketing courses and 100s of Case studies.