Founded in 1907 after the merger two companies Royal Dutch Petroleum Company (public limited company of England) and the shell transport and trading co. ltd., company is now officially known as Royal Dutch Shell Plc. although famous with name "Shell". Shell is the fifth largest oil and energy company in the world measured by revenues (2015-16 data).
Segmentation, targeting, positioning in the Marketing strategy of SHELL-
Shell uses majorly geographic segmentation strategies to collaboratively work with customers. Naturally being from the Oil industry, they have a product which is in demand everywhere. So they mainly have to concentrate on geographies to distribute thtier products.
Differentiated targeting strategy is used by the company to satisfy the needs of the customers of respective segments. They provide various value added services so that they are able to differentiate themselves from other companies in the same segment. 
It uses value-based positioning strategies in order to connect with the communities and organisations through its offerings globally. With more differentiation, more value is created thereby positioning the brand better.
Marketing mix – Here is the marketing mix of Shell
Mission- "To work closely with Partners, policymakers and customers in order to advance efficient and sustainable use of energy and natural resources"
Vision- "To meet the energy needs of society in ways that are economical, socially and environmentally viable toady and in the future too"
Tagline-"You can be sure of Shell"
The brand logo redesign to stay in tough with times.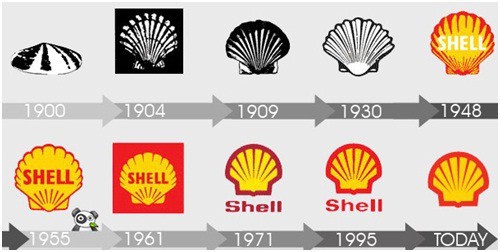 Competitive advantage in the Marketing strategy of SHELL-
Research & Development: The expenses of the company for research and development activities have been more than $ 1050 million in the year 2016. It conducts these research functions through technology centres in Canada, Germany, India, China, Norway, the Netherlands, Oman, Qatar and the USA. Shell holds around 12000 granted and pending patents applications.
Strategic partnerships and alliances: Collaborations and partnerships helped the company in gaining expertise over the various economies and broaden its technical and service delivery know-how. Some of its successful collaborations are with China National Petroleum, Intel, Cyber Hawk, Gordon Murray design, Geo technology, Gazprom and many others.
Diversified Product Portfolio:  Its presence in diversified businesses is helping the company in risk mitigation due to price volatility and exchange rates.
Consistency and trust: Because of its consistency in providing quality products and services over a period of time, Shell has gained the trust of its customers. So much so that many customers prefer a Shell outlet over others.
BCG Matrix in the Marketing strategy of SHELL-
Shell operates in businesses Upstream, downstream, Projects and technology and Integrated Gas and new energies businesses.
Its Upstream and downstream business is a star in the BCG matrix while Projects and technology and Integrated Gas & new energies business are a question mark in the BCG matrix as these segments are ruled by British Petroleum and other companies in the industry.
Distribution strategy in the Marketing strategy of SHELL-
It's collaborative and integrated value delivery system for delivering its products and services worldwide is helping the company in being ahead of its competitors.
Various functions of the company have been integrated to communicate in the real-time in order to identify the potential markets and making the products available to the customers from the nearest refineries / or production facilities of the third party suppliers.
Brand equity in the strategy of SHELL-
Shell has been ranked 50 in the list of 2000 global brands by the Forbes magazine. The brand has been valued at $ 210 billion based on the market capitalization method (as of may 2016).
Strong association with the sports events like formula one, other racing events and its unique evolving logo of the brand has helped in increasing its visibility in the market.
Competitive analysis in the Marketing strategy of SHELL-
There are a limited number of companies in the market in the industry due to high infrastructure and technological cost involved in setting up the company. Furthermore, the entry barriers of this industry are high. However, once a company has entered, it can only survive by having high volumes, which increases the intensity of competition.
Some of its competitors are British Petroleum, Z energy, OMP, Exxon etc. Companies in this industry work collaboratively with unrelated companies to compete with their peer companies.
Market analysis in the Marketing strategy of SHELL-
Companies in the industry in which shell operate are facing constraint such as government regulations, limited non-renewable sources of energy, fluctuating prices, exchange rate, changing lifestyle, increasing raw material prices, limited resources.
These factors are restricting the growth of the companies in the industry whereas backwards and forward integration is helping the companies in the industry to cater to the changing needs of the customers.
Customer analysis in the Marketing strategy of SHELL –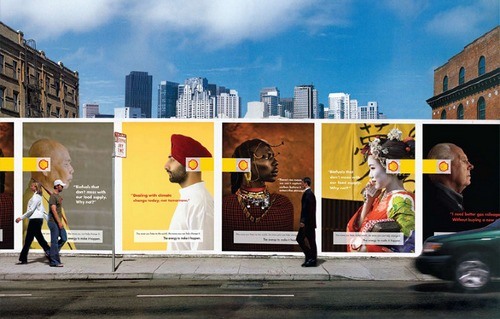 Customers of Shell are both private and government institutions (in the B2B segment) who are dealing in the oil and gas energy products or related products worldwide.
In Business to business (B2B) segment, it provides companies with fuel for transportation, energy for heat and light, lubricants to produce various other products and keep engines moving efficiently and the petrochemicals required to produce everyday items.
In Retail segment customers of Shell are auto service outlets and oil pumps.
Liked this post? Check out these detailed articles on
Topic of Brand Strategies
Alternatively, check out the Marketing91 Academy, which provides you access to 10+ marketing courses and 100s of Case studies.