Headquartered in Stamford, Connecticut a subsidiary of Marriot International since September 2016 Starwood Hotels and Resorts Worldwide LLC at that point of time owned over 1200 properties employing more than 1,80,000 people of whom approximately 26% were in the U.S. was one of the world's largest hotel company owning hotels, resorts, spas, residencies and vacation properties''
After its announcement in November 2015, that Marriott International would purchase Starwood Hotels and Resorts for $13.6 Billion to create the world's largest hotel chain.
Segmentation, targeting, positioning in the Marketing strategy of Starwoods
Segmented on the basis of services like Spa, Gym Hygiene factors, Housekeeping services with the bundle of offerings along with the ambiance the brand provides.
Brand targets on the basis of various income levels and uses differentiating strategy making it promising for its customers' great unique experience with its offerings in 3-star/ 4-star/ 5-star hotels/resorts.
With as many as 11 brands under it, brand has positioned itself as a prominent player by giving importance to local community, culture & traditions.
Mission-"N/A"
 Vision– "N/A"
Tagline-"World of Understanding"
Competitive advantage in the Marketing strategy of Starwoods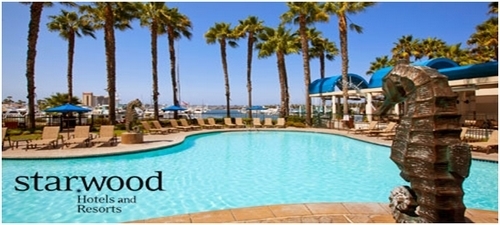 1) The leader in Technology :
Guest's expectations over the years have evolved from just hygiene, great ambiance, pool, fitness facility etc. Guests now seek much beyond these aforementioned amenities and offerings. Thus hoteliers are now finding themselves flocking to technology to deliver value to guests. Millennials seem to be the prime reason behind this shift, over the years Starwood has been heavily investing in Digital Display Advertising both for recruitment and Customer Acquisition. The following chart shows the social audience for the brand.
2) Digital Marketing as a tool: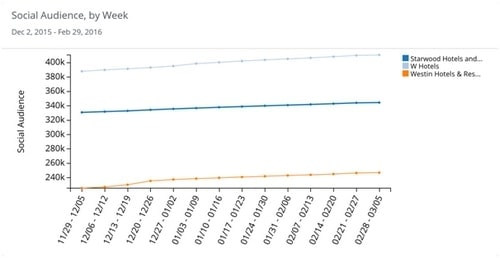 At least some of their brands are employing SEO(Search Engine Marketing – i.e. Google Adwords, Bing Ads, etc). Starwood's main site, Westin's site and W Hotels' site all show about 820 Adwords keywords.
A core part of their digital strategy is link-building for SEO. This is evidenced through two things: (1) their brand sites are all on Starwood's TLD (Top-Level Domain) which is a brilliant way of allowing traffic to each brand to aid in the search ranking for all brands; (2) they are actively growing their external links (both W Hotels and Westin had 1.5x to 2x growth in external links in the beginning of February – this could be an algorithm change but even if it is, their SEO team/agency is doing something right).
Why Hoteliers are Flocking to Technology?
In this competitive industry hospitality companies are finding innovative ways to deliver high-tech and high- touch services. the primary reason for this transition in the industry and the use of more and more of technology is largely due to millennials. This demographic is of interest to the industry for two reasons: first, 52% of Millennials rank "far above or above average" as early adopters of technology and secondly by 2020Millennials are estimated to spend $4.1 trillion annually.
Starwood Hotels & Resorts – A Pioneer of Hotel Technology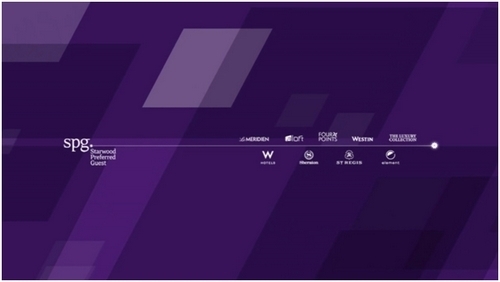 Because of its unparalleled success, the Starwood Preferred Guest (SPG) loyalty reward program is something really dear to the brand as it creates a strong loyalty membership-base.
Starwood is hyper-focused on personalized guest experience which recognizes and rewards guests for their loyalty to the brand.
Starwood's business model aims to deliver a unique guest experience and engage with their customers across several touchpoints such as group events, guestrooms, food & beverage, and health & wellness. The business model is not only successful just because of the adoption of technology but also because of its operating model. To exploit these guest touchpoints a seamless operating model leveraging guest data to deliver the promise of a unique guest experience.
Starwood's operations are not only structured to deliver a consistent quality but it's also ever evolving as it caters to the changing needs of its guests across its 1200 properties expanding across 11 brands.
BCG Matrix in the Marketing strategy of Starwood
 The brand Starwood Hotels operates in strategic businesses such as Upper Upscale, Luxury, Upscale and Branded Residentially and General Hotels.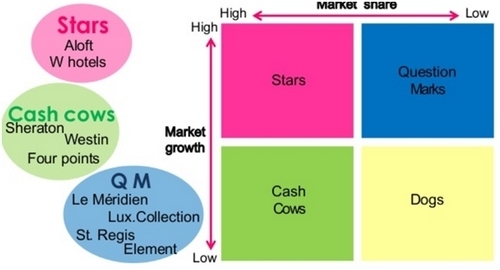 In the Upper Upscale category, Starwood has the chain of Hotels such as Westin, Aloftof which Westin acts as one of the cash cows for the brand.
In Luxury segment, it has Sheraton, Tribute, St. Regis, W hotels of which W hotels appear in the star segment and Sheraton as a cash cow.
Four Points comes as a mid-range hotel for the brand which eventually is a cash cow for the brand.
Distribution strategy in the Marketing strategy of Starwood-
Before being acquired by Marriot Starwood Hotels and Resorts owned, managed and franchised over 1200 properties and employing over 180,000 people, 26% of which were employed in the United States.
The brand mostly operates in franchise based properties which is one of the most popular ways of operating in the hospitality industry.
Brand equity in the Marketing strategy of Starwood-
The Global hospitality company has been ranked 444th in Fortune 500 magazine and asWorld's leading CSR Programme 2011.
Starwood owns and manages its properties with differentiating experiences coupled with their loyalty programs which helps the brand to increase its repeat customers base and brand value over the years.
Competitive analysis in the Marketing strategy of Starwood-
Hospitality being a Red ocean sector has got competition from various ends whether it is private properties, Hospitality Chains, new entrants like OYO/Airbnb which rent properties to travelers for short term.
The Starwood competes on the factors such as Technology, brand name, services, pricing, quality accommodation, well trained and cordial staff and strategic locations of the hotels.
Innovative Technologies Find Their Way into Hotels
Innovation is the born where there is void in product or service, over the years people have experienced check-in process as time-consuming, inefficient, and redundant. To resolve this issue, the brand leveraged the use of beacons, an augmented reality which transmits data via Bluetooth, thus enabling keyless entry. Launched in late 2014, Starwood "opened its doors" with keyless entry to its SPG loyalty member guests. This use of new technology helps in the omission of front desk check-in process and self-directed guest experience.
Market analysis in the Marketing strategy of Starwood-
With health tourism gaining popularity and increasing global business activities across borders a massive investment in the industry has been a recent trend globally which has makes the sector one of the top 10 foreign investment attraction.
Starwood Preferred Guest (SPG) loyalty reward program gives the brand distinctive advantage and helps retain its customers which have been a prime reason for the brand for its growth and expansion with the company announcing 132 hotel deals and a total of 44 new properties opening in 2016.
Customer analysis in the Marketing strategy of Starwood-
With tie-ups with corporates, Government organizations, foreign nationals, organizing conferences its customer base has been rapidly increasing with the offering for various segments ranging from mid-income level group to luxury hotels for rich and affluent customers falling in the age group of 30-60.
Liked this post? Check out these detailed articles on
Topic of Brand Strategies
Alternatively, check out the Marketing91 Academy, which provides you access to 10+ marketing courses and 100s of Case studies.