The malt based beverage & food is the nutritional brand of GlaxoSmithKline plc introduced in the year 1919. The brand has associated itself with the health benefits and increasing growth hormones thereby helping in essential vitamins and reducing mineral deficiency.
The Horlicks was invented as a substitute for milk as a baby food by William & James Horlick, the British brothers. The flagship brand of GlaxoSmithKline is present in various flavors in the market and with different product lines like biscuits, Noodles, growth supplements, and beverage.
Segmentation, targeting, positioning in the Marketing strategy of Horlicks –
Based on the nutritional requirement of the different age groups and product usage such as that of malt beverage is for toddlers & pre-schoolers, growing kids and for adults including mothers & women.
Since the brand is present in different product categories like healthy biscuits, noodles, nutritional drinks, and energy drinks, therefore, it uses differentiated targeting strategy.
The brand has been positioned as a healthy nutritional food for every life stage and for consumers of every age. It is being liked so much India that approx 30 million Cups is being drunk in India every year.
Marketing mix – Here is the Marketing mix of Horlicks.
SWOT analysis – Here is the SWOT analysis of Horlicks.
Mission-"Not Available"
Vision- "Not Available"
Tagline-"Improves attention & concentration"
Competitive advantage in the Marketing strategy of Horlicks–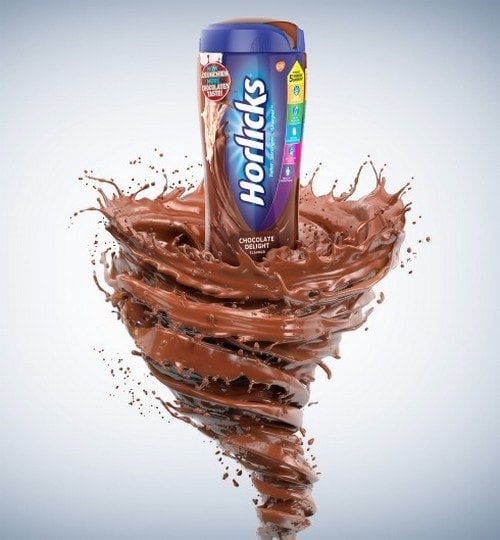 Broad Product Portfolio:
For brands, it becomes easy to offer the products when there is the bouquet of products for each of the segments of the market. Horlicks, in order to ensure that it does not restrict itself to a particular group of customers, has introduced Horlicks for every age group of customers with different SKU's along with different flavors and easy to use refill packs.
Financially Strong & stable parent company:
Horlicks is part of the MNC GlaxoSmithKline (GSK), the British Pharma company and is world's 6th largest Pharmaceutical company with market capitalization of £81 billion. Horlicks is operated by the GSK under Healthcare division. The company have the presence in over 120 countries with more than 1 lakh employees out of which 12500+ are in R & D.
BCG Matrix in the Marketing strategy of Horlicks-
Horlicks has been operating in 4 business segments namely
Horlicks which includes products such as Horlicks, Horlicks Lite, Horlicks Oats.
For Toddlers: Junior Horlicks and Horlicks Growth+.
For Women: Women's Horlicks and Mother's Horlicks.
Plus+: Horlicks Cardia+ and Horlicks Protein+.
Apart from Plus+ business segment which have been introduced in the niche segment is, therefore, is the question mark in the BCG matrix, all other 3 segments are stars in the BCG matrix.
Distribution strategy in the Marketing strategy of Horlicks–
UK business acquired the US operations in the year 1945 which helped the brand in becoming the global brand. It is now been distributed in UK, Ireland and Indian sub-continent which is the biggest market for Horlicks.
The brand distributes its offerings through the variety of channels of distribution such as pharmacies, medicine stores, wholesalers, retailers, kirana stores and e-commerce websites. It has recently tied up with eCommerce giant Amazon through which customer is redirected to Amazon while clicking buy option on Horlicks website.
Brand equity in the Marketing strategy of Horlicks–
The brand revenue in the year 2017 stands at £680 million. Horlicks associate itself with the targeted audience through different mediums such as at schools, colleges, pre-schools etc. The brand has been creating awareness about the health benefits of drinking the cereals and milk-based Horlicks which help in creating immunity, maintaining blood flow, healthy weight gain, and better concentration.
Competitive analysis in the Marketing strategy of Horlicks–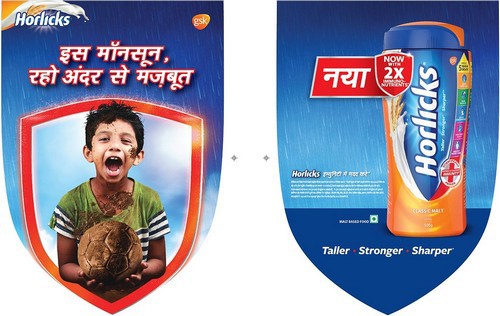 Horlicks has been competing with the energy drinks, essential vitamins/minerals supplements and substitutes like milk, and packaged fruit juice.
The company has been broadening its product line and brand offerings in order to create the large array of products under one brand name and through new product offering it is increasing customer retention and repeat purchases.
Competitors of Horlicks are Mondelez, Complan, Bournvita, Heinz. Sometimes it competes with its own group brand Boost in one or more product categories.
Market analysis in the Marketing strategy of Horlicks–
GSK have Boost and Horlicks in its product portfolio as malt oriented milk drink. It has been doing continues innovation to broaden its product portfolio like recently it launched Horlicks growth plus for children with deficiencies in growth, Horlicks Lite which is low in calories and sugar and in snacks category oats, biscuits, and NutriBar.
The Health & nutritional drinks market is innovating itself to increase its market share and growth numbers through market penetration, and brand/ product extensions.
Customer analysis in the Marketing strategy of Horlicks–
Customers of Horlicks are middle-income group customers who like to be healthy and therefore take healthy supplement drink which is filled with a large number of vitamins and minerals.
Horlicks primarily targets 4 sets of the customer, such as baby and toddlers with the product Junior Horlicks and Chocolate flavor Horlicks, Adults with normal malt Horlicks, Pregnant and old age women with Mother's Horlicks and Women's Horlicks and Horlicks Lite designed for active adults.
Liked this post? Check out the complete series on Strategies