The aerospace & leading manufacturer Boeing is the world's largest aerospace company and leading commercial jetliners & defence, space and security systems manufacturer. The company operates & supports airlines in more than 150 countries globally by providing tailored made services & products such as advanced information and communication systems, commercial and military aircraft, launch systems, satellites, weapons, electronic and defence systems, and performance-based logistics and training.
Segmentation, targeting, positioning in the Marketing strategy of Boeing –
Segmentations variables are used to identify the differentiated characteristics of the population and group them accordingly. Boeing uses a mix of demographic and geographic strategies in order to cater to the customers of different nations.
Based on the customer groups of Boeing selective targeting strategy is used as a different set of offerings like fighter jet planes, commercial planes, and private planes are meant for a different set of customers. 
User benefit based positioning strategy is used by the company to highlight the differentiated benefits of the offerings in terms of IT-enabled advanced features.
Marketing mix
SWOT analysis
Mission- "To Connect, Protect, Explore and Inspire the World through Aerospace Innovation"
Vision- "To be best in Aerospace and Enduring Global Industrial Champion"
Tagline-"Creating Breakthroughs, Expanding Opportunities"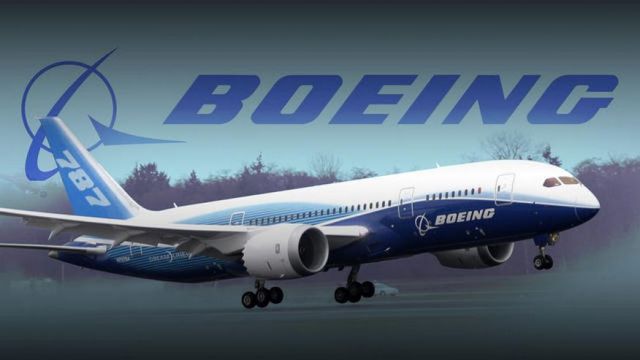 Competitive advantage in the Marketing strategy of Boeing –
A wide range of products and services for different customer groups: Its wide range of products for Long Haul/ short haul, domestic as well international routes, satellite network services, Fighter jet planes Boeing, fifth country freedom rights are some of the factors helping the company in being way ahead of its competitors.
Operating in Critical Businesses supporting the mainline businesses: Extensive presence in Commercial, security & defense and also in Capital services for supporting & financing the customer purchases as well as leasing requirements make the business model of Boeing more viable & competitive.
BCG Matrix in the Marketing strategy of Boeing –
The business segments of Boeing are divided into three categories Commercial Airplanes; Defence, Space & Security (BDS) business comprising three sub-segments:
Boeing Military Aircraft (BMA)
Network & Space Systems (N & SS)
Global Services & Support (GS & S)
and Boeing Capital (BCC).
The segments in which it operates into are stars in the BCG matrix.
Distribution strategy in the Marketing strategy of Boeing –
The Company supports airlines and government offices through products & MTO (make to order) products such asweapons, electronic and defense systems, commercial and military aircraft, launch systems, advanced information and communication systems, and satellites.
It employees more than 14, 0000 in more than 65 countries who help the company in operating in business segments Space & Security, Commercial Airplanes, Defence, and Boeing Global Services.

Brand equity in the Marketing strategy of Boeing –
Boeing has been ranked 73rd in Forbes magazine list of Top regarded companies (as of May 2017) while it has been ranked 24 in fortune 500 list (June 2017) and it is ranked 30th in the list of Fortune World's most admired company. The brand has been valued at $108.8 billion as of may 2017 (market capitalization value method) generating revenue of $94.57 billion.
Competitive analysis in the Marketing strategy of Boeing –
Boeing competes with the companies in the segments such as commercial jet aircraft and the airline industry. Companies such as Bombardier, Airbus, Embraer and companies from Japan, China & Russia give head-on competition to the Boeing
By initiatives such as improving operational processes, extensive customer support services network which spans the life cycle of the airplane, aircraft acquisition, readying for service, maintenance and engineering, enhancing and upgrading, and transitioning to the next model – as well as the daily cycle of gate-to-gate operations and cost reduction is helping the company in remaining competitive in the market.
Market analysis in the Marketing strategy of Boeing –
Increasing political unrest, the rise of ISIS and other Islamic groups, geopolitical tensions between the nations, government regulations, increasing economic activities between the emerging nations, increasing migrations of people, cargo activity, and increasing demand for air travel in the commercial aircraft market are some of the factors shaping the aircraft market.
China and India have emerged as 1st and 4th most important nations based on (ADV) aircraft delivery value.
Customer analysis in the Marketing strategy of Boeing –
Boeing customers range from various companies from the aviation industry, governments of various countries, space & research institutions who have differentiated needs.
The products offered to the customers are MTO (make to order) products which are customised as per the requirement of the customers.
Liked this post? Check out the complete series on Strategies