Founded in 1960, Domino's is the leading Pizza Company of the world with more than 10,800 Company owned & franchised outlets. With its presence across 5 continents covering more than 70 countries it has garnered a market leader position specifically in the Pizza market. Its low cost infrastructure investment & franchisee owned business model is making their business more viable than the competitors.
Segmentation, targeting, positioning in the Marketing strategy of DOMINOS
When Consumers hear the name Domino's they are able to associate it with "30 minutes delivery guarantee". This is one of the most popular campaign of Domino's highlighting what Domino's stand for – Fast delivery with excellent taste.
It segment its offerings based on demographic and geographic factors, for e.g.- it has localised its menu when it entered in India. Domino's understands that cow is sacred here so Dominos replaced pepperoni, beef based toppings with spicy chicken sausage topping.
It uses differentiated targeting strategy to serve the market based on the taste & preferences. Dominos have been successful so far in positioning itself as a Pizza brand having competitive pricing and varied options to choose from.
Marketing mix – Here is the Marketing mix of Domino's
SWOT analysis – Here is the SWOT analysis of Domino's
Mission – "Not Available"
Vision- "Exceptional People on a Mission, to be the best Pizza delivery company in the world"
Tagline- "Oh yes we did" (global) "Yeh hai rishton ka time" (Indian)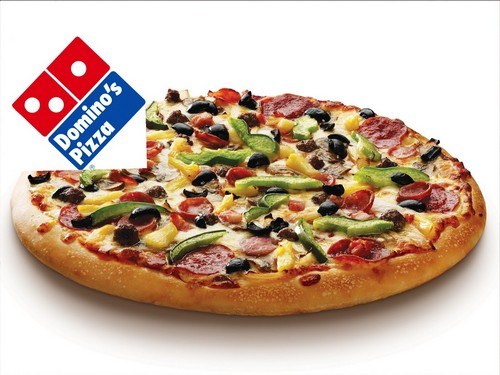 Competitive advantage in the Marketing strategy of DOMINOS
Supply chain – Vertical integration across the supply chain has helped the company in aligning its resources and controlling the cost structure so as to be competitive in the market & at the same time emerge as most preferred Pizza provider.
Fast Delivery – Whether you have the mouth-watering Pizza at their outlets or get it delivered at your place, one can always count on Dominos for its quick delivery services which have helped the company in improving its value delivery process. It even brought in packaging to prove that its pizza is delivered Hot.
Low-cost outlets – It is one of the major cost components making their business viable as compared to the rival Yum brand's outlets. There is no outlet of Domino's which is premium designed with plush interiors. Instead, the outlets promote faster consumption so that people can order, eat and move on. Pizza is promoted exactly for what it stands for – Fast food.
BCG Matrix in the Marketing strategy of DOMINOS
Dominos have both Veg & Non-Veg Pizza in its menu with options of different toppings to choose from.
Though they offer both Veg & Non-Veg Pizza, Dominos Veg menu is more popular and hence it is Star in BCG matrix. With Domino's almost taking away the market share of Pizza's from Pizza hut, Non veg pizzas are in fact a cash cow for Domino's (at least in India) because veg pizza's have a lot of local competition but there is very less competition for Non veg pizzas.
Distribution strategy in the Marketing strategy of DOMINOS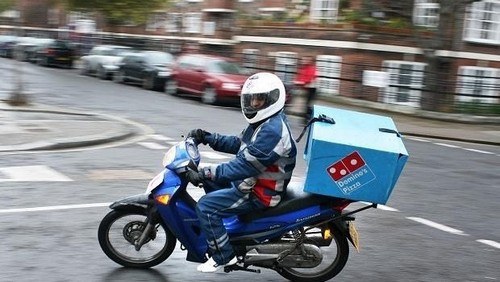 Strategically located Dominos outlets and vertically integrated value delivery system had helped Dominos to serve its customer in best way. Decrease the turn-around-time (TAT)/waiting period is the major advantage that Dominos have over its competitors.
It has company owned dough manufacturing facilities in some countries while in other countries it works with master franchises to stream line its supply chain. Like Jubilant FoodWorks have master franchisee of Domino's Pizza in Sri Lanka, India, Nepal & Bangladesh.
Brand equity in the Marketing strategy of DOMINOS
Dominos have been successful in being top of the mind brand in the Fast food industry. In year 2009 it has released its video under "Oh yes we did" campaign claiming it as a turnaround strategy where different stakeholders explained how they handled the critics. Company also communicated through it the innovating strategies they are following to cater the customers changing needs.
"30 minutes guaranteed delivery or free" is all-time popular campaign that helped the company increase its awareness across the geographies & demographics. Currently, in 2016, the brands ranking is 301 in the global brand ranking of Forbes. Pizza hut is also close with a ranking of 355.
Competitive analysis in the Marketing strategy of DOMINOS
Pizza industry is over crowded with local & international companies like Pizza hut, Papa Jones, Toppers, Greco etc., eating up each other's market share. Dominos with their online discount offers and on time delivery is able to have the high market share in most of the countries.
It has eaten away the competition by focusing on two main things – Far and wide distribution, and faster deliveries. Domino's recently also launched the Pizza Burger to take on the popularity of McDonalds.
Market analysis in the Marketing strategy of DOMINOS
Due to the presence of various fast food options, it is difficult for the Pizza companies to increase the customer base whereas at the same time increase its market share. In developing nations it is tough for the companies like Dominos to increase the market size due to several factors like Low per capita income, poverty level, literacy level & standard of living.
Dominos stores are strategically located to cater the needs of the large areas of nearby localities so as to keep the infrastructure cost low. Also promoting online sales channel through offering discounts is helping the company to
Increase the customer satisfaction level by offering convenience.
Cost control
Customer analysis in the Marketing strategy of DOMINOS
Customer of Dominos varies geographically across the world. In developed nations like US, UK etc. consumers are of all age groups whereas in developing nations like India majority of customers are younger generations in the age group of 20-40 years.
Further more, health consciousness is definitely affecting the consumer psyche as people are looking for healthier options such as Subway or others which are lesser in calories as compared to a complete pizza.
Liked this post? Check out the complete series on Strategies