Organizations vary in their structure and the structure is decided by the type of business an organization is involved in, leadership style of the founder, owner etc.
In this article we will look at what a centralized organization is and how it works. We will also look at a few examples and scenarios to understand the concept better.
What is a Centralized organization?
A centralized organization is one where core important decisions are taken by those at a higher level of authority. All important decisions are routed through this channel and are taken by those who are in a position to look at things from a broader perspective and have gained a lot of knowledge and experience over the years. After the decision is taken, it is communicated to the lower level employees who are expected to follow the orders.
This kind of a structure depends heavily on certain key people to conceptualise and implement certain key decisions. This needn't mean that there is just one person making all the decisions in the organization. People at different levels are authorised but, unlike decentralized organizations, there is less team based decision making and more of individual decision making.
Advantages of Centralized organizations
Centralized organizations can be very effective with their work. A macro vision is set by the uppermost in the hierarchy and well defined functions and instructions are set for employees at every level that are to be followed. Employees have a well defined framework within which their work is to be done. A core team/member is aware of the functioning of all the units and makes informed decisions for the organization.
This at times ensures the company's best interests at the time of decision making. Self interest and bias that is bound to creep in at lower levels is taken out and very objective decisions are made.
Disadvantages of Centralized organizations
A centralized organization is bound to be a victim of slow decision making because of the painful and lengthy bureaucratic route that will be involved in passing one decision. The main decision makers become like bottlenecks of the business. To make every decision, they will have to take feedback, strategize and then take the decision. As the business grows, centralized organizations can become sluggish.
There will be too many intermediaries whose approval will have to be taken for the implementation of any decision and the decision makes will also be burdened with many, many pending tasks. This will add weight to the organization and make it very slow in moving forward and being competitive in a world that is so fast moving and requires quick decisions to be taken.
A business needs to carefully consider the type of organizational structure it wants to adopt. The nature of business, size, etc. matter. A smaller business will do well to have a centralized structure as the owner/founder will always be at the forefront of business operations and will have the needed knowledge about the entire business and will be connected well enough with each department to make quick informed choices.
Large organizations that are multinational in their presence are better off having a decentralized structure. These organizations will have numerous locations of presence and employees form many cultures and backgrounds.
The political and economic scenario in each geography will differ from the other. In such scenarios it is best that the decision making power is given to local representatives so that the most suitable decisions are taken.
Example of Centralized Organization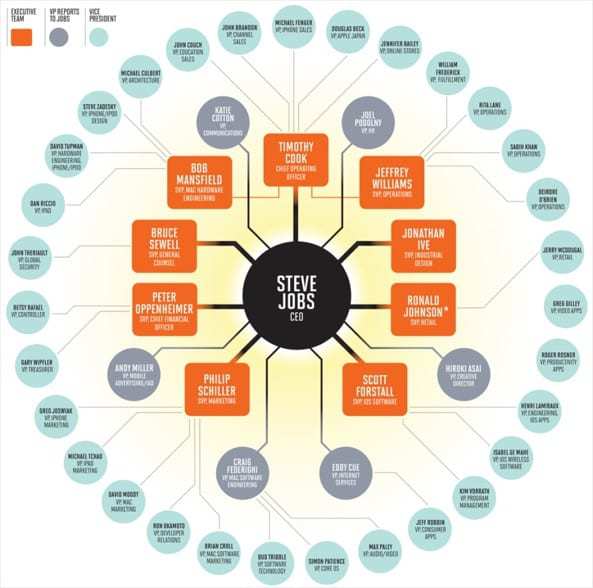 Apple is an example of a type of centralized organization. Many employees of Apple have spoken out over the years and said that Steve Jobs used to have a look at every project and every initiative before a go ahead was given. Below is an image depicting the centralized nature at Apple during Steve Jobs's tenure as the CEO.
However, as we know about the recent criticisms of Apple, after Steve jobs, the organization is not as charismatic and the main reason for that is the centralized decision making. Thus, a business when it gets bigger, should have a decentralized approach.
On the other hand, many small business organizations and start ups have a centralized approach. Even companies like Flipkart have a centralized approach though they are valued in billions. The reason for this is that the vision of the company belongs to the person who has started the company. As a result, he or she tends to micro manage. And this is required to achieve the right shape for the organization and to build the right culture.
Liked this post? Check out the complete series on Organizational Management