Mass production is defined as a production method of standardized products in large quantities. Automation technology or assembly lines are often used in the manufacturing process. It is both energy-intensive and capital intensive as it has to take help of energy and machinery to the workforce.
The process of mass production ensures a short duration cycle of the production along with low production cost and high productivity.
Meaning and understanding of mass production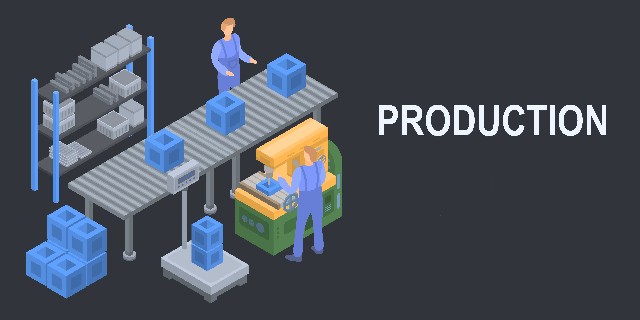 Mass production refers to the use of machinery to produce similar products in large volume at comparatively lower prices. The process of manufacturing is repeated continuously, and every time the products are same as the previous batches and are often known as interchangeable because whether you use the first or any of the middle of the last part they are all the same with no variation in the outcome.
Mass production enables continuity and high rhythm in production and ensures that there is a consistent implementation of all the production process operations as per the set production rhythm.
Mass production is also known as
Continuous production
Flow production
Serial production
Series production
Repetitive production
Mass production aids in minimizing the time that a workforce has to spend on an individual unit. This results in a lower cost per unit and ultimately, lower product price. The concept applies for numerous types of products from fluids to solid parts to assemblies of solid parts.
The mass production to fluid matter involves pipes with screw conveyors or centrifugal pumps to transfer partially-completed products or raw materials between vessels. Some prime examples are mined minerals, chemicals, fuel, and food. Bulk materials are handled by screw conveyors and belt and chain and include items like wood chips, grains, ores and coal.
Some standard mass-production techniques are
Production lines
Standardized sizes
There is an extraordinary demand on the production technology and design of products. Its requirements include-
The volume of similar products is sufficient
A thorough design test of manufacturing
There is a specialization of departments, sections, and enterprises
The production lines in mass production must ensure
Rational usage of production-related areas
An easy and quick approach to maintenance and repair
An easy and rapid removal of waste
Adequate space for storing materials and finished parts
The best condition for transporting parts to the workplace
The hard reality about mass production is that it has changed the way we see and operate in this world. Individual designs that were once a testament of skill have slowly and steadily been replaced by entities that believe in creating and buying in bulk.
The cheaper cost was a dream, but the dream has been achieved at a cost, and that is the loss of individualism.
Examples of mass production
One of the real-life examples of mass production is the Model-T automobile from Henry Ford as each car was identical and all in black.
Another real-life example of mass production is UNIVAC. It was the first commercial computer whose forty-six systems were mass-produced.
One of the most popular stores that are known for mass production is Macy's. It carries identical selections throughout its outlet. There are thousands of Macy's outlets in most parts of the world, and each carries thousands of similar orders, whose demand is no doubt met by mass production of those items.
Coca-Cola is one of the most popular and recognizable brands in the world that has adopted a technique of mass production. With more than 1.9 billion servings per day in an estimated two hundred countries, it is one of the prime examples of companies that have implemented the concept of mass production.
Some other examples of mass production are products like
Over-the-counter drugs
Paper
Canned food
Automobile parts
Oil
Lumber industries
Tobacco products
Plastic products like
Chairs
Tables
Refrigerators
Computer systems
Mobile devices
Microwave ovens
Washing machine
Manufacturing hydraulic systems like
Brakes
Panels
Radio assemblies
Light and sound systems
Dresses
Pants
Shirts
Skirts
Characteristics of mass production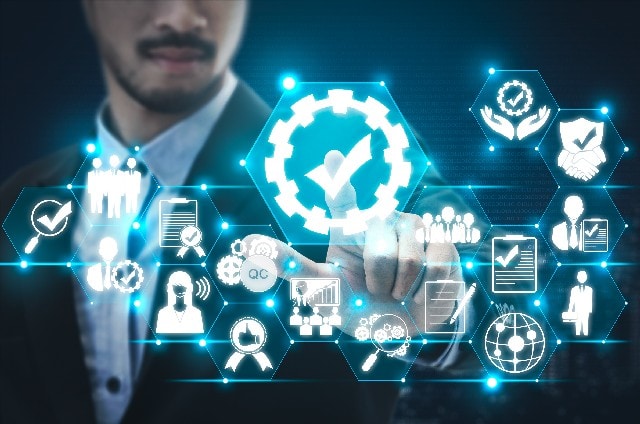 The mass production is characterized by
Mechanization to achieve high levels of volume
The work cycle is repetitive but smart
Machines are laid as per the sequence of production
Work-in-progress is less if compared with intermittent production
Material handling in various stages of manufacturing is reduced to a bare minimum
Supervision of quality standards
Organization of material and workflow is balanced
Facilities and layout are designed to suit the requirements of production
There is considerable scope for division of labour
Less time spent on the resulting of machinery
Time study can be applied for different operations causing several advantages to the company
Procedures, material and tool handling need proper attention
Mass production provides the lowest production cost compared to per unit
High production specialization
Continuous or repetitive production of the same product
Signs of mass production
The signs of mass production are as follows-
Manufacturing of an item with similar or replicated dimensions, technology, and design features
An order in operations
Multiple division of the process in a sequence
Assembly of parts or rhythm processing
The use of specialized transport devices from one operation to another with minimum interruptions
Advantages of mass production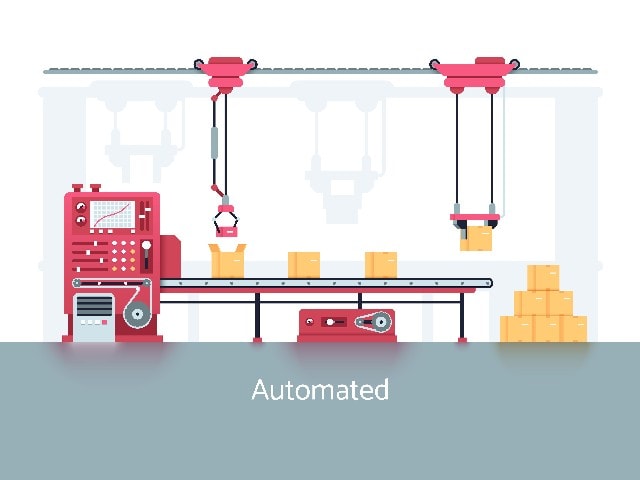 The advantages of the mass production process are as follows-
1. Fully automated and higher accuracy levels
An important advantage of mass production is that it is fully automated to the greatest extent. As the manufactured goods are standardized the level of accuracy is also high
2. Less individual costs
An important benefit of mass production is low individual cost. This is because automated tools ensure fast pace work. There is efficient and diligent use of the equipment, and ultimately it leads to less individual costs.
3. Quality control
The mass production process is about similar auxiliary and main operations that are repetitive. The final product is created mechanically, and there are tremendous accuracy and little chance of error or dissimilarity. This is why it is easy to control the quality of a product
4. Increased output
Mass production can easily boast of one of the maximum production rates in the manufacturing process. This has been possible because of conveyor systems and advanced technology to streamline the production process. This results in increased output.
5. Decreased time in producing outputs
In the mass production method, the same tool is used by the workers for related tasks. This becomes familiar after a time and results in decreased time in producing outputs
6. Low labor costs
As things are pre-decided, there is the division of labor. Each workforce puts his onus on the individual job, and this leads to reliability. Mass hiring of labour is the reason why labor costs are so low
7. Economies
Mass production economies come from numerous sources, and one of the significant reasons is minimizing all types of non-productive efforts
8. Less overhead costs
You need a large number of raw materials for mass production. This aids in increased bargaining power because of bulk buying and less overhead costs related to paperwork, purchase, and transport, etc.
9. Economically efficient
Mass production is termed as economically efficient because of low material costs and labor costs. Moreover, it helps to minimize total expenses per unit by utilizing all the resources at its fingertips. The process is considered a godsend for both large and small manufacturers as it saves unnecessary costs.
10. Increase in energy and capital
An important advantage of mass production is that there is an increase in energy and capital whereas the total expenses in terms of every unit become less
11. Healthy profits
Fast rate of production ensures that goods are marketed at a faster pace and this can lead to good and healthy sales figures in less time and higher revenue margins
Disadvantages of mass production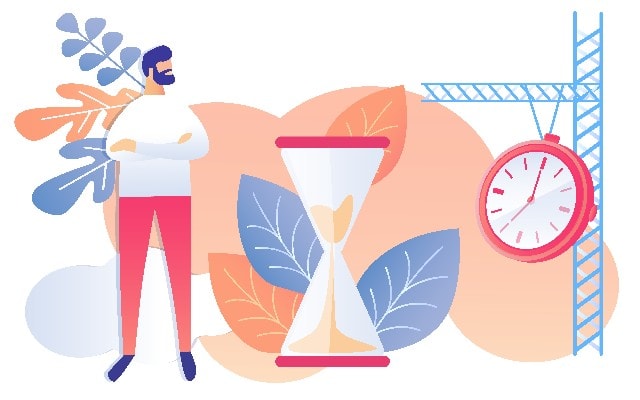 The disadvantages of mass production are as follows-
1. Repetitive work
As the mass production deals in interchangeable or similar products, the workers find the process annoying. There is no motivation involved in manufacturing, as it is repetitive work.
The monotony results in a disengaged workforce, and if the issue is not dealt on time, it can result in high employee turnover. Moreover, the same kind of work feels dull, and this can also lead to inefficiency in the manufacturing process.
2. Expensive machinery
As the machinery for mass production is too costly, this makes the cost of setting up production lines an expensive business. Changing any aspect of the production line can have logistical and financial consequences that can prove damaging to the business.
3. Expensive delays
If a single line of the production lines break the entire production process comes to a halt. Repairs take time and this result in expensive delays
4. No flexibility
Mass production deals with similar products; hence, the lines cannot be changed, and it is not flexible at all. If the demand for the product changes then it becomes a serious issue as there is no flexibility to make necessary changes as per the ever-changing request.
5. High maintenance costs
As the machinery is costly its maintenance cost is equally expensive
6. Wasted resources
Any defect in the product design can have a direct impact on the entire cycle of production. An essential fact at this point is that the wrongdoing cannot be verified until several batches have already been produced and this is simply wastage of resources. There is also an issue of limited resources and loses with this process if the system is damaged
7. High material costs
The usage of automated tools for machinery requires high investment and even the raw materials need to be purchased at a faster rate. This results in high material costs during mass production
Liked this post? Check out the complete series on Operations Management