According to data from Brand finance, Lego is the most valuable brand in toy manufacturing and packaged goods industries. The company was founded in the year1932 in the USA and has its headquarters in Enfield, Connecticut. Its total number of employees is estimated to be around 16,900
'Lego' is derived from Danish to mean 'play well'; a mantra that has been executed well over the years. In 2014, Mattel was surpassed by Lego which has since then remained dominant in the industry
More sales for Lego were due to the release of Jurassic Park and Star Wars movie. This led to the revenue increase of close to 30 percent in the year 2014 through to 2015.
With a brand value of $7597 Million, Lego remains the most valuable brand. The following is a pictorial representation of Lego and its competitors against brand values.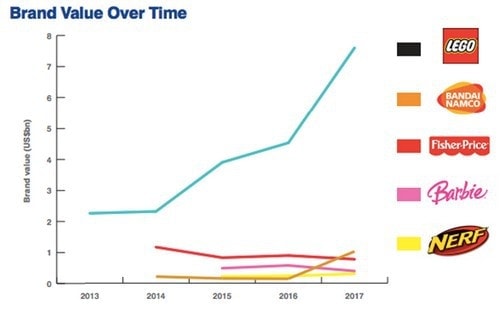 1) Bandai Namco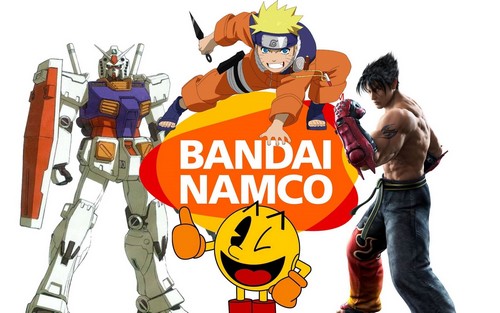 Bandai Namco Entertainment is a Company with headquarters in Tokyo, Japan. Founded by Masaya Nakamura in the year 1955, the company develops video games, music, and other entertainment products
With a brand value of $1024 Million, Bandai Namco is the most valuable brand after Lego. The two names 'Bandai' and 'Namco' were combined and utilized in the corporate scene for the first time in 2016. Since then, the brand value has been growing impressively and more product range added to the fold
Some of Bandai Namco subsidiaries include; D3 publisher, Banpresto, Bandai, sunrise etc. A Bandai Namco holding is Bandai's parent company.
2) Fisher Price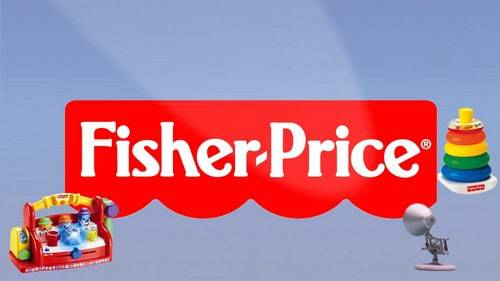 Founded in the year 1930 by Herman Fisher, Helen Schelle, Irving and Margaret Price, Fisher-Price has a brand value of $773 million making it the 3rd largest in the production of infant and children toys. Fisher has its headquarters in NY, USA and is a subsidiary of Quaker Oats Company and Mattel
Since its inception, Fisher-Price has created more than 5000 different toys that are molded, in plastic and with detailed features. Its most popular toy brands include; the little people toy, Rock-a-Stack, Rescue Heroes, Power Wheels, Dora the Explorer, Disney, the charter Telephone, View-master et cetera. The company also manufactures infant care products and electronic toys
3) Barbie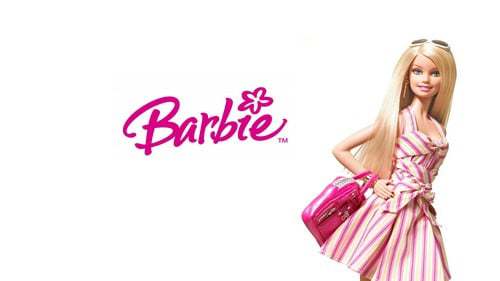 Barbie is an American company that manufactures toys. The company was started in the year 1959 by Ruth Handler who developed the first toy with inspiration from Bild Lilli-the German doll.
Barbie doll experienced a setback in 2000 when it was claimed that the Vinyl material used in the manufacture of Barbie dolls contained toxic material that could leak and cause harm to kids playing with them. The research was done on the doll material and found that the body was made from an ABS plastic and the head from soft PVC both of which are harmless. In 2010, the 'Barbie Video girl' was manufactured and in 2015, the 'hello Barbie doll' that could hold a conversation hit the market.Barbie is among the top five companies with a brand value of $388 million.
4) Nerf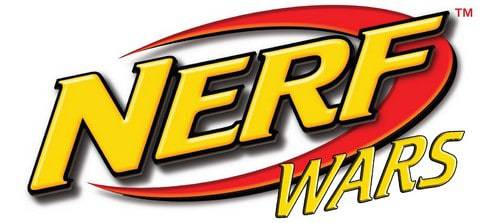 The company is currently owned by Nasbo and was founded by Parker brothers and Reyn Guyer in the year 1969.
Some of Its products include; Nerf sport that deals with foam sports balls with a variety of colors and logos; Nerf Blasters which are basically plastic toy guns e.g. the Nerf Vortex that can fire up to 60 feet and the Rebelle for girls. Others include the Nerf N-Force (form swords), Super soakers (water guns), Nerf dogs, Nerf rivals et cetera.
Nerf has managed to stay afloat owing to its ever-changing inspirational motto. I.e. from 'There is only one Nerf' to 'the wetter the Better' and 'Light it up' among others. It has a brand value of $297 million.
5) Mattel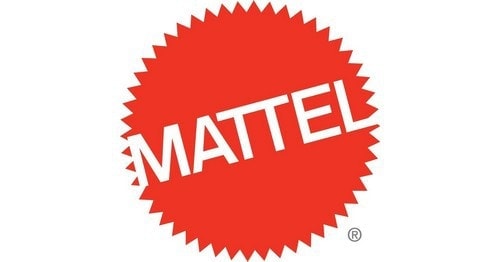 Mattel has its headquarters in California, USA. The company was founded in 1945 by Harold Matson, Ruth Handler and Elliot Handler. Some of its subsidiaries include; Fuhu, Mega Brands, Fisher-Price and HIT Entertainment among others
Mattel went public in the year 1960 and was listed in the NY stock exchange by 1963. In 1971, it purchased the Barnum and Bailey circus for around $40 million and sold it after two years in 1973 at a profit.
By the year ending 2016, Mattel had revenue of close to $6 billion and trades at $16.5 in the stock market. It is ranked in position five and has a brand value of $252 million.
6) Mobile suit Gundam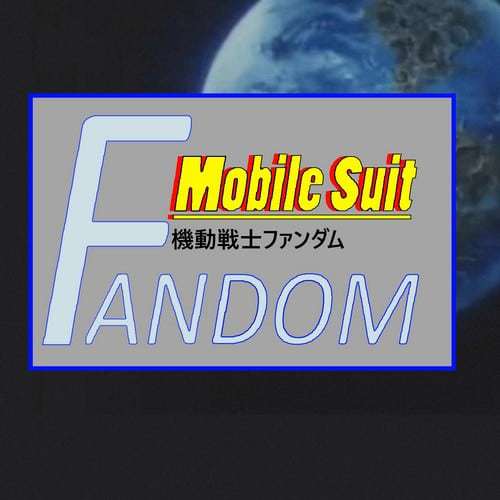 This is an animated series that was produced by Sunrise and directed by Tomino Yoshiyuki. The series was first televised in Japan and up to 1980; more than 43 episodes had been televised
Re-editing of the series was done in the year 1980 to accommodate movies and theatre shows with the first movie being released in 1981. Novels retelling the events of the series were also written in the same year.
The first episode of mobile suit Gundam was released in the year 1979.  The cast included HirotakaSuzuoki, Ikeda, Furuya et cetera with Hajime, Tomino, Yatate, and Sunrise being program producers. Its brand is valued at $247 million.
7) Hot wheels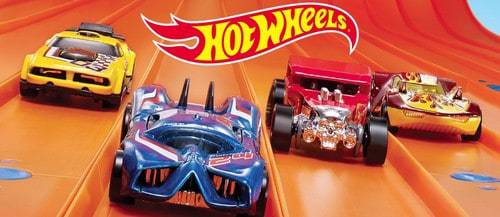 Hot wheel is a brand of toy cars founded by Mattel in the year 1968. Initially, for young adults and children, the hot Wheel models later became popular with adults leading to blueprint designs and detailing for the adult population.
The Acceleracers was launched in 2005 by hot wheels; they had special axles that led to improved track performance and were featured in four different movies on the cartoon network
Currently, there are more than 4billion hot wheel models around the globe and the company boasts a brand value of $232 million.
8) Hasbro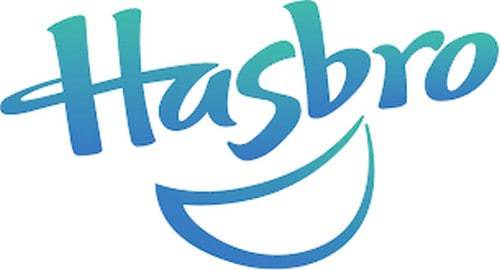 Hasbro is an American company that manufactures toys and board games. Compared to other companies in the same industry, Hasbro enjoys the highest stock market value and revenues of around $5 billion
In the mid-1980s, Hasbro was the largest toy company in terms of sales. This was made possible by the introduction of a fashion doll dubbed 'Jem' through its manufacturing seized in 1987 and was replaced by 'maxie'. In 1989 and 1991, Hasbro acquired Coleco and Tonka Corporation respectively.
The company was founded by Hasbro Bradley and Hassenfeld Brothers and has its headquarters in Rhode Island, USA. Its subsidiaries include; Wizards of the Coast and Playskool among others. It is valued at around $211 million.
9) My Little Pony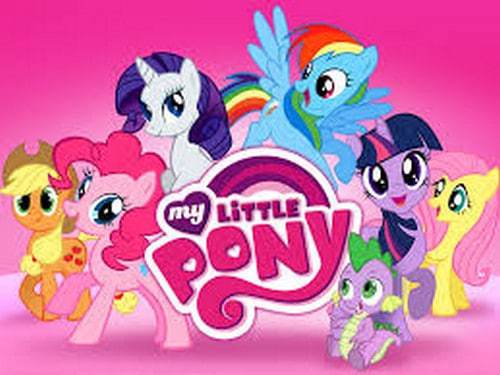 My Little Pony was started as a Hasbro franchise to develop toys initially for girls. The first toys were manufactured in the year 1981with the name 'my pretty pony' with unique symbols, colorful bodies, and manes.My little pony revamps every time so as to remain relevant in the modern market
In the 1980s the company sold more than 150 million ponies but the business boom was experienced in1990s after which Hasbro discontinued the little pony business line as a result of increased competition. Nevertheless, the pony business was revived and closed after a year in 1999 as the business was unpopular. Another revival was done in 2003 and by 2010; more than 100 million toys had been sold. It has a brand value of $198 million.
Liked this post? Check out the complete series on Competitors