Capacity management involves adjusting the capacity of a resource, for instance, a system, machine or equipment to meet the planned load or demand. In business, it to as the act of maximizing production output and potential activities under every condition. The process of capacity management maximizing with ITIL services and financial management, where it finds scalable solutions to capacity bottlenecks and identifies the opportunities that will help in improvement.
What is capacity management?
The capacity management is a process that ensures the availability of adequate capacity to meet the agreed requirements and needs of a business in a cost-friendly manner.
It is used to develop a capacity plan to address both current and future capacity and performance issues. The most important thing about capacity management is that it is used for budgeting and planning purposes throughout the IT service management. Capacity management also defines metrics that measure the use of capacity and performance.
Components of capacity management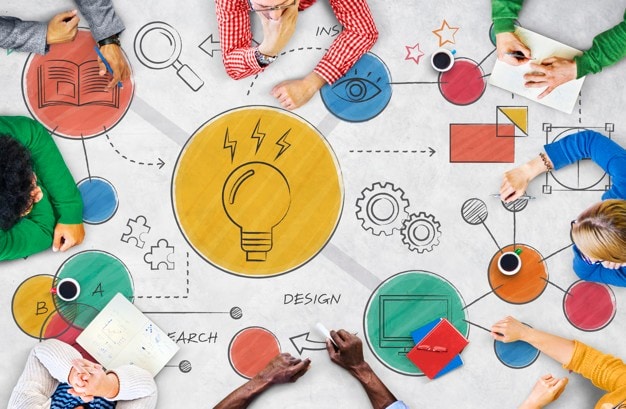 The components of capacity management are crucial in the maturity and success of the process and are done on a daily, weekly, etc. basis. Some of the important ones are as follows-
1. Monitoring
Monitoring is an essential component of capacity management because it will diligently work towards keeping the focus on performance so that there are no longer any issues. Remember an organization does not want unnecessary expenses related to power, software, and hardware, and the monitoring helps to keep a check on it.
2. Analysis
The component analysis helps to find the right data and make sense of it. It takes the monitoring data and then analyses the potential impact of changes in demand.
3. Tuning
Tuning helps in determining the best use of infrastructure so that it is neither under-configured nor over-configured.
4. Demand management
The demand management clears the relationship between future and current demand and how existing infrastructure handles it.
5. Capacity planning
The capacity planning can be done by benchmarking or predictive analysis. It determines the resource requirements over future time
Activities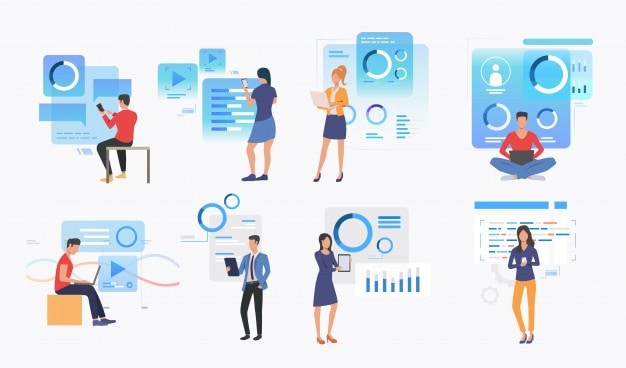 The activities related to capacity management include
Designing a service to meet SLA objectives
Manage resource performance
Diagnosing issues relate to performance
Create a capacity plan that will align with the budget cycle of the organization
Review of service performance and service capacity
Collect and assess service-usage data
Implementing changes that are related to capacity
Performing the activities mentioned above of capacity management involves following these steps-
Collecting the data – to perform the actions of a capacity management process, you have to work closely with the business to know about the service-level relative to service capacity and service availability that is required. Work with financial management and demand management resources to determine costs and demand based on user roles respectively.
Designing a service agreement – After identifying the level and service of performance needed, the expected demand and the cost it becomes easier to build a service-level agreement
Build the service – This step involves building IT infrastructure, documentation and processes to support the services. The method of capacity management monitors new data and business needs to ensure that the service which is being built will have the required capacity for quality performance. This step also involves buying components and other resources
Operation – The service operations take over after doing the service that will meet capacity, demand and availability requirements. The capacity management at this point delivers services to meet targets
Process of Capacity Management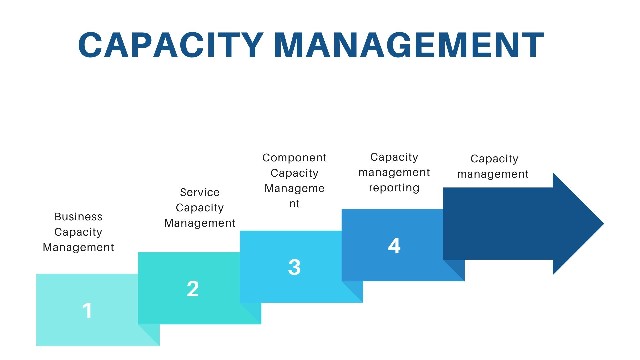 The key processes of capacity management are as follows
1. Business
It deals with the capacity of processes, business capabilities, and teams and includes technology, infrastructure facilities, equipment, and human resources. Business capacity management is strategically focused and helps to translate organizational needs into architecture and IT serve requirements through business plans.
2. Service
It deals in resources for an IT service and includes data center space, disk space, CPU, cooling power and network. Service capacity management is tactical by nature and involves in
Measuring performance against requirements
Putting IT services to use in the organization
Monitoring IT-related performances
Control and prediction of live performance
3. Component
It deals with planning disk space and software licenses for a single application. Component capacity management is operational by nature and has put its focus on the management of technological components.
4. Reporting
It is the final sub-process of capacity management that first collects and later delivers the data related to service performance, service usage and service capacity to other stages. The service capacity report is the outcome of this stage.
Functions in Planning
The functions of capacity management and its usage in planning are as follows
Capacity Management ensures that all the service levels are fulfilled
It shows the annual growth plan with infrastructure
It process manages computing resources requirements
Capacity Management helps in storing relevant data and resource management
It helps in tuning, monitoring and analyzing modifications related to resource utilization
It helps to understand infrastructure performance in the current scenario and analyze it for future requirements
Advantages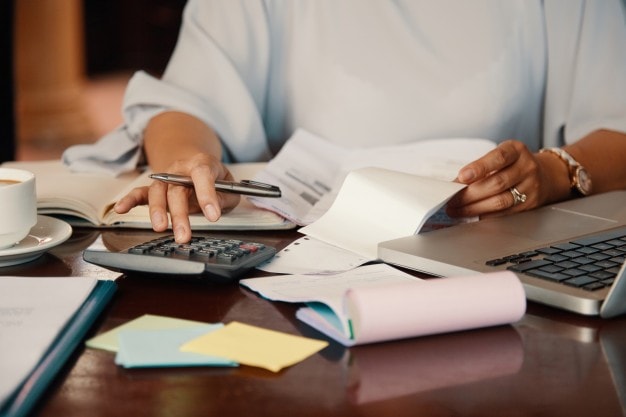 The advantages of capacity management are as follows
One of the advantages of capacity management is that it helps to defer expenses. When the purchase is left for a later date, it becomes possible to obtain more capacity for the money
The components and applications are fine-tuned because of capacity management, and this leads to reduced consumption and an improvement of performances
As capacity management monitors infrastructure components regularly, it helps to eliminate redundant work
There is an improvement in the efficiency levels of provision capacity
There are an improvement in IT cost/service unit components
Capacity management is a proactive process that is also cost-effective
It helps to meet the business requirements for performance and capacity
It acts as a focal point for capacity issues in IT service management
Problems
The possible problems related to capacity management process are as follows
The quoted performance figure if the manufacturer is in most cases not achievable
The expectations of customers exceed technical capabilities
Liked this post? Check out the complete series on Operations Management