If you want to know what Google PPC is and how it works then you have come to the right place. This article will serve as a comprehensive guide about Google PPC and AdWords.
After understanding the practical details of the PPC advertising, soon you will be on your way to use this powerful form of paid advertisement to run successful paid search campaigns and reap great returns on your investments.
First thing first, let us understand what PPC is –
What is Google PPC?
PPC stands for Pay per Click and it is a form of online advertisement, which is used to drive traffic to a particular website, where for each click on the ad, the advertiser pays a certain amount of money to the publisher.
The process can be sketched like this-
User clicks on a Google Ad-> Sponsored Ad link leads the user to the site of that Ad- The advertiser pays a fixed amount to the publisher (in this case Google)
Now, we are going to unravel the knowledge about PPC, so let us dive deep into the world of paid search advertising-
Introduction to Google PPC advertisements
PPC is a pull type marketing technique used to buy people's visits to a website. In PPC advertising, search engine advertising is the most popular one, where advertisers bid for the ad placement so that they are more visible to the searchers.
The general formula for calculating Google PPC is – Pay per click ($) = Advertising cost ($) ÷ Number of ad clicks
Entities of Google PPC Ads –
Different entities that play a key role in running a successful PPC campaign is –
Product Seller
PPC Marketer
Landing Page
Landing Page Provider
The viewer or the Visitor
See the image below to know the role of these entities –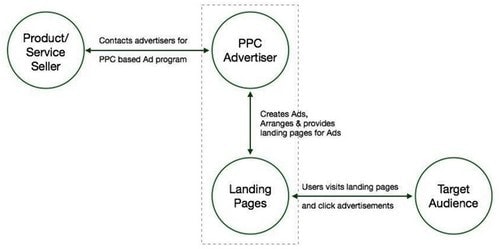 The first thing that you need to run a PPC ad is creating keyword list relevant to your advertising campaigns-
How to create a keyword list for PPC
There are certain sequential steps that you need to follow when creating keywords for PPC.
First is keyword categorization into user phrases, product complementary phrases, and competitor phrases.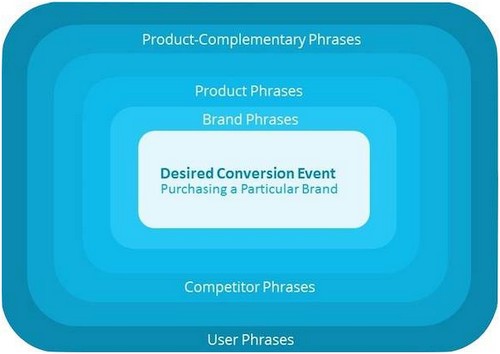 While building the keyword list, you need to do some research on the audience, most searched terms and keyword suggestions. Further, expand the list by reviewing the seller's site and observing how people talk about it.
Next step involves the refining of keyword list by search intent. After that, use the right keyword length and know the use of keyword research tools like Google AdWords planner and Word tracker.
How to Write the perfect Google PPC ad
A PPC ad has the following elements:
Headline: It's the title of the PPC ad
Display URL: The link to the website where people will be taken
2 description lines:  Contains product or service description

For writing an attractive PPC ad, you have to do some audience and market research. Such as finding out what are the parallel products, know the needs of users, how much will be the budget and search the words that resonate with your target audience the most.
Different tips for Google AdWords PPC campaign
First, frame the advertisement by having a complete description of the headline, description, Display URL elements.
The second step involves recognizing who your competitors are. Next, find out what keywords your competitors are bidding against, which are the companies that are getting consistent top ranks on ads and analyze their ad thoroughly.
Tell users what you have to offer. This involves impressing your target audience by telling them your USPs, assets, and credentials. These form an important part to attract the audience to your Google PPC ads. Show all the top brands you have worked with, unique features of your products and the testimonials of happy customers.
Have an effective CTA in Google PPC Ad. Be clear about what action you want your audience to take. Call to Action or CTA in the Ad is that chance for you to convey that action. Use 'Register' for direct response, 'Contact Us' for lead generation and 'Check out' for engagement intents.
Further, write your Ad copy in an effective way by using abbreviations to save space, incorporate numbers and exclamation mark to draw attention and prefer having the keywords in the headline.
Use PPC Add Extensions Prudently
When you want to increase your click-through rates, you should use ad extensions. With this, you can choose to add site links, contact numbers, reviews, and testimonials.
Like contact information and location details, Ad extensions also have been seen to boost conversions. Ad extensions are an easy way for customers to go to where they want. just through a single click.
Moreover, like testimonials and reviews, they have a role of increasing the confidence of the potential customers. Different types of Ad Extensions in Google PPC is-
Sitelink Extensions
Location Extensions
Call Extensions
App Extensions
Consumer & Seller Rating Annotations
Social Extensions Annotations
Conduct tests to learn more
You will only come to know what type of things works best for you by conducting AdWords Experiments. In this way, you will know which versions of the Ads works best. Running test and evaluating the results will refine your Ad features for future.  With effective ads, you can have increased conversions.
Know Campaign Theme & Ad Groups
To run a successful Google PPC campaign, you need to choose the campaign theme first and then accordingly; you can decide the Ad groups. For instance, if you need to advertise your Coffee Table Business, your campaign theme can be "Coffee Tables". Different Ad Groups for this campaign theme can be Coffee Table, Round Coffee Tables, Affordable Coffee Tables, Wooden Coffee Tables, Long Coffee Tables, etc.
In addition, for different ad groups, you may find different keyword variations such as Round Coffee Tables, different keywords variations can be Coffee Tables Round, Coffee Round Tables on Sale, and so on.
Types of Ad Copies available in Google PPC are –
After being aware of the campaign themes and keywords, the next thing you need to know is types of Ad copies in Google PPC-
1) Text Ads
Normal ads that have texts and get displayed when you search for particular keywords on Google are Text Ads.

Text ads include –
Headline
Display URL
Description Line 1
Description Line 2
2) Product Listing Ads (PLAs)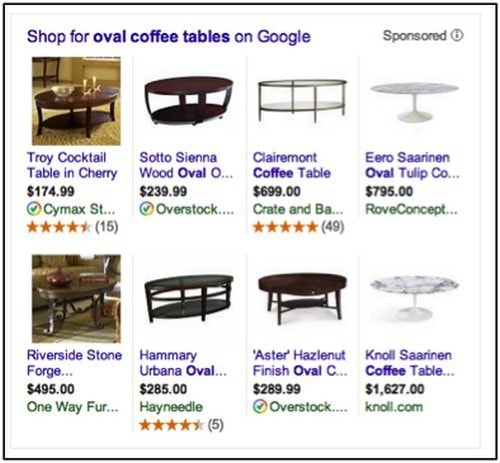 In e-commerce PPC campaigns, such ads are used. They have product titles along with prices and images. Such ads are connected with Google Merchant Center account.
3) Image Ads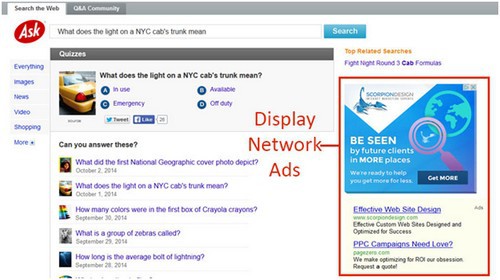 On the display networks of Google, you can use image ads. You must be seeing these ads on millions of websites, blogs, and online portals.
Benefits of Google PPC for Businesses
Direct & Targeted Advertising
Google PPC ads let you directly target those audiences who are looking for a product and service that you offer. With Google AdWords, you have the huge audience base of Google at your disposal
PPC lets you run targeted campaigns as per the specific terms or interests of your target niche. You can run a campaign based upon specific keywords. You can use remarketing to target those who have visited your site once
You can target the right people at right time using Google PPC
Measurable Campaigns
You can check the performance of Google PPC campaigns and analyze what you are getting out of paid advertising campaigns
You can measure Click through rate, impressions, sales, conversion and other important metrics to gauge the performance of PPC campaign
This makes your campaign be highly result driven
Effective Brand Exposure
PPC can let your brand reach in front of those prospects that could not be on your radar without PPC
The brand exposure that PPC ensures let you target the most unique yet relevant audiences who are ready to opt for your products and services
Your site, product or service will be topping the search results related to those keywords because of Google PPC, and hence, you will have the best brand exposure
Real-Time Impact
Google PPC is very effective in creating real-time impact for businesses and you can come to the top of Google Search Results in the few hrs
PPC can offer results in a few hours or days or hours and let you get good returns for your investments
You Only Pay for Clicks
In Google PPC, you pay when any of your prospects would click on your paid ad
This increases your chances of conversions and hence it is going to be one of the best value for money option
Advertise Locally or Globally
There is no limitation of location when it comes to Google PPC
You can use PPC to target your prospects as per their locations. You can run your ad in any region, state, country or all around the globe
You also have the option to tailor ad as per your audience and their preference.
Liked this post? Check out these detailed articles on
Topic of PPC
Alternatively, check out the Marketing91 Academy, which provides you access to 10+ marketing courses and 100s of Case studies.