The concept of Ad Hominem can be defined as an attack on the character of the opponent rather than giving an answer to the contentions made by them. As per the New Latin language, Ad Hominem means 'to the person,' and this adjective is known as an illegal argument.
It means, instead is abiding the rules and ethical principles, the person will take advantage of the opponent's feelings, emotions, and interest in a debate. Even the concept was valid in the earlier times, but it is still applicable in today's times as well.
We witness and experience Ad Hominem in courtrooms, political arenas, and in real-life situations as well.
Ad Hominem refers to putting the personal issue at the forefront rather than the actual matter of discussion.
It is termed as an attack on the opponent with an ulterior motive and intention to discredit his or her point of argument and opinion.
It is used for the people who are immature and low on the intellect levels because they are not capable enough to counter-attack their opponent using logic and sheer intelligence.
Example of Ad Hominem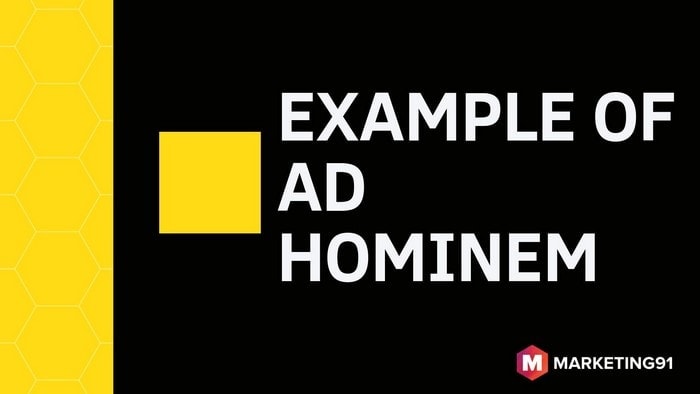 Person X: I think you should save more money in your bank accounts.
Person Y: You think so because you do not earn as much as I do.
The functionality of Ad Hominem
As per the experts, the Ad Hominem arguments are made out of straw and paper rather than that of the steel as they do not have the substance of a matter in them.
Many people opt for the same as they want to appeal and hurt a person's emotions to jump to the conclusion of the argument rather than having better reasoning behind the same.
What to do when you spot someone after you attacking you with an Ad Hominem argument?
First and foremost, you should point out the irrelevancy of the emotional play and testimony that they are mentioning in the argument. And then point out that their attack on your holds no significance in the matter of discussion. And tell them very precisely that the personal attacks are not ethical and in the argument that is at hand.
Now that you have exposed their weakness and inability to argue on the moral and ethical standards, you can tell them very clearly that you are not going to entertain such behavior.
And whatever understanding they have for you, it's none of their business. And it's better to come to the point of the argument.
Examples
Many a time, a simple conversation with any of your friends, peers, and even family members have taken a turn of Ad Hominem. Below mentioned are some of the examples:
Using someone's education and literacy levels to exploit them and degrade them in an argument. "You won't be able to finish this task efficiently as you are not even a graduate."
Many of the people who are quite well to do demean and belittle their friends of limited means by attacking their income levels. "You cannot buy to afford such an expensive dress, so there is no point even looking at it."
Many people are also gender bias and use the method of Ad Hominem to win the argument. "How can we appoint you for such as higher mobility job as you are a woman?"
Many people use marital status also. "How will you know the importance of a family as you are not married yet?"
Liked this post? Check out these detailed articles on
Topic of Business
Alternatively, check out the Marketing91 Academy, which provides you access to 10+ marketing courses and 100s of Case studies.