Definition
Unsought goods are defined as those items that a buyer has no knowledge about and hence did not think of making a purchase. Consumers perceive certain things as undesirable and are not interested in buying them under normal circumstances.
As they are not necessary for our daily life and do not affect it to any degree, the unsought goods remain undesirable and forgotten.
It is only if a very urgent need arises, then they will make an effort to buy them. Aggressive and persistent marketing is an important way to change the perception of a buyer so that he can actively make a purchase.
Meaning of unsought goods
In some cases, it is the unawareness of certain items that makes them unsought goods and unsought products in others; it is their undesirability that prevents people from buying them.
Individuals have no added incentive to buy such items, and hence, they remain unsought for them. Factors like intention and the desire to buy are generally missing firstly because the buyer has no knowledge and secondly if they are even placed in front of him it seems to him a waste of money, time and effort.
The buyer does not have a conscious plan to buy unsought goods nor do they indulge in impulse buying of these items. They are considered unsought because the consumer rarely purchases them.
It is a proven fact that a purchaser will not have any brand loyalty if he perceives the items from that brand as unsought goods and unsought products.
A consumer will intentionally never seek out unsought goods and unsought products, but this is not a permanent position. The brands have several tools at their disposal that can help them to arouse consumer interest by increasing product awareness in their minds.
Examples of unsought goods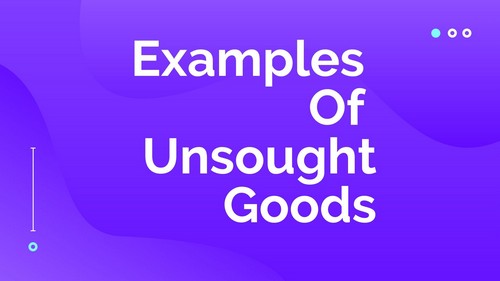 An important example of unsought goods and unsought products is the alarm system in our vehicles. People generally consider it a waste of money.
Why spend on it when we are going to lock our vehicle every time we step out of it. Once the brand started advertising about its benefits and how it can have a direct impact on us, it is then people realized the importance of that purchase.
Another important example of unsought goods is life insurance policies. People generally associate health and accidental insurance with their death or a tragic occurrence and choose to turn a blind eye.
The perception of individuals is changing in recent times because the insurance companies have adopted an aggressive marketing campaign that helps people to understand the actual benefits of such policies.
Prepaid funeral services have always been considered unsought goods and unsought products, and even now, only a few people are becoming aware of the advantages of availing such services during their lifetime. There is a serious need to make people aware of its benefits so that they have a choice even during their last ride.
An important example of unsought goods and unsought products is the use of reference books and encyclopedias. When I was in school, the basic mentality of most of us was that such items were of no use because in exams you have to read-only from the prescribed books.
It was later when our teacher guided us and told us about the benefits that we started purchasing and reading them.
There was a time when the use of the internet was frowned upon. Most people did not have any idea about it and were reluctant to use it in any way.
With time awareness and increased knowledge helped the people to overcome their fears so that they could make it one of the most sought-after products in the world.
Remember, it is imperative to make people aware of the benefits of a certain item because only then you can change his/her mentality and convert the unsought goods and unsought products into sought-after items.
 Types
The various types of unsought goods and unsought products are as follows-
New items that have been launched in the market and the consumer has not known about it for long
Specific items that the consumer thinks undesirable and does not make an effort to buy.
The goods that are purchased only in dire circumstances due to need and fear as a precautionary method
Marketing of unsought goods and unsought products as sought-after goods
Human beings are stubborn by nature, and you cannot force someone to make a purchase, which he deems unsuitable. The only thing a company can indulge in is prodding and nudging the probable customers towards their products by making them aware of the items, their benefits, and their impact on their life if they buy them.
Once you have created awareness, it becomes fairly easy to change customer perception with the help of various sales techniques.
It is important to indulge in intensive campaigning if you want to make the customer aware of the goods that you want to change from unsought products to sought-after products.
Show then the tangible benefits of purchasing these items by the help of persuasive advertising and strong sales-pitch. For example, new products are not easily accepted until and unless someone has tried them and are speaking for it in favorable terms.
Several years ago the concept of using a microwave or an induction for cooking was not acceptable to most people but the brands continued with their marketing and a time came when these unsought goods and unsought products were recognized as worthy and more and more people started buying them.
Thank you for reading our article about unsought goods guide.
Liked this post? Check out these detailed articles on
Topic of Marketing
Alternatively, check out the Marketing91 Academy, which provides you access to 10+ marketing courses and 100s of Case studies.