Positioning is defined as how the customers perceive a brand in their minds. A popular and misconception theory series that positioning is how a brand is placed in the minds of people by the company but on the contrary positioning is how people perceive it.
A good Brand positioning helps customers to resonate with the values and concepts of brand and helps them to associate with it on a deeper level which is beyond buyer and seller relationship. A positive positioning helps the brand to stand out amongst competitors and gain competitive advantage along with the added market share.
There are different types of Brand Positioning used by companies.
8 Types of brand positioning strategies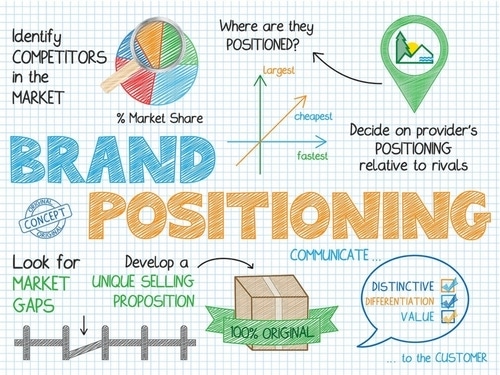 1)  Value-based Brand positioning
Value-based positioning has two approaches and both are based are very much dependent on the quality of the product. They use a psychological approach which exploits the belief that more expensive something is, the better it is. This increases the value in the minds of the customer and the product is positioned as expensive and useful and good.
Alternatively, you can also position your brand as providing high quality and high value-priced products or services. It is essential in value positioning that the company should first establish the values of the product in the market for themselves to sell.
An excellent example of a strategy would be Southwest airlines which are offering affordable flights to people along with free check-in luggage. Thereby Southwest airlines establish its value in the minds of the customer.
2) Quality based Brand positioning
Positioning with the help of an important parameter like quality can be a very challenging positioning strategy. Although it can be combined with other strategies and positioned easily. Every business in the market nowadays is trying to establish quality and its commitment to maintain it.
One unique way to distinguish your products amongst the competitors would be to narrow the focus to a particular area of expertise and use that as branding strategy in terms of quality positioning. For example, when it comes to audio everybody knows that Bose audio is the best, they have positioned themselves in that way. There worked only on one parameter significantly rather than working on all parameters simultaneously.
This makes them specialized in one feature thereby ensuring proper focus on the quality of that particular feature. Another example would be BlackBerry mobile phones which used by selective few in the market but seen as one of the best phones when it comes to security.
3) Competitor based positioning
Since the competition has increased companies are taking this strategy to demonstrate the superiority amongst all other available competitors in the market. Right from insurance companies to mobile phones every company establishes its supremacy by comparing their products or services to other companies or direct competitors.
The messages are usually straight, clear and address the competition directly although some may use an indirect reference to their competitors. An example would be, in 2017 iPhone X was launched with the notch in the mobile for the first time in the industry. Samsung mocked Apple by creating an ad in which a person if the notch stands in the line to buy new Apple iPhone while a person who just switched from Apple to Samsung is depicted to be happier. This was an indirect reference to Apple and its new phone while mocking its shortcomings.
In 2018, Google launched Pixel 3 with a premium feature called Night Sight. To promote that feature during the launch event of the phone the company experts compared of pictures clicked by phone then directly and side by side with a picture clicked by Google pixel 3 with night sight. This would be an example of direct competitor-based positioning.
4) Benefit positioning
Working with the benefits of attributes and communicating those benefits to the customer has been an old strategy followed by many brands. The strategy highlights the benefits of the product or service to the customers and cream that no computer can copy them since their unique to that particular brand. Sensodyne is an example which uses benefit positioning and today is a premium toothpaste in the market of oral dentistry and oral hygiene. It has positioned itself as an oral medical solution provider which customer can use on a day-to-day basis to get rid of oral problems.
While other kinds of toothpaste focus on whitening and reducing the bad breath Sensodyne has focused on medical aspects of oral hygiene which is a unique benefit in the market and that has helped them to stand out.
5) Problem and solution positioning
Many brands present themselves as a solution provider to the problems of the customers. The ideology behind such positioning is to demonstrate that this particular brand can help you solve your problems instantly and efficiently. Banks, Insurances, and loans have started themselves to a position as a solution provider.
Often advertised as 'Need a loan? Contact us and we will get the loan Approved within Minutes or Seconds with minimum documentation' is the claim which is followed by many banks thereby acting as a solution provider to the financial problems of the customer.
6) Price Positioning
As much as quality plays an important role in the product success price is an equally important factor which determines the enormity of success of a particular brand. Why is there are expensive brand positioning themselves as unique and niche, the appeal to a very limited segment of customers who can afford to purchase them? There still remains a major bulk order chunk of customers who are not able to purchase those nice products or services. It is to appeal to these customers that price positioning is done by many Brands. One such example of price positioning is Air Asia, which is the South Asian airline service, whose operations are based in Malaysia.
The airline has successfully positioned itself as an economic service appealing to the middle class and lower middle class and making foreign tours possible for them. While they may compromise on the quality sometimes, the fact still remains that they are seen as the first choice by every first-time flight travellers who cannot afford to travel by a luxury brand like American airlines.
7) Celebrity-driven positioning:
Using celebrities as a spokesperson to endorse a particular category of product or services has been a popular way for a long time. The aim of celebrity-driven positioning is to get the attention of people and increase brand awareness and recognition by associating the product or a brand with the glamorous personality of the particular celebrity. This is often an expensive affair for the companies but they knowingly choose this method of splurging because of the fact of familiarity and popularity of the celebrity.
This association of celebrity with the brand inspires many buyers who follow the celebrity to buy the same brand and make them feel psychologically associated with the celebrity.
8) Leader-based positioning
Very few companies have opted for this route since to declare a market leader you would require your brand to be the best and unique in the market. Many companies start with this positioning but as competition increases, they fall out and the strategy needs to be revamped. The best examples of long-term leadership-based positioning are done by Facebook. In the segment of social media, Facebook is unique in terms of the services it provides and has the greatest number of users associated with it.
Why there are other players like Instagram which is owned by Facebook, Twitter, Snapchat, none of the services overlaps in the category of services provided by Facebook wild Facebook, on the other hand, provides part of services that all of these provisions. With recent acquiring of Instagram and WhatsApp Facebook has become the unrivalled leader in the industry of social media.