Primary research refers to gathering information directly from sources such as prospective customers, and it involves collecting new data that has not been previously compiled. Primary market research involves conducting a study to understand the needs and preferences of your target consumers. This is done by directly approaching your target audience and asking them specific questions about your product or service.
One example of using primary market research can be a situation where a company wants to launch a new product and needs to know how its target market would react to it. In this case, the company could ask potential customers about their reactions to the product using surveys & focus groups, and also get feedback on what could be improved or changed.
The research uses various techniques such as surveys, phone calls, field tests, interviews, focus groups, in-person and observation to gather information. With primary market research, the goal is to obtain customer feedback from different perspectives including social, emotional, cultural, rational, and economic aspects.
What is Primary market research?
Primary market research refers to the process of gathering data directly from individuals or organizations. The most common method used for primary research is conducting market research surveys. However, primary research methods such as focus groups, interviews, and observational research provide essential insights that can influence and establish crucial strategies for effective growth.
It is an effective way of gathering information by directly interacting with the source, which could be your customers or potential customers in your target market. This could be done by asking them questions and conducting surveys yourself or by hiring someone to do it for you.
Primary Market Research Examples
ABC is planning to launch a new product and wants to ensure that it meets customer needs. To gather information, ABC can conduct primary market research by surveying its current customers or other potential buyers in the target market.
An instance is where company XYZ seeks to gain insights into its competitors in the market. To achieve this, XYZ can hold focus groups comprising prospective customers and ask questions about their familiarity with rival brands, their level of satisfaction with them, and their perceptions of XYZ's product offerings. This exemplifies primary market research.
LMN, a company, can gather feedback about the effectiveness of its advertising campaign by conducting a survey among the targeted demographic and asking questions related to the campaign.
Why is Primary Market Research Important?
Businesses can benefit from using primary market research as it allows them to gain insight into their target customers and make informed decisions. Although primary research may require more time and money than secondary research, it provides more conclusive findings. Organizations can benefit from primary market research in several ways such as –
Gathering Accurate Results
Identifying Unmet Needs
Understanding Industry Challenges
Enhancing Product Quality and Design
Understanding Customer Habits and Preferences
Improving Services
Predicting future trends, etc
Types of Primary Market Research
While conducting primary market research, you usually collect two fundamental types of information –
Exploratory – Typically, this type of research is broad and exploratory and involves conducting long interviews with one person or a few people. The language used for output is English.
Specific – The purpose of this research is to address a specific issue identified through exploratory research by conducting more rigid and organized interviews.
Primary vs Secondary Market Research
The difference between primary and secondary research is associated with the way of collecting data.
Primary market research involves collecting data to fulfill your business requirements while secondary market research is information that has been previously gathered (existing data) for different purposes but is still useful for your business. Primary research is focused on answering your specific business questions and aims to gather information from a group of people who have similar characteristics to your potential customers.
While secondary research data can be useful in addressing business queries, it has limitations. The information gathered from a particular audience may not represent your intended audience, leading to biased findings. When it comes to deciding between primary or secondary research processes, data collected firsthand through primary research is more reliable than secondhand information that someone else collected by conducting secondary research methods.
Qualitative and Quantitative Research
Primary research can be classified as either qualitative or quantitative.
Qualitative research involves analyzing information that is not presented in numerical form. This type of research yields results that are explanatory and are obtained through methods such as observation, interviews, record reviews, surveys, and focus groups. Quantitative research, on the other hand, involves collecting data that is presented in numerical forms, such as percentages and statistics.
Therefore, various collection methods are needed for this type of research. Quantitative research involves gathering data through online surveys, questionnaires, and secondary sources such as database reports. Primary market research typically produces conclusive data that is a combination of qualitative and quantitative information.
Primary Market Research Methods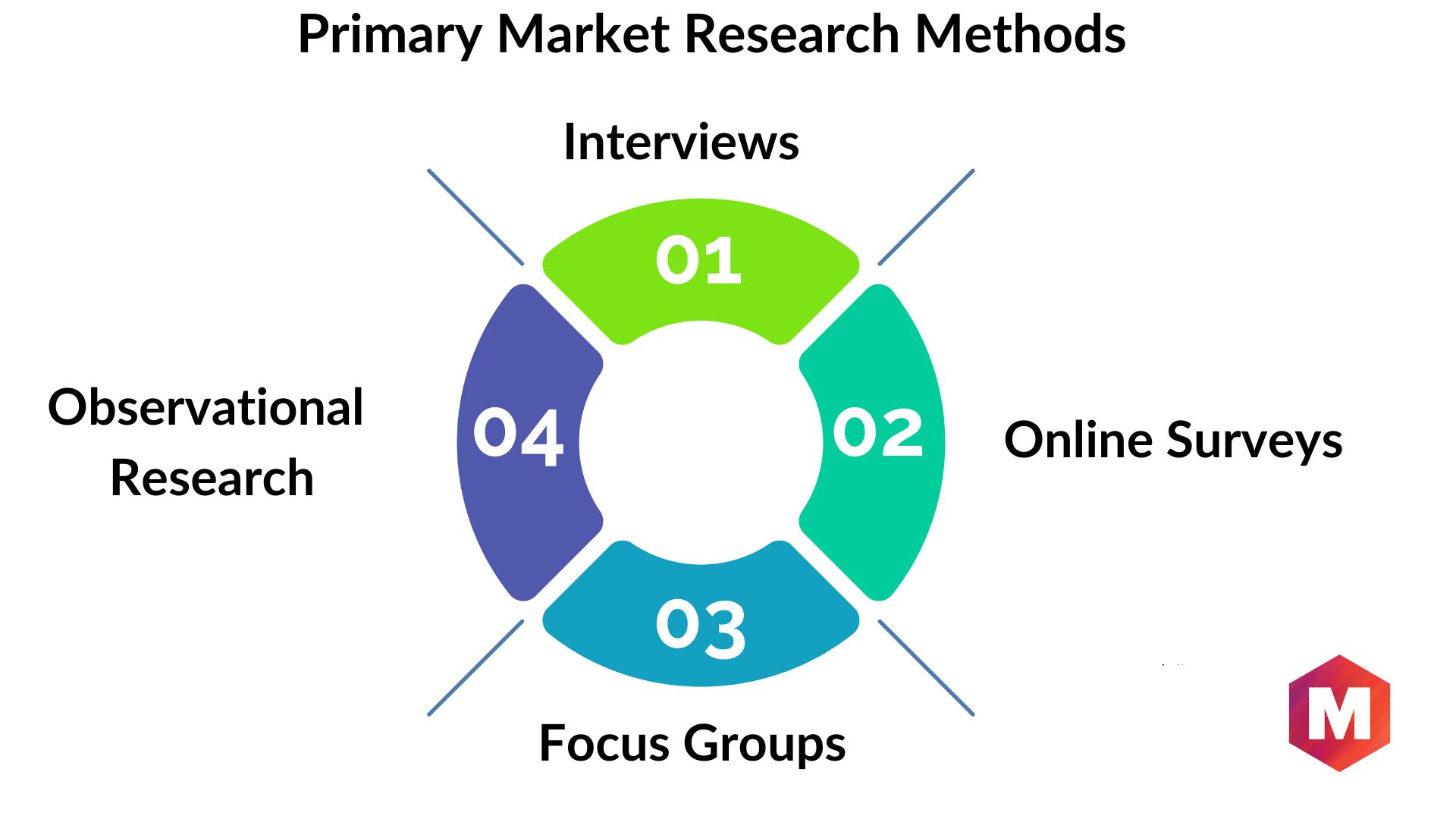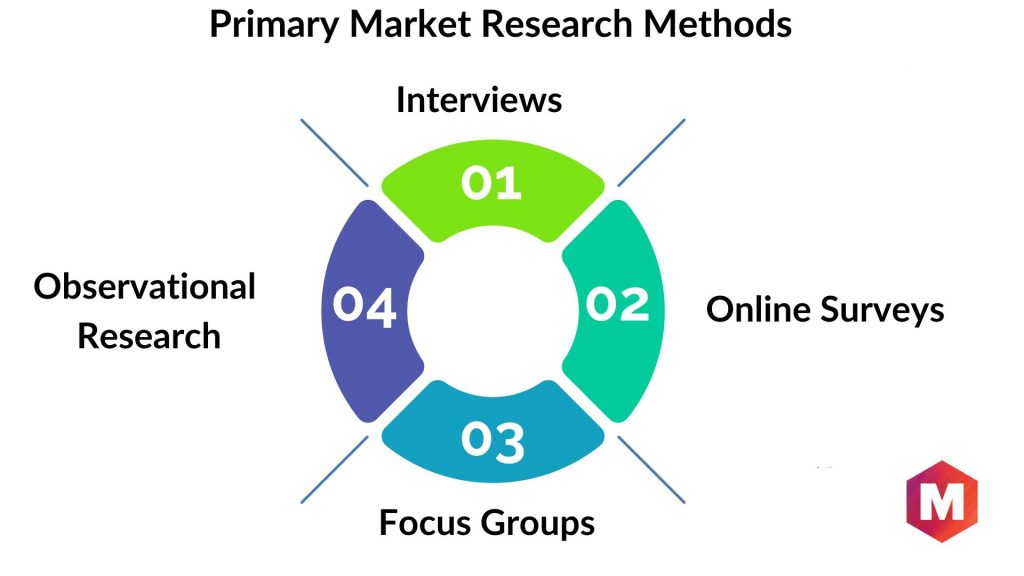 1) Interviews
One effective way to conduct primary research and develop new ideas for your product or service is by conducting in-depth interviews. These interviews involve asking and answering questions and can be conducted either in person or over the phone.
To conduct a more effective interview, it is recommended that you prepare your questions beforehand and limit the interview duration to 20-30 minutes. If you need to understand body language, conducting in-person interviews will be better but if you want interviewees to be more open and honest in their responses then phone interviews can help them be more at ease.
2) Online surveys
Online surveys refer to questionnaires that are sent to people through email invitations, websites, or social media. For optimal response rates, it's important to ensure that the online surveys are mobile-friendly so that respondents can easily answer the questions using their smartphones or tablets.
Completing the survey will require more than just accessibility. To keep respondents engaged, the questions should be a mix of well-crafted closed and open-ended questions. Additionally, each question should offer the choice not to answer to prevent respondents from exiting the survey.
3) Focus groups
Focus groups are a type of qualitative marketing research that involves 4-12 people led by a trained moderator. They are used to discuss and provide feedback on a product, service, or concept. Think of them as a broader and more relaxed version of an in-person interview.
Before taking part in the focus group, potential participants are assessed to ensure they match the criteria of the target audience. During the session, the moderator will have a set of prepared questions to ask, similar to an interview, to gather feedback on the participants' opinions, thoughts, interests, and preferences. Focus groups aim to gain valuable insights that may not have been previously considered.
4) Observational research
Observational research is a type of primary market research that involves a distant approach. It involves a trained observer who does not directly interact with the consumer. A technique that involves observing a consumer's response to a product or service, sometimes through camera footage, is commonly regarded as the most genuine approach to obtaining insights.
Key Primary Market Research Considerations
For beginners in primary market research, it is useful to have an idea of what to anticipate. The following is a brief list of some of those factors to take into account –
Cost – It is recommended to allocate a budget for primary market research. The information obtained from the research will be exclusive to you and can be utilized for a considerable amount of time. Paying for valuable market insights is a wise investment.
Time – Planning the execution of various primary research methods is a time-consuming task that requires careful consideration. However, you can save time on primary research by utilizing appropriate resources.
Use of multiple methods – For effective results, it's advisable to use more than one primary research method in marketing research. It's best to strategize and use at least 2 or 3 different methods.
Benefits of Conducting Primary Market Research
1) Data Ownership and Quality –
If you conduct primary market research, the data collected belongs exclusively to you and it will be of top-notch quality. Although accessing secondary market research data may be difficult, conducting your primary research gives you and your company full control over the collected data.
2) Relevancy –
Primary market research can quickly and accurately uncover the most relevant insights to inform your business decisions. Data from primary market research studies are collected in real time and can be used to guide your business decisions.
3) Answers Specific Questions –
If you have particular questions about your industry, customers, or market, primary market research can provide answers. This research allows you to ask tailored questions that focus on a specific group of people, which can lead to obtaining more pertinent information.
4) Targeted approach –
Conducting primary market research can assist you in concentrating on a particular group or audience by narrowing your scope. Unlike secondary research, which collects data from large populations, primary research is more targeted and specific.
Primary Data Collection Disadvantages
The drawbacks of primary data collection include:
1) Implementation could have a high cost –
Collecting primary data involves obtaining information directly, which may require specialized equipment and visiting specific sources of information.
2) The process is tedious –
Collecting new data through surveys, questionnaires, and interviews is a time-consuming process. On the other hand, researchers can use existing sources to conclude secondary data, which requires less planning.
3) More people are involved in primary market research –
When it comes to research, primary research involves more people than secondary research. These individuals perform different tasks such as designing the survey, conducting customer interviews, and analyzing the outcomes.
4) Observers are needed to make sure that research is well implemented –
Professionals who have had extensive experience dealing with people should be the ones to conduct interviews and observe the proceedings.
5) Responses may be unreliable –
Customers may not always provide completely truthful answers in questionnaires and surveys, as they may want to seem knowledgeable or may not remember their actions accurately.
6) May cause misleading results –
If the research process is not conducted properly, it can lead to biased research results. Factors that contribute to this may include misinterpreting results, analyzing data based on personal opinions, and inaccuracies.
Finding A Primary Market Research Vendor
Using primary research data is a great way to gain valuable insights into your customers' needs. But the process of researching and interviewing potential vendors can be lengthy and overwhelming.
To find the right vendor for your primary research process, it's essential to be prepared and know which questions to ask. Here are some tips to help you get started.
Determine Your Research Objectives
Define Your Budget
Research Vendors Thoroughly
Ask About Their Experience And Credentials
Evaluate Vendor Costing
Assess The Quality Of Their Data And Reports
Focus On Client Satisfaction
Check References And Testimonials
Using an independent, third-party research firm is a highly effective method while conducting primary research. To ensure that you get the best vendor for your research needs, it's important to carefully evaluate potential providers.
Liked this post? Check out these detailed articles on
Topic of Market Research
Alternatively, check out the Marketing91 Academy, which provides you access to 10+ marketing courses and 100s of Case studies.